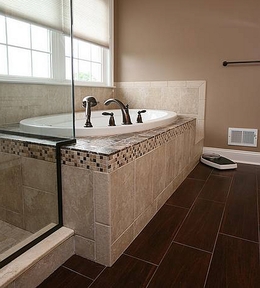 Home Makeover
Locals rely on CSL Enterprises Custom Builders for stunning remodels and expansions
When it comes to remodeling or expanding a home, having a team of experienced and highly qualified professionals who strive for excellence with every project can make all the difference.
For more than a decade, CSL Enterprises has been providing full-service design and build services throughout the Delaware Valley—from Montgomery and Bucks counties to the Poconos, from Princeton, N.J., to the South Jersey shore points. Whether it is a remodeling project, necessary addition or new custom home, CSL's skilled craftsmen show a commitment to quality from the first meeting to the final walk-through.
"Our mission is clear," says Chris Long, owner and president of CSL Enterprises Custom Builders, which is based in Perkasie. "We take pride in serving our customers with quality materials, expert craftsmanship, and a professional approach. Our goal is to build clients for a lifetime."
Remodeling Made Easy
As homeowners choose to stay in their homes longer, the trend of remodeling specific areas and expanding space with new additions continues to rise. According to Long, a large number of projects involve updating and enhancing master baths and kitchens: "Many clients are looking for something fresh and new as their home gets older. That's when we come in and make it happen."
CSL and its full-service approach can complete all phases of the job from design to completion. Its bath and kitchen designers are experienced with ideas to take the concept and generate a project plan. The team's expert craftsmen complete the carpentry, and certified contractors perform the plumbing and electric. The goal is to complete a makeover that family and friends will enjoy for years to come.
"My wife and I were extremely happy that we chose CSL to help us create our dream kitchen," says Art Ardolino, an area homeowner and CSL client. "We interviewed six contractors and decided on CSL because of Chris's enthusiasm and his references. The entire process moved along extremely well from start to finish. We estimated it would take three months to complete our kitchen, and when CSL was done in less than half the time, needless to say we were extremely happy."
In addition to kitchens and baths, another room that is often in need of refurbishing is the basement. These projects can involve any number of enhancements, from a wet bar or pub-style bar with lighting and custom shelving to storage cabinetry to keep toys, accessories and supplies neatly tucked away. This area has also become an ideal space for a spa and fitness room or a full-fledged media theater for hours of entertainment.
"When it comes to custom basements, maximizing the square footage and fitting everything into a sensible floor plan is key to the project," says Long. "It's when our planning skills are put to the test and we are up for it."
Making More Room
Sometimes remodeling a room is not enough. Homeowners need or want to have more space within the home itself.
One of the most noticeable trends is one of creating an open-space gathering environment that becomes the epicenter of a home. These projects generally involve blending the kitchen and family room into one. Similarly, Long has seen a trend toward expanding a home to create a master suite. Often on the first floor, these bedroom suites include an expansive bath, walk-in closet and dressing area to complement the bedroom.
Another popular addition is an in-law suite, as seniors may be downsizing or need assistance from their families. Cohabitation is a workable alternative, and such a suite is a way to have family close yet still create some level of autonomy.
No matter the scope, these projects can be a stressful experience while the home is in a state of flux, with ongoing disruptions and decisions needing to be made. Families can often feel uprooted from their normal routine, but Long suggests CSL can allay such fears.
"Before our team even breaks ground, we walk through all the project phases to set clients' expectations," he says. "Organization is a key component in running a successful job. Throughout the project, clients receive a detailed schedule of weekly events and progress meetings to keep everyone informed."
Homeowners Lee and Stephanie Lessick worked with CSL to completely remodel their kitchen and den, while adding 300 square feet to their home. "The result was a breathtaking, great room," says Stephanie Lessick. "Chris told us the project would take three months and we would be able to move in right away. He not only delivered on his promise but met with us weekly to provide updates and kept us involved in all stages of the project."
With the same expertise and project management skill used for room remodeling and home additions, CSL is able to build a custom home from bottom to top. Quality construction, time efficiency and competitive pricing make the team an ideal choice for such projects.
Putting the Plan into Action
Today homeowners are increasingly well educated with any number of resources. Says Long,
"Clients often bring plans and ideas to our very first meeting. Sometimes it's an architectural rendering and other times simply a sketch. Either way, they are prepared and are committed to being part of the process.

"At CSL, we don't do good work; we do exceptional work," Long insists. "It is this dedication that builds a strong client rapport and reputation."
Homeowner Lessick adds, "We chose CSL after interviewing three other companies. The decision came down to three things: one, reputation; two, quality work; and three, value. All these reasons made the choice quite simple."
Located in Perkasie, CSL Enterprises Custom Builders is well known throughout the region, serving the entire Delaware Valley. The company is a member of the National Association of the Remodeling Industry of Bucks and Montgomery County plus certified in lead-safe practices. For more information or to schedule a complimentary consultation, call 215-249-9700 or visit CSLEnterprises.com.
Glori Gayster is a freelance writer based in South Jersey.
Rob Hall is a photographer based in Plumsteadville.