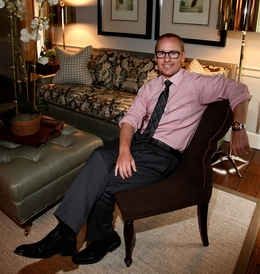 The Wow Factor
Local homeowners seeking inspired spaces turn to Design Home Interiors
The term "wow" is defined as an enthusiastic response used to express surprise, wonder or pleasure. For the designers of Design Home Interiors in Montgomeryville, achieving the "wow factor" is not defined by a one-style-fits-all formula for its projects but is instead based on creating spaces well suited to each client's personal needs.
Owner and designer Mark Little explains that this response to his firm's work is a direct result of how all the elements of a home interrelate. This intimate relationship often requires the guidance of an experienced decorating professional.
"Most consumers cannot achieve it on their own," he says, "because they often get focused on one piece instead of considering all of the components, which include their home's architecture, scale of the room, traffic patterns and how the color, texture and style of all the pieces relate."
Design Home Interiors recently decorated a parlor for the 2011 Bucks County Designer House in Buckingham. While Little and his team, which includes designer Beth Elliott, enjoy the creative freedom offered by such a project, it can also be a challenge to create a relatable space in which anyone can realistically see themselves. For this design they worked with a theme of "Past Meets Present" by putting a modern twist on traditional elements to create what they refer to as "new classics."
These included furniture with clean lines and upholstery featuring traditional fabrics updated for present-day tastes. The color palette was soft and serene, while textures were used to stir interest. Leather, linen and sisal were all used within the room, as were several varieties of metal finishes. Many of the pieces used in the modern home include multifunction pieces that are designed for mixed-use rooms. Little and Elliott are quick to point out, however, that what made the room successful was not any one item but rather how all the elements came together.
Designed to Inspire
Design Home Interiors provides interior-design service but, unlike most other firms, also operates a unique showroom that allows the designers to offer one-stop shopping for clients. The showroom, located along Route 309 in Montgomeryville, is like having access to a design center in the heart of the suburbs. Here, pieces from more than 50 respected manufacturers are represented under one roof—namely, Harden, Century, Precedent, Sherrill, C.R. Laine, etc. In addition, the design area showcases approximately 8,000 fabrics. The designers can also assist with wall coverings, paint selection and window treatments, and even recommend contractors, if needed.
"The showroom is designed to be inspirational, offering ideas for the home," says owner and general manager Jeff Hirschoff. "It is staffed by professional designers that are trained to help customers create the look that they love."
These designers have more than 50 years of combined experience, and will guide customers through the entire process so that it is not overwhelming. Although individual items are available for purchase from the showroom, the design process will typically start with a conversation about the customer's needs and objectives for his or her space instead of just choosing from what is available.
Signature to the firm is its ability to provide customers with a high degree of customization for each piece. Clients have the option not only to choose the style, finish or fabric of their furniture, but also to select the cushion depth, firmness and details such as fringe, contrasting trim or nail heads; many pieces are customizable with a selection of fabrics, pillows and comfort levels. These decisions are not just cosmetic but personalized to suit the customers lifestyle.
"Each room is designed for how our clients use the space," says Elliott, "while the furniture is tailored for their comfort."
One of the reasons Design Home Interiors is able to offer such a high level of personalization to its clients is the firm's decision to work with companies that manufacture their products in the United States. The designers have a good relationship with each of these companies that allows them to work together on custom-designed pieces.
"Overseas manufacturers cannot provide the level of customization in the timeframe necessary," says Hirschoff. American-made products benefit from tightly controlled quality standards, featuring construction that includes hardwood frames, though clients might pay slightly more for such quality.
Even so, he adds, "you will not need to replace these pieces like you would lesser-quality furniture." Better put, buying well-made American furniture helps the environment as well as the U.S. economy.
'The Big Reveal'
Design Home Interiors offers a variety of services including showroom assistance, color consultations and design for individual rooms or entire homes. Customers are shown a layout of the room, furniture choices, colors and material selections, according to Little.
"It's all about the big reveal," he says. "That's another way we achieve the wow factor; when the clients gets to see all the elements of the room together at once and it helps to bring the design together."
"Unlike what is shown on HGTV, taking a design from concept to reality can take several months," says Elliott, "especially if it requires custom pieces."
For this reason she suggests that even though clients are busy enjoying the summer weather, they should begin to plan now in order to have their indoor rooms ready for a return to the home in fall. In addition, clients with shore homes may also want to consider the services of Design Home Interiors while they are there thinking about the changes they would like to see by next season. The company also offers high-end outdoor furniture from Century, Barlow Tyrie and a selection of Sunbrella fabrics ideal for indoor or outdoor use.
The company's website, DesignHomeInteriors.org, includes a portfolio of its work and includes links to the newsletter and Facebook page, where customers can receive design tips, see previews of current projects or inventory and learn about upcoming events.
Design Home Interiors
668 Bethlehem Pike, Montgomeryville
215-361-9100
DesignHomeInteriors.org
Sharon A. Shaw is a freelance writer from Doylestown.
Kim Billingsley is a freelance photographer based in Doylestown.