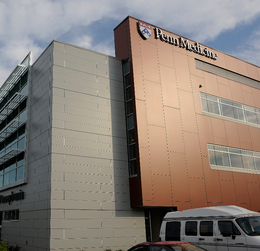 Expert Care Gets Closer
Penn Medicine Valley Forge brings expert medical care to the suburbs
Whether you or your loved one will be staying in the hospital or using outpatient services, it's ideal to have trusted, expert medical care close to home. For years, patients who lived in the suburbs were forced to drive into Center City or elsewhere to benefit from care provided by prestigious city-based hospitals.
All of this has changed, however, with Penn Medicine's recent expansion into the suburbs.
Penn Medicine is staking out growth and offering more patients and their families the convenience of medical care at centers all across the Delaware Valley. Beginning with the first multispecialty site in Radnor in the 1990s, Penn has reacted to patients' needs for quality medical care in more convenient and accessible settings. Other notable site locations include those in Bucks County, and Cherry Hill and Woodbury Heights, N.J. The organization has built an integrated network of hospitals, neighborhood health centers and physician practices.
Penn Medicine Valley Forge offers patients the expertise and prestige of a city-based hospital, without having to drive downtown Last June, Penn Medicine Valley Forge opened its doors at 1001 Chesterbrook Boulevard in Berwyn, Chester County. The $30-million outpatient medical center spans 90,000 square feet, and includes space for 60 family medicine and specialty physicians—allergy and immunology, cardiology, endocrinology, rheumatology, family medicine and community health, sleep medicine, pulmonary medicine, orthopaedics and sports medicine—as well as radiology services and laboratory/blood-draw areas. In fact, it is the largest suburban building project in the health system's history.
Ronald Barg, M.D., executive director of Clinical Care Associates of the University of Pennsylvania Health System, a primary and specialty care physician group, says the idea to open a center like Penn Medicine Valley Forge started back in 1993 when Clinical Care Associates was first established.
"Initially, the idea was to develop a primary care network in the Philadelphia metropolitan area to integrate with specialty services that would remain downtown or in separate community sites," says Dr. Barg, a board-certified geriatric and internal medicine physician.
"We also wanted it to act as a primary care educational opportunity for undergraduate and graduate medical education, and function as a clinical research network in collaboration with faculty researchers. With experience, we realized that it was important to integrate primary care, specialty care and ancillary services in common locations.
"This offers patients a single location for multiple services and, in many cases, local residents do not have to travel downtown to access the excellent care and physicians of Penn Medicine."
Suburban medical practices that offer specialty and ancillary services usually function independently. Penn Medicine has a much more integrated model, where multiple specialties deliver care in larger clinical spaces sharing staff and facilities. All physicians use the same electronic medical record that is linked across the health system to enhance communication and streamline patient care.
"Staff can focus on a patient and his or her medical needs that go across multiple specialties," says Dr. Barg. "For example, a patient can make appointments with multiple specialties through a single staff member. This puts the patient squarely in the middle, with the health care delivery team working in concert to deliver care. The medical record includes a patient portal that allows patients to have direct access to their physician's office and their patient chart for a variety of functions.
"We talk all the time about focusing on the patient," Dr. Barg continues. "This integrated approach, which includes facilities, processes and health information technology, facilitates a coordinated approach to the patient. For less complex patient problems, this represents a convenience; for higher-acuity patients, this results in improved outcomes, lower cost and enhanced patient safety."
Continuum of Care
In addition to the integration that occurs at the various centers, Penn Medicine's technology systems allow for integration that is not restricted to a single Penn Medicine's location, but goes across the network of locations. Physicians can access the same electronic medical record at the Ruth and Raymond Perelman Center for Advanced Medicine on the Hospital of the University of Pennsylvania campus, at Penn Medicine Valley Forge or any other Penn Medicine facility. This level of integration allows for patients to be seen close to home for most of their care, but still receive selective high-acuity care at a centralized site in a coordinated fashion.
Along with primary care and specialty practices, Penn Medicine Valley Forge is home to the Henry P. Erdman Educational Center, which serves as a key training site for hundreds of students from the Perelman School of Medicine at the University of Pennsylvania. A portion of the building's $30-million construction cost was funded by the Henry P. Erdman Trust, created nearly 100 years ago to further the development of Penn educational programs in the Valley Forge area.
Penn Medicine is in the process of developing new sites at a time when energy conservation and close attention to the environment have taken on an enhanced importance. Penn Medicine Valley Forge is a LEED-certified (Leadership in Energy and Environmental Design) and has the second-largest plant-covered "green roof" in the region, second to the PECO building. LEED certification provides independent, third-party verification that a building project meets the highest green building and performance measures. The building is designed to reduce water runoff and uses less energy.
"Our goal is to improve the health of our patients," says Dr. Barg. "Part of this is maintaining a healthy environment. Developing buildings consistent with this principle is something to which we are attentive."
Future plans call for the building to house an ambulatory surgery center and additional clinical programs. Many of the practices offer extended hours in the evenings and on weekends to accommodate the needs of patients. To reach Penn Medicine Valley Forge, call 610-576-7500 or 800-789-PENN (7366), or visit PennMedicine.org/valley-forge.
Leslie Feldman is a freelance writer based in Dresher.