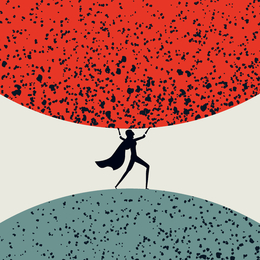 Super Women 2023
These leaders have reshaped their lives and communities through vision, voice, and the will to get things done.
"There is no limit to what we, as women, can accomplish."
So said Michelle Obama, a woman who knows a thing or two about making a difference.

The individuals featured on the following pages have proven that women do not need a platform as broad as Obama's to change the world. Strong, capable, and determined, these women have transformed their families, workplaces, and communities, perhaps even the world—and they still have plenty more to accomplish. Each has helped make a lasting difference through her respective area of expertise: advocacy, entrepreneurship, free speech and free thought, health care, and philanthropy.

Their stories show that there's simply no stopping a woman with a vision, a voice, and the desire to make things happen.
PUTTING CANCER ON THE ROPES
Missy Dietz and Nancy Abramson Wolfson are forever linked by a single word: cancer. Dietz's husband, Bill, fought multiple myeloma until his passing in 2015. Wolfson's mother, the legendary philanthropist Madlyn Abramson, was a survivor breast cancer until complications of stroke claimed her life in 2020.

"My husband received his diagnosis 13 years ago, and he was treated at Penn," Dietz recalls. "I got a call from Madlyn the day Bill passed, and she told me, 'This has to be your cause.' Since then, the Abramson family has been my family. Nancy and I have been in the trenches together ever since."

Dietz is referring to Philly Fights Cancer. As co-chairs of the organization, Dietz and Wolfson lead efforts to raise awareness and funds to support cancer research and clinical trials at The Abramson Cancer Center of The University of Pennsylvania in Philadelphia. Philly Fights Cancer hosts events and outreach programs throughout the year, though its signature event is a star-studded gala typically held each spring.

The most recent, known as "Round Six," was held at Fillmore Philadelphia in Northern Liberties. It featured performances from several local music legends: Daryl Hall, Amos Lee, Kathy Sledge, and The Roots, as well as Jessy Kyle, a Philly-based songwriter and pianist who is a three-time cancer survivor. The event recognized the work of Penn Medicine's sarcoma department, and also paid tribute to the legacy of Madlyn Abramson.

Since its founding in 2015, the event has raised nearly $50 million. Round Six alone raised $6 million.

"Yes, it's a great night, but you have to remember why you're there," says Wolfson, who lives in Blue Bell. "People come [to Abramson Cancer Center] from all over the country and around the world, and part of the mission is education and raising awareness for the groundbreaking work that's being done there."

Dietz, a resident of Narberth, is immensely proud of the impact Philly Fights Cancer has made. She finds hope in the fact that its work has inspired a new generation; her daughter Paige and Wolfson's daughter Stephanie lead a network known as Philly Fights Cancer Young Friends. Their daughters' compassion and involvement "is almost a silver lining," says Dietz.

The co-chairs see no end to the potential their efforts can yield, as research from Penn physicians has already led to numerous effective treatments for different cancers, if not an outright cure. Wolfson cites her parents' support of Carl June, M.D., the Penn physician who pioneered CAR T therapy for treating certain blood cancers. As they look forward, they are focused on using their platform to spur major steps forward that can help to improve the lives of those touched by cancer.

"It's not realistic to think cancer will be cured in our lifetime, but we hope to continue making progress, including on the really tough cancers, like pancreatic," Wolfson adds. "Our success speaks to the fact that Madlyn was a force to be reckoned with. The most important thing to her was a love of family, and that extended far beyond her immediate family.

"When she was a patient getting treatments, she knew all the nurses and knew what was going on in their lives," she continues. "She cared about helping people. She was a philanthropist, but it came from the heart. She was an incredible human being, and we want to keep her dream alive. Her dream was for this [organization] to continue, and to help as many people as possible." —BD

ON THE SAME PAGE
Authors LCW Allingham, River Eno, and Susan Tulio met through a weekly online writing chat group called Writers Block. A close friendship soon followed.

Today, the three women lead a Bucks County-based publishing outfit called Speculation Publications. Each has developed her own passion projects pertaining to specific genres. Tulio, for example, championed the enterprise's first romance anthology, and Eno will lead a collection of Yule stories for the holidays.

Allingham credits another Writers Block member, the late Dan Kitner, for putting the wheels in motion. One year after its creation, Speculation Publications has released six anthologies to date—The Lost Colony of Roanoke, The Jersey Devil, Lady in White, The Dancing Plague, Incubate, and Beach Shorts—with more to follow. The trio has also begun to develop a series of workbooks designed to help aspiring authors.

We spoke with Allingham about the trio's growing enterprise, the work required to breathe a book into existence, and the power and fury of a well-told story. —BD
Q&A
Tell me about the work that goes into putting out a book.
River, Susan, and I knew we had pretty limited resources to start, but one thing that we had to give was our years of experience editing, publishing, and being involved in the author community. We wanted to not just take stories and make books, but to provide support for the authors who trusted us with their work.

There is so much that goes into making a book, and the first one we put out on our own was just overwhelming. Everything has a learning curve, from the initial idea, to putting out the call for submissions, to reading and selecting the stories that will go in each book. The best part is working with the authors and getting to know them through the process.

The second best is the day the book comes together. Working from both the editorial and the artistic angle, that's one joy that I get to experience on my own.
How do you go about choosing your subject matter?
Once we opened the books up to submissions, River, Susan, and I chose the topics based on the stories we really wanted to read and the subjects we really wanted to learn more about. Dancing Plague was amazing; I learned so much about the time period, and the area. With our upcoming Cry Baby Bridge, I am really hoping to be scared witless.

Incubate was a different story, though. Up until that, everything had been in the "Utter Speculation" series. It was also the first topic that was entirely mine. I knew I wanted a specifically horror anthology. I knew I wanted a feminist slant to it, but it didn't congeal until the overturn of Roe v. Wade.

When Roe v. Wade was overturned, the only way I can describe the way I felt is betrayed. Not just by my country and my elected officials, but by everyone around me who wasn't screaming their throats bloody. All my life I had tried to toe the line and keep my anger in check when I encountered all the casual and not-so-casual misogyny of the world. No one listens to a hysterical woman, after all.

But the thing is, women have been keeping it in check, biting it back, letting it go, and here we are, having our rights stripped away, and it was being treated like any other Friday. So that's when Incubate took form. … I wanted a collection of the absolute fury that had incubated in the souls of women who have been forced to swallow their own voices just to survive. I wanted a collection that wasn't about our oppression, but our power.
What are your future goals for the enterprise?
In the future, we're hoping to expand to novellas, maybe even full-length novels and branch into imprints. We have our roots in horror, fantasy, and speculative fiction, but we're enjoying the lighter stuff, too. We're also trying to get out a little more. We're doing our first convention this year, and we're hoping to do a lot more in the years to come. Most of all, we want to continue to be a place that helps to elevate authors and amplify new voices.

There's no stopping point, and I don't know if I will ever reach a place where I can say I'm fully satisfied. I'm pretty happy to continue to build on the things that we started back in Writers Block, the foundations I've cultivated in my own work, and always keep a door open for new ideas. And, you know, burn down the patriarchy. That's a big one.

OPPORTUNITIES, NOT OBSTACLES
Bucks County's Kristin Smedley has helped her two blind sons successfully make their way in the world. Beyond that, she has raised awareness—and millions of dollars—to help find a cure for blindness worldwide.

In 2000, her older son, Michael, was diagnosed as legally blind at four months old. She grieved the loss of a typical family life, and then she went to work for inclusion in the local schools and surrounding community. Several years later, her younger son, Mitchell, received the same diagnosis— "a second punch to the gut," as she remembers it. Finding a cure for CRB1 degenerative retinal disease, the rare condition that caused their blindness, became a major part of her mission.

"My activism started in kindergarten, at an IEP meeting for Michael, when they said he could find his cubby 70 percent of the time," she recalls. "And I was like, 'The cubby is sitting there on the wall, it doesn't move, why isn't he able to hang up his jacket 100 percent of the time?' The response from the teachers and administrators: 'He's blind; 70 percent is actually really good.' I knew they weren't thinking about this in the right way."

So, she headed to the Saint Lucy School for Children with Visual Impairments in Philadelphia to figure it out. Through her perseverance, she opened many doors for her boys, including helping them play sports after being turned down on account of their blindness. Both of her sons went on to play baseball, golf, swimming, and wrestling. Michael also played on the football and diving teams, while Mitchell played indoor soccer.

Today, 23-year-old Michael, a summa cum laude graduate of Penn State, is a sound engineer employed by Disney Live Entertainment, currently pursuing his MBA at Purdue. His younger brother, 19-year-old Mitchell, is a sophomore at Kutztown, as well as a keyboard player and vocalist in a rock band. He hopes to pursue a career in communications and broadcast journalism; he hosts two radio shows—one focused on country music and another focused on sports talk.

"When you look at their unique talents and dreams, it eases the grief tremendously and helps motivate you to get them the tools they need," Smedley adds. "Blindness is not a burden when children have access to the tools [they need]."

She went from being a rather timid housewife and elementary school teacher to a divorced single mom who found the inner strength to become an accomplished fundraiser, podcaster, and global motivational speaker. Not only did Smedley work tirelessly to help her sons and their younger sister, Karissa, but she found the fortitude to create two nonprofit foundations, write two books, and continue to spread her positive message on a global level. Her books—Thriving Blind: Stories of Real People Succeeding Without Sight and the recently published children's book What I Can Be Is Up To Me—are offered in braille, naturally.

"I jump out of bed most days excited to do the work I do, because 23 years ago there was absolutely no one to turn to for help in navigating this world that is not built for blindness," she says. "I know that grief, that sucker punch to the heart when a blindness diagnosis is delivered. To know that I am the resource for thousands of parents that I never had is the fuel that drives me to never, ever stop."

Curing Retinal Blindness Foundation, the nonprofit she started to fund research to treat the rare eye disease, has raised $4 million since 2011. In 2022, she started her second nonprofit, Thriving Blind Academy, to help support families living with blindness "in a much bigger and better way." A major goal of hers is to end the 70 percent unemployment for blind people, as well as the extremely high college drop-out rate.

"Our schools and families aren't preparing these kids, and they are dropping out because they just don't know how to manage it all," she says. "We want to help them get off of disability and back into the work force."

After all of her hard work, Smedley takes the occasional moment to reflect on everything she has achieved. Even better, she gets to bask in the glow of her sons' accomplishments.

"They have been raised in a home of no excuses—a thriving mindset as opposed to a victim mindset," she says. "Looking at my little Michael and sobbing over the life he was 'supposed to have' to now seeing both of them live the lives they want to have, it is sometimes unbelievable to me to know where I started." —DW

SELLING HAPPINESS
"Have you ever seen anyone angry eating cake?"

So asks Toni Lorraine Johnson, a longtime entrepreneur and culinary proprietor born in South Philadelphia, now living in Delaware County. It was the joy of baking—and one of her five sons' embrace of a plant-based diet—that led her to found Dr. Brownies, a plant-based baking company currently based in Richboro. She offers ready-to-eat brownies as well as refrigerated brownie mixes, all vegan, with more products in development. She believes her young enterprise has the potential to be the next Mrs. Fields, Auntie Anne's, or, given her South Philly roots, Amoroso's.

"I want to sell happiness to people," says Johnson. "The culinary arts allow you to be creative, but baking teaches you patience."

A self-described "poster child for people with ADHD," Johnson has her hands in a lot of pots, so to speak. For example, she teaches online and in-person culinary classes, and operates a food truck that roves the streets of Philly and surrounding areas, and also appears at night markets, food festivals, and private events. On the menu: all manner of Jamaican-influenced food, with options to suit every taste and lifestyle.

If it seems strange for a culinary business to specialize in meat-based fare and plant-based brownies, she refers to a certain establishment created by the Philadelphia-based culinary tandem of Michael Solomonov and Steve Cook: "If Federal Donuts can sell fried chicken and doughnuts, why can't I sell patties and brownies?"

Johnson previously operated restaurants of her own, both close to home and far afield, though her work experience extends beyond the hospitality, culinary, and baking worlds. She previously worked in human resources, which would come as no surprise to anyone who takes the time to engage her in conversation.

She envisions Dr. Brownies scaling up in the months and years ahead. When that happens, she intends to utilize the time and talents of "returning citizens," meaning those who have been incarcerated. The hospitality industry has been among the "most forgiving industries" for returning citizens, and she wants to play a part in that tradition.

No stranger to obstacles, Johnson recalls being denied a business loan more than 20 years ago because the bank thought she lacked the proper education or experience.

"Traditionally, black women have been denied opportunities, so they don't have a seat at the table," she says. "They don't have the infrastructure. As many as 80 percent of black-owned businesses are self-funded. When you're in that position, you get where you need to go through hard work and relationships."

She has an ambitious goal of raising $500,000 to expand her business in the Philadelphia area. So far, she has won nearly $30,000 through grants and pitch competitions. Her recent selection to Target Forward Founders' retail accelerator program should help, too. The program aims to utilize Target's size and scale to "democratize access, education, and resources" as a way to transform historically under-resourced entrepreneurs into "the next wave of generational wealth-building companies," according to the Target Accelerators website.

"This is about retail readiness," Johnson adds. "It's a whole different kettle of fish than the food truck. … This is an opportunity to go to the masses."

Johnson's eloquence, drive, and personality are well suited for the job at hand. While she may describe herself as a "fly-by-the-seat-of-my-pants girl," she also brings the wisdom of experience and knowledge acquired from those who have preceded her; she is currently in the doctoral program at Cabrini University, studying organizational development.

"I have been given opportunities other people have not been given, and to whom much is given, much is required," she says. "I know I am truly blessed to be in this position. I am doing something I love. … I want my business to provide opportunities for people, not just as human capital, but as thriving people who are truly part of the ecosystem." —BD

COMMUNITY BUILDER
The words of Judy Blume and Toni Morrison forever changed Cathy Fiebach's life. Those two authors are among the reasons Fiebach decided to open Main Point Books in Wayne, now in its 10th year.

Fiebach opened the store following the bankruptcy and liquidation of the bookstore chain Borders. In a way, Borders lives on through her store.

"We were living in Wynnewood and there was a Borders down the street," she recalls. "We were standing in line and everyone's crying because we're losing our bookstore. They were selling their fixtures for $10, and my son suggested I buy them and open a bookstore of my own. So I bought some bookcases and thought I'd put them in my garage, only they didn't fit so I had to rent storage space."

She began to give serious thought to the idea. She loved books and had been a devoted reader since childhood, though she had no bookstore experience. So she took a class through the American Booksellers Association.

"It's the nicest industry I've ever been involved in," Fiebach says. "Everyone shared their numbers with me, so I absolutely knew what I was getting into. The bookstore had to support itself, not [support] my family, which is very different than what most businesses go through. Authors are not getting rich, and neither are bookstores. But we had a lot of fun things going on."

It still does. Fiebach's store recently underwent a significant renovation, adding 1,000 square feet of retail space, expanding its inventory of children's books, and enhancing its capabilities to host in-store events. All will reinforce her vision of the store being a "third place" for customers and community members apart from home and the workplace.

"So many people want to meet authors and have an event space," she says. "We now have space where a writers group meets and a theater group likes to do play readings. I see more community-oriented programs in the future."

Fiebach admits she doesn't read as much as she used to, and certainly not as much as she would like. But she still finds joy in books, and is happy to help others discover new authors and ideas—especially in the face of mounting resistance.

"You see local school boards starting to take control [of what students can read] without people noticing," she says. "It's gotten bad. We did a 'Boozy Banned Book Fair' event during Banned Books Week. We also did an event with Red Wine & Blue, a political organization of suburban women that is particularly focused on fighting book bans, and we had a phenomenal turnout.

"They think they can control how a child thinks by not giving them a book," she continues. "In reality, you're not going to change how someone thinks by hiding ideas. Books help people figure out the world around them."

Fiebach is proof that the rumors of the bookstore's demise are greatly exaggerated. She suggests communities have a dire need for independent bookstores. It's not an easy business, she admits, but she believes stores like hers provide an irreplaceable service.

"Bookstores are not dead," she says. "Reading is not done. People still find a sense of community and answers to questions by reading books. We just want to be there to support them." —BD

LEADING THE WAY
Strength, versatility, and resilience have helped these leaders make a lasting difference in their communities and beyond.
Sarah Alles and Pamela Gifford
Holland Floor Covering
hollandfloor.com
Beth Angelos
Berkshire Hathaway HomeServices/Fox & Roach Realtors
bethangelos.foxroach.com
Bronwyn Bergen
STARS Kids Life Coaches
starskidslifecoaches.com
Deana Corrigan
The Deana Corrigan Team at COMPASS RE
deanacorrigan.com
Kim Costalas
KP Aesthetics
kpaesthetics.com
Mary Delozier
Keller Williams BlackLabel
marydelrealestate.com
Dr. Kathy Landau Goodman
Main Line Audiology Consultants
mainlineaudiology.com
Aubrey Gordon
Brows by Bree & Co.
browsbybree.com
Dr. Ada Greenfield
Lower Gwynedd Endodontists
lgendodontists.com
Tabitha S. Heit
Berkshire Hathaway HomeServices/Fox & Roach Realtors
tabithaheit.com
Dr. Kellyn Hodges
Kellyn Hodges Orthodontics
hodgesortho.com
Nicole Hollander
Hush Medical Aesthetics
hushmedical.com
Laura Longstreet
Belmont Behavioral Health System
belmontbehavioral.com
Dr. Sheedeh Madani
Bala Kids Dentistry
balakidsdentistry.com
Nicole Malcolm
Affinity Land Services LLC | Rockstar Closers
deedsearchers.com
Valerie Manfred
ACRE Windows & Doors
acrewindows.com
Dr. LynAnn Mastaj
Mastaj Orthodontics
lynannmastaj.com
Inna Materese
Materese Family Law
materesefamilylaw.com
Karen Minsky
Dionis Goat Milk Skincare
dionisgmskincare.com
Sandra Phillips
Colonial Marble & Granite
colonialmarble.net
Sheryl R. Rentz
The Law Offices of Sheryl R. Rentz
srrentzlaw.com
Jenna Richardson
Princeton Integrative Health
princetonih.com
Carol A. Shelly
Shelly Law Offices LLC
shelly-law.com
Karen Thompson
LSL Brands
lslbrands.com
Karen Ann Ulmer
Karen Ann Ulmer P.C.
ulmerlaw.com
Cheryl Vitow
Karma Hair Design and Wellness Spa
yardleydayspa.com
Published (and copyrighted) in Suburban Life magazine, May 2023.