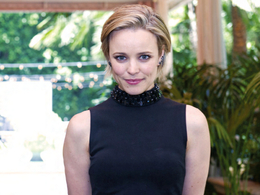 Transcendent Talent
Rachel McAdams feels a connection to her latest role in the coming-of-age movie "Are You There God? It's Me, Margaret."
Actress Rachel McAdams has always shown an ability to seamlessly move in and out of different types of films during her notable career, from comedies like Wedding Crashers and Mean Girls to romantic fare like The Notebook to the key dramatic part she played in Spotlight, an Oscar winner for Best Picture.

Lately the role she has been focused on is mother to her two children with her partner, screenwriter Jamie Linden (Money Monster, We Are Marshall), a native of Winter Park, Florida. But she is happy to be back on the big screen as, fittingly, the mom of the main character in Are You There God? It's Me, Margaret, a coming-of-age tale based on the 1970 Judy Blume book of the same name.

The 44-year-old, whose recent output had been limited until her turn as Dr. Christine Palmer in last year's Doctor Strange in the Multiverse of Madness—a movie that saw her reprise the successful character she first brought to the table in 2016, opposite Benedict Cumberbatch—has had the birth of her children to distract her, yet getting back into the groove is clearly offering her a sense of satisfaction and contentment that she's missed.

Since breaking out in the early 2000s with a string of hits, McAdams has worked in studio blockbusters (the aforementioned Doctor Strange, Sherlock Holmes, The Time Traveller's Wife), dramas (A Most Wanted Man, Southpaw), and Woody Allen's critically acclaimed Midnight in Paris. In addition, she starred in season two of True Detective.

Poised and earnest in her press interviews, McAdams is also exceedingly polite and mild-mannered. She smiles when she greets you and her pleasant nature is very much in keeping with her Canadian identity.

McAdams, who attended the University of Toronto, divides her time between homes in Toronto and Los Angeles. She remains close to her parents and her sister, Kayleen, a top Hollywood makeup artist.

Q&A
Your new movie returns you to very simple, very honest comedy/romance, and a novel that guided a generation through the associations of growing up.
I think the book is, as you say, a generation thing that meant such a lot to so many girls growing up. It seems crazy to me that half a century has passed, and no one was able to turn this into a film, because outside of what you might consider the core demographic—early teenaged girls—there is such a good blueprint in this for us all. We all grew up, we all experienced emotions and changes, and we can all relate to how that feels: every one of us.

You know what it's like—it's an excitement, a nervousness, and more than anything else a freedom and a voyage of discovery, where the world that you thought you knew opens up to be quite different; where the maturity of adolescence and growing older doesn't actually limit the size of your playground, but increases it.

Hence why you took on the project.
It just resonated [with] me in such a pure way. With [director] Kelly [Fremon King] behind it too, there was no doubt it was going to come across with a sense of comedic purity, and I love that, because this is a book that deserves it.

You are renowned for your romantic movies. Is motherhood only cementing that modus operandi?
I actually don't think so, no. The truth is I love being able to explore the lives of very different kinds of characters. At times you follow a very straight path, yet on others I like shaking things up and it's very stimulating to be able to switch identities from one film to the next and go from playing in a heavy drama, like A Most Wanted Man, and I also played a pretty nasty woman who got to torment Owen Wilson in Midnight in Paris. And then I'll do something much funnier, like Game Night, to all-action stuff like Doctor Strange.

As long as I feel some sort of connection to the character, I'm willing to play almost any kind of role. Something either clicks inside your head or it doesn't.

How do you like to blow off steam?
Well, I'm renowned for cycling and that's something I've stuck with. I find it very therapeutic—I've been riding a bike all over Toronto for the last 20 years because I don't own a car and sometimes I'd rather use my bike than rent a car. I love going in and out of traffic on my bike and the adrenaline rush that comes with riding a lot faster than you should because you're taking a risk every time. But that's part of the fun.

The other thing about riding a bicycle is trying to live very responsibly when it comes to the environment. I'm trying to convert my house to solar, but the engineers told me that I don't have enough roof space to put enough panels. But I'm going to have it done somehow.

What else do you do to relax?
I like to spend a long time chatting on the phone with my mother and my sister. My sister and I are best friends and she's such a good person and I always have a good time with her. We love being able to work together and just be able to hang out and have fun the way we used to growing up. She means a lot to me.

I also like to take long walks in the wilderness when back in Canada. My family has a cottage in the woods and it's so relaxing and peaceful to be out by myself in nature and appreciate the beauty of that setting.

Are you competitive?
[Laughs] I can be. Growing up, I was always playing board games with my siblings during the Christmas holidays and we could have some really fierce arguments. I was also a figure skater for many years and that sport is very competitive and there's a lot of pressure on you. I would often get a bad case of nerves just before I would go out on the ice. I would feel really sick.

Sometimes it would get so bad that my knees would be shaking and knocking together before I had to skate. I've tried to teach myself not to take things too seriously at times although the instincts are still there when I need them, I suppose.

Is that why you decided to give up figure skating and turn to acting instead?
No. I didn't like the pressure and a lot of other things that come with the figure skating world, but I was already drawn to Shakespeare and acting when I went to a summer camp when I was 12. I also had a wonderful drama teacher in high school whose inspiration and encouragement made we want to continue with acting. Originally I had planned to give up acting when I went to university, but she helped change my mind.

What did she say to persuade you?
It was almost an accident. On the day I had to file my university applications I bumped into her in the hallway [in high school], and we started talking. I hadn't seen her in months. When I told her that I was applying to enter a cultural studies program, she was surprised that I hadn't tried to get into acting studies because she knew how much I loved doing theater.

But I told her that I didn't even know that you could go to college and get a degree in theater. She said, "Don't be ridiculous, of course you can!" After our conversation, I spent the next hour wandering around school and finally I decided to go back to the guidance office, and I crossed out cultural studies and filled in theater instead. It really was the moment that changed my life.

What was your childhood like apart from figure skating?
I had a very happy childhood and my mother and father have been together for over 40 years and they were always very supportive of me and my brother and sister. Our family is very close-knit and I'm closer than ever to my sister Kayleen who works as a make-up artist.

We didn't have much money but the atmosphere in our home was always very loving and caring. [My parents] are both hard workers and they taught us to be very responsible and independent individuals and that's been very helpful to me in how I've managed my career.

Whenever I go back to Canada, I love spending time with them, and I really miss being able to see them as much as I would like because I've been working a lot lately.

Having started a family, would you say acting is still something that means as much to you as ever?
I feel that I learn something more about human nature and about myself with every new film. I still enjoy the challenge and I think this is a good time for women in the industry, and that more opportunities are opening up for us.

So you feel more of a connection toward strong women, in character and in real life?
Yes and no. My goal is not really to play strong women as much as finding characters with a lot of depth and flaws. That's what draws me to a role. I want to explore who they are and create a very distinctive personality. I usually look for characters whose personalities and backgrounds are different from my own. I'm fascinated by human nature and how different we all are.

Are you loving?
I do have a romantic side, and I suppose I am drawn to those kinds of stories, too. I enjoy stories that explore the nature of human relationships and especially what makes people want to be together and how they manage to stay together.

Love is such a precious and beautiful thing, but it seems so hard for people to sustain their love and appreciation for each other. I'm just fascinated by films that offer insights into that process.

You start thinking more about how that relationship with another person is evolving and how you are evolving with that person. After a while you begin making conscious choices about how you want to develop that relationship and whether you feel it's the right relationship for you. That's what makes love very unpredictable and difficult to sustain and why audiences, and me included, will always enjoy watching films that deal with love and how people grow into a relationship.

Why do you think it's so hard to stay in love with another person?
I think men and women are more demanding these days in terms of our expectations. Women are also more independent and we're anxious about questions of identity and our role in society. It's pretty obvious that relationships are more complicated today than they've ever been because we're so conscious of what we want or hope from a relationship that sometimes we make it more difficult than it should be.

What do you think your various roles in films have taught you about life?
Probably the biggest lesson I've learned is to be as honest and present as possible. That applies to both acting and to my own life. We sometimes have an overly idealistic or romanticized view of the world and then when you try to experience that kind of life, you're often disappointed. I've taken a much more realistic outlook on things and how people behave because it's better if you can operate with no illusions. Human nature is very flawed and complicated, I find.

You tend to stay out of the limelight even though you've been part of some very big films. You are a private person, right?
Yes, I am. Maybe it's my Canadian side showing. I like the sense of community and feeling I have from being in Toronto. I've lived in the same house for many years, and I like to bicycle around town and live a very quiet life for the most part.

Being in Toronto allows me to relax in between movies and you feel very far away from the film business. I've never been interested in attracting attention to myself when I'm not working, and so far that's worked out pretty well.
Published (and copyrighted) in Suburban Life magazine, May 2023.