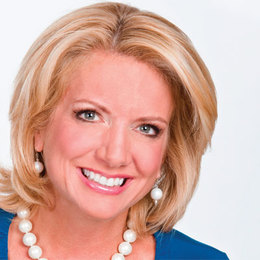 Spotlight: As Seen On TV
NBC10's Tracy Davidson
As spring gets into full swing, Tracy Davidson is talking about one of her favorite warm weather pursuits—the farmers' market in Ardmore. "I like seeing the same people each week: the fishmonger, the woman at the veggie stand, the Amish with their fabulous baked goods."
The people and the sense of community is what NBC10's anchor and consumer reporter says she likes most about the Delaware Valley. And she is determined to help make that community a better place. She says she wants to be the one people turn to whenever they have a question or problem.
From the NBC news station in Bala Cynwyd, Davidson delivers daily consumer reports, and every Wednesday, she focuses on helping the unemployed in her "Survive and Thrive" segment.
She regularly hosts community events to help people make better decisions about their money and their lives. She also helps NBC10 create special events each month to aid job-seekers.
"I want to be part of the solution," she explains. "I don't know the answer to everything, but I know the people to ask to get answers." She acquired her financial acumen on the job. When she keynotes the IDEAS Expo in Ivyland on April 21, she'll discuss "Work-at-Home Jobs That Work." She wants to help attendees understand who is best suited to work at home, how to avoid scams and how to quiet the self doubt that plagues many would-be women entrepreneurs.
"What I love about speaking to people in person is their reactions," she says. "I can listen to their faces."
Davidson felt compelled to deliver even more information to those in need, so she launched her own Web site to expand her NBC10 reporting. "People really need information," she says. "The economic situation reminds us how responsible we need to be with our money."
Her sense of responsibility to educate her viewers is matched by her desire to help the interns who work with her.
"I love to mentor young people," she says. "They say every 20-year-old should have a 40-year-old mentor. Well, I say every 40-year-old should have a 20-year-old mentor, too."
Among other things, she says her interns have taught her about using online social networking to reach a wider audience, and she is now active on Facebook and Twitter, using them to post breaking news, consumer reports and, of course, pictures of her dog, Charlie.
A Minister of Communion at St. Matthias in Bala Cynwyd, Davidson completed a religious studies certificate at St. Charles Borromeo Seminary in Wynnewood and is now pursuing her degree in pastoral counseling at Chestnut Hill College.
"I felt a very strong calling," she says. "I'd just like to help people with their spiritual journey. We're here to serve." Davidson maintains a busy schedule, but she says organization is her secret to staying calm. She exercises at 6 a.m. every day, works hard at the station and out in the community, attends classes and enjoys outings with friends. When she was training for the three-day walk against breast cancer—her mother is a survivor—she would meet her girlfriends each Saturday and go for a walk.
"I always say there's nothing that a walk and a talk with my girlfriends can't solve," she says.
Davidson is also an avid volunteer and sits on the Board of Directors for the March of Dimes. The effort closest to her heart, however, is her support for victims of domestic abuse. As a child, Davidson experienced domestic violence first hand, which she now says helps her better understand what others are going through. She received the Sister Mary Vera Award for her support and dedication to the women and children of Vera House, a home for battered women in New York. She also works with Laurel House, a domestic violence organization in Norristown.
Maria Martino Evans is a writer and PR professional in Pipersville.
Tracy Davidson will be a keynote speaker at the 2010 IDEAS Women's Conference and Expo at the Spring Hill Manor in Ivyland, 9 a.m. to 3 p.m. on April 21. Go to IdeasWomensConference.com for more information.