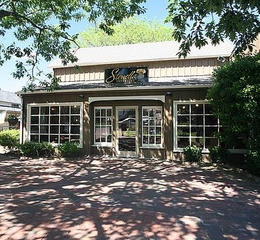 Expansion by Design
Stenella Antiques exports its quality and service to Peddler's Village
Some businesses remake themselves because their old models are tired and ineffective. Others, like Stenella Antiques, enact changes based only on mounting customer demand.
Visitors who step through the doors of Stenella Antiques' warehouse-sized store in Perkasie always get a unique experience. After all, the 26,000-square-foot showroom has the potential to take one's breath away, stocked with the finest heirloom furniture from leading manufacturers such as Baker, Henkel Harris, Kittinger, etc. Now owner Jim Stenella is reinventing customers' shopping experience with Stenella Interiors, a 1,500-square-foot boutique at Peddler's Village, in the small Bucks County village of Lahaska.
"We have wanted to get to Peddler's Village for a while now, and the right location finally came up for us," says Jim Stenella. "We'll have our own very unique space there. This will bring new traffic because I think a different type of person from a different part of the area will come to Stenella Interiors. Also, when people see what we have here, I think it will drive traffic up to our other store as well.
"Customers will find a small sample of what our main store has to offer," he continues. "But Stenella Interiors is more of a boutique type of store, with smaller accent tables, oil paintings, lamps, crystal chandeliers, a large selection of bronzes and many other traditional decorative reproductions. Also, we're collaborating with one of the area's top interior designers, Kristine Robinson, so we can offer a true interior-design service. … This place is much more and much different than a furniture warehouse."
Experience the Difference
Stenella Interiors, which had its "soft opening" in early June and is set to host a grand opening in the weeks to come, will showcase many brand new items from established lines such as Jansen Furniture and Friedman Brothers, as well as notable pieces from small American manufacturers. All pieces feature the same outstanding quality characteristic of those stocked by Stenella's flagship location in Perkasie. The site will also offer custom upholstery, accent pieces and window treatments, as well as paint selection, aided by the expertise of collaborator Kristine Robinson.
"Kristine's style tends to fit with our own look and our style," says Stenella. "We try to have a more traditional look and feel, and maybe add some contemporary or modern fabrics with different types of accessories for accents. Now we have the capability to offer first-hand experience in making each customer's setting into their own unique room."
Robinson, a Pittsburgh native who also operates her own business in Jenkintown-based Robinson Interiors, teaches interior-design classes at Temple University's Fort Washington campus. She's excited about the collaboration with Stenella, though it is not necessarily a new development. For example, when she was asked to design a room in this year's Bucks County Designer House, she handpicked the featured room's furniture from Stenella's extensive inventory.
"I've always been so impressed with their enormous selection," she says. "Jim has these good, quality pieces that never go in or out of style. … I would call my style traditional with a twist, and our styles mesh well together, I think. It makes a lot of sense to use traditional furniture in my designs because it never goes out of style. You can mix it up with exciting fabrics and accent pieces, but if you buy quality goods they can stay with you your whole life."
Robinson expects to have set store hours at the Peddler's Village location, which is adjacent to Earl's Restaurant, at the intersection of Route 202 and Street Road. In addition, she will offer design services by appointment. In the near future she expects to host a regular series of lectures and workshops designed to give customers decorating ideas for their own homes.
"In addition to selling furniture, a lot of people would like to have a little help when it comes to in-home design, and we bring the whole selection of beautiful designer fabrics to the store," she says. "The store is going to feel more residential, like a home, and that will help people visualize how things might look in their own home. We're going to set up the store so people almost feel like they'll want to move in."
While Stenella Antiques is well known for its investment-grade furniture, it's also renowned for its affordable prices suited for almost any budget. That same approach to pricing will, of course, carry over to the new location in Lahaska.
'A Great Time'
Meanwhile, visitors can expect business as usual at Stenella Antiques in Perkasie. An influx of inventory makes early summer the ideal time to stop by, according to Jim Stenella. His team works with leading manufacturers to bolster the store's stock of items, as well as estate attorneys and other suppliers to make the flagship location a destination for homeowners throughout the Mid-Atlantic.
"We have constantly changing inventory there, with pieces from all across the country," he says. "We've liquidated numerous estates from Chicago, Michigan, Washington, D.C., so we have a large selection of just about everything right now. If I were to go out in the warehouse right now, I'm guessing I'd see 50 or 60 china cabinets, for starters.
"In the summer months," he continues, "people will wind up getting the best selection and some of the best buys they're likely to find. We typically get a lot more inventory coming in during the summer months, and we're always making room for new stuff as it's coming in. It's a great time to visit."
Stenella Antiques
104 S. Second Street, Perkasie
215-453-8490
StenellaAntiques.com
Hours: Tues. through Fri., 9 a.m. to 3 p.m.; Sat., by appointment
Stenella Interiors
Peddler's Village
Intersection of Route 202 and Street Road (next to Earl's Restaurant), Lahaska
Jennifer Updike is a freelance writer from New Hope.
Rob Hall is a photographer from Plumsteadville.