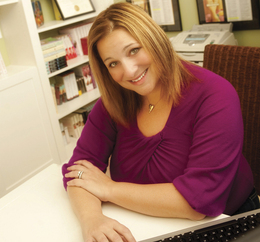 Word Girl
Coast to coast with bestselling novelist Jennifer Weiner
Considering Jennifer Weiner's compulsion to share stories—hysterical, heartfelt, human—one could argue that she had no other choice but to write for a living. That her stories have evolved into several so-called "chick lit" bestsellers, one major motion picture and, most recently, a promising TV show is beside the point.
The hundreds who joined her at the Doylestown Friends of the Library luncheon in Warrington recently were captivated by her wit and warmth, and doubled over by her delivery of her gift for dramatic narrative—like when, as a reporter, she covered the Pillsbury Bake-Off and poked the Doughboy to see if he would giggle … and subsequently deflated him. Or when she recalled proudly telling her parents that her first novel was going to be published, embarrassingly adding that it was called "Good in Bed." Her mother's response: "How much research did you do?"
Weiner's ascent to becoming one of Philadelphia's most successful—and most prolific—authors seems almost predestined. She grew up in a Connecticut house full of books, the oldest of four children who were allowed to read any book they could understand. She later graduated from Princeton University, where she worked with literary greats Toni Morrison and Joyce Carol Oates. She won her first "real" job with the Centre Daily Times in State College, and then moved to Lexington, Ky., to write for the Herald-Leader. She also wrote columns about Generation X for the Philadelphia Inquirer, which distributed them nationally, and hired her as a features writer in 1995.
In 1998, at the age of 28, Weiner endured an experience that changed her life: She and her boyfriend of three years broke up—"that awful, awful breakup that happens once in your life in your 20s," she says. She figured she knew how to tell a story, so she set out to write "about a character like me and a guy like him."
Her resulting first novel, "Good in Bed," was published in May 2001 and hit the New York Times bestseller list almost immediately. "In Her Shoes" came next and was made into a movie starring Toni Collette, Cameron Diaz and Shirley MacLaine. Six more books followed. Her latest novel, "Then Came You," will be available on July 12. In addition, Weiner is a frequent speaker and writes occasionally for the Huffington Post, as well as her own blog, JenniferWeiner.com, which gets more than 1.5 million hits a month.
Besides writing, she's also executive producing "State of Georgia," a sitcom she co-created that stars Raven-Symoné as Georgia, an aspiring actress with a larger-than-life personality who moves to New York City. The first episode premieres June 29 on ABC Family.
For the past eight months, the 41-year-old Weiner has been commuting to Hollywood and back, bringing her three-year-old daughter, Phoebe, with her as often as possible. Her seven-year-old, Lucy, remains here with her husband so she can stay in school. Weiner usually returns to the Philadelphia area at least once a week.
Before she jetted off again, Suburban Life caught up with Weiner at the library luncheon in Bucks County, where she was asking head librarian Roberta Yakovich for book recommendations for her daughters, to talk about her cross-country commute, how Philadelphia has influenced her characters and, of course, the next chapter of her life.
Suburban Life Magazine: Your characters are so vivid and entertaining—and often say just what the reader would like to say. How much of yourself is in your books?
Jennifer Weiner: I think there's a little bit of me in every character I write—even the villains! With every book, there's usually a character who's very easy for me to relate to, who talks the way I talk and makes the kind of choices that I'd make in a given situation … but, as my career has progressed I've tried to push myself to create people who aren't just like me, to put myself in their skin and their shoes and think about how they'd react, or handle themselves.
For example, in "Fly Away Home," I had to think about being the kind of woman who'd marry a politician and resign herself to being constantly seen, but never heard, and then figure out how that character would react and behave if her husband cheated on her, and if his affair became national news.
"Then Came You," my newest novel, is written in the alternating voices of four different women, three of them in their 20s—a place I haven't been for a long time! So there's some of me in each of them, but I hope each woman is her own person.
SLM: Do you consider the greater Philadelphia area your home?
JW: I was born in Louisiana, grew up in Connecticut, and have lived in Philadelphia since 1994. I love Philadelphia for so many reasons: It's got everything the great cities in America can offer, but my neighborhood feels like a real neighborhood. I love walking out my door and being somewhere, and seeing people. I love that I can take my daughters to a carousel or a museum or a park without getting in the car. I love the great restaurants, and seeing first-run foreign films and theater.
SLM: How has living here influenced your writing?
JW: Philadelphia is a wonderful place, but it's got a very specific character. In "Good in Bed," I described it as a sullen middle sister, overlooked between the more obvious beauty and charms of her siblings. I think that lots of people don't know how great Philadelphia is, or they've got an image stuck in their head of football fans booing Santa or something from "Rocky." Because I write a lot about outsiders, ugly ducklings, girls and women who are underestimated and who find a way to become the heroes of their own stories, Philadelphia feels like the ideal setting.
SLM: What do you enjoy about speaking engagements, or interacting with fans on your book tours?
JW: Writing can be a lonely business: It's you, in a room, with a blank screen, listening to the voices in your head. I love connecting with readers, telling them stories, and hearing how my books have touched them.
SLM: What's it like living in L.A.?
JW: Los Angeles is … interesting. Everything people say is true: The weather's great, the traffic is terrible. It's nice living in a place where you can walk into the backyard and pick lemons and avocados off a tree. It's less wonderful that it's very much an industry town, where the industry is entertainment, and there's paparazzi staking out the nursery-school carpool line.
SLM: Tell me a little about your childhood.
JW: I'm the oldest of four, and I grew up in a suburb of Hartford, Conn., in a town where I think there were nine Jewish kids in my high-school class of four hundred, but I'm obligated to say we all went to very good colleges. I was a bookish kid, not very successful socially, but I was lucky enough to grow up in a house full of books, with parents who read to us and encouraged us to read. Books were my escape and my safety net. I always dreamed of being a writer, and some days I still can't believe I get paid to make things up!
SLM: Who do you most admire?
JW: Susan Isaacs has always been a role model. She writes great, entertaining, readable books that have heroines who are beloved because of their smarts and their humor more than their beauty … and she lets these girls get the guy, win the prize, save the world. As far as I can tell, she also seems to have a nice balance between work and family and public and private, which is something any writer and mother strives for.
My mother is one of my heroes. She's smart and funny and endlessly, amazingly, unbelievably cheerful. Once, we took one of those magazine "How Happy Are You?" quizzes that asked questions about whether you get upset if you get cut off in traffic or yelled at by a boss. The categories ranged from "not happy," to "somewhat happy" to "really happy" to "supremely happy" to "lobotomized." My joke was always that my mom fell into the last category!
SLM: What's next for you?
JW: "State of Georgia" premieres on June 29th. "Then Came You" comes out on July 12, and I'll be on book tour that week. I plan—I hope?—to spend the summer in Cape Cod, relaxing with my family. Then I'll start thinking about the next book.
SLM: What do you wish you knew then that you know now?
JW: That it was all going to work out fine.
Maria Martino Evans is a writer and PR professional in Pipersville.