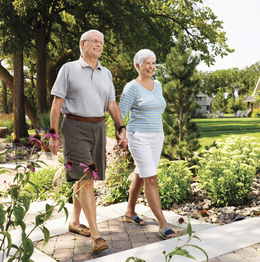 Silver Lining
How older adults locally are honing the mind, body and spirit
Some people might be tempted to call it a perfect storm, brewing in the near distance. Others might call it a tsunami, of sorts—"the silver tsunami," in Michael Smith's lexicon—massive and inescapable.
The "silver" refers to the graying of America—or, in this case, of the Philadelphia suburbs. The southeast corner of Pennsylvania, it seems, has one of the highest concentrations of older Americans in the country, only to grow with the maturing baby-boomer generation, estimated at 78 million. As the crush of new seniors looms, local businesses that cater to seniors—retirement communities, for instance—face a veritable gold rush in the years to come.
And they're already preparing in fine form, with newly expanded facilities designed to provide older adults—couples and singles alike—with health-care security and luxury amenities such as fully equipped fitness centers, swimming pools, computer centers, movie-theater style auditoriums and on-site cuisine capable of rivaling five-star restaurants.
Clearly, today's retirement communities are no longer places to go "just to sit and watch TV," according to Smith, corporate director of public relations for ACTS Retirement-Life Communities Inc., the West Point-based operator of 23 retirement communities serving 9,000 residents in eight states along the Eastern Seaboard, with a concentration in the Philadelphia suburbs. A recent $28-million expansion replete with the latest amenities and services at an ACTS community in South Carolina is a perfect example.
"We always tell people that living in a community like one of ours can help them not only live longer but better," says Smith, whose not-for-profit employer began operating 40 years ago with a single community in Fort Washington. "Numerous studies show that an active lifestyle is as important [to living a long life] as genes, and our independent communities are designed to help residents maintain and enhance that lifestyle with exercise, socialization and activities."
Each ACTS community offers a variety of fitness, nutrition and wellness programs designed to help residents achieve and maintain good health. These include land- and water-based exercise programs such as aqua aerobics, Tai Chi classes and on-site personal trainers who are schooled to work specifically with older adults. Technology has changed as well, and gaming systems such as Nintendo Wii are gaining traction among older Americans.
Example: A Wii bowling squad known as the St. Andrews Strikers, which is based out of an ACTS community in Boca Raton, Fla., has won the National Senior League Nintendo Wii Bowling Championship for three straight years. Most recently, the Strikers bested a field of 120 teams from 29 states to take the title.
"I think the whole image of senior communities has really evolved," Smith says. "There used to be this misperception of these communities being places to go just to sit and watch TV, but all of that is going away. You see how active the residents are, and it's becoming much more of the norm. Now retirement communities are places people want to be for the lifestyle and the security, and it's becoming much more attractive than staying in one's own house."
Better Living
As the maturation of the baby-boomer generation nears, premier retirement communities will become more in demand, especially in the Philadelphia suburbs. Pennsylvania has the third-largest population of seniors in the country, behind only Florida and West Virginia. As a nation, the population of Americans ages 45 to 64 grew to more than 81.5 million—an increase of more than 30 million—from 2000 to 2010, according to the U.S. Census Bureau. This age group now accounts for 26.4 percent of the total U.S. population.
Meanwhile, as a group the 65-and-older population grew faster than its younger counterparts, at a rate of 15.1 percent, to more than 40.3 million. Furthermore, this group is expected to number as many as 72 million, or 20 percent of the total U.S. population, by 2030. Globally, centenarians—those age 100 or older—will likely number 2.3 million by 2040.
"We're all living longer," says Dr. Marie A. Bernard, deputy director of the National Institute on Aging (NIA), Bethesda, Md. "And depending upon your gender, depending upon your racial group, how long you live will be variable. … Everything points to physical activity being a real enhancement as one ages; even at 90 to 100, one can still exercise.
"Our research also suggests that older individuals with a wide social network tend to have better health or better outcomes than individuals that don't have such a wide social network," she continues. "It could be belonging to a club, church goers, or a couple who are going to have their social environment enhanced by moving into a different setting."
The importance of social interaction and mental enrichment in staving off the aging process was the impetus behind Martins Run University, an offering of college courses taught by area college professors at a not-for-profit senior-living community in Marple Township known as Martins Run. Such courses are merely one part of the community's goal to enhance the mind, body and spirit of each resident.
"Residents don't have to stay within the four walls here," says Lorraine DellaFranco, senior vice president of sales and marketing for Martins Run, which has approximately 300 residents on its 22-acre campus nestled between Broomall and Newtown Square. "That's why people come to us; they know they will keep their minds and bodies far more active than they would just by staying at home."
Of course, a senior doesn't necessarily have to move into a retirement community to enrich one's life. Having a strong support structure of friends and family is among the key factors to ensuring a long, healthy life. Furthermore, older Americans who participate in "meaningful activities," such as working full or part time or even volunteering, generally say they feel happier and healthier, according to NIA research.
"The silver lining to the recession we had is that people didn't retire as early," Dr. Bernard says. "In countries where people retire later, there is more preservation of cognition than in those where people retire early. In France, which has an earlier retirement age, people had more loss of cognitive abilities than, say, in the United States or United Kingdom, both of which have a later retirement. … When people who had 401(k)s went to 101(k)s, maybe that was a good thing."
Other Benefits
DellaFranco calls it "the best gift a parent can give their children." She's referring to the decision a parent of adult children can make before getting to the point where he or she can no longer effectively care for themselves … before he or she can no longer make the decision. She's speaking, of course, about retirement communities—and she speaks from experience.
"My dad took my mom back and forth to a nursing home, and they had no quality of life together," she says. "My wish is for people to make the decision while they still can, and not when someone else has to make it for them."
Some retirement communities also offer security of health care through assisted living or "skilled care," so that residents are in good hands if their health declines or even if they have an accident and need temporary care until they recover. No matter what happens with their health, they won't have to move out of the community if they need specialized care. This benefit is also reassuring to seniors' adult children, who can take comfort in knowing their families' matriarchs and patriarchs are cared for in a safe, qualified environment.
"For seniors," says Smith, "typically they [move into a community] when they realize the house in which they raised their families is now much more than they need, or they dread the day-to-day chores associated with keeping a house: maintenance costs, mowing the lawn in the summer, raking leaves in the fall, shoveling snow—and we had a lot of it in Pennsylvania this year. That's another reason to live in a community like ours: They can experience the lifestyle."
He says residents often compare living in a premier retirement community such as ACTS' to life on a "cruise ship, with fantastic cuisine and amenities galore." Likewise, DellaFranco, who has been in the industry for almost 20 years, has seen communities evolve considerably in their ability to keep seniors vibrant and engaged.
"When I first started, maybe there was an art class once a week," she says. "Classes were not brought into the community, nor did we see so many people wanting to be outbound to keep their minds alive. … Communities were not open to the outside as much as they are today." It's not uncommon, she says, for Martins Run residents to take transportation downtown to the Mann Music Center or the theater district, for example.
"I've been there and had the experience both ways," says DellaFranco, who for a time was caregiver to one of her parents. "The biggest lesson I've learned is to talk to your parents in advance. So many people can't communicate with their family members about this topic; they never think of what might happen. … You shouldn't be afraid to have those conversations with your parents, or parents with their children. We're all going to get there someday, I hope."
Regardless of where older adults choose to spend their "golden years," there remains one constant: keep moving, in as many ways as possible.
"As we age we want to continue and need to continue to be out and about and active," Dr. Bernard says. "There's no doubt that it enhances one's quality of life, and it's likely to have other health benefits beyond that."