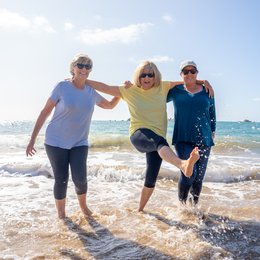 Happy Thoughts
A positive mindset serves our best interests as we age.
Ted Lasso is the rarest of shows. Whereas Netflix and the like abound with reality series and other content that seems to focus on the darker or more depraved aspects of the human experience, Ted Lasso explores the power of positivity and the difference one person can have on the people around them.
For anyone who is unfamiliar with the show, which recently completed its third and final season on Apple TV, Ted Lasso revolves around the titular character played by Jason Sudeikis. Lasso is an American football coach who gets recruited to coach a struggling soccer club in Richmond, located in southwest London. While each episode is mostly comedy, it's surprisingly touching, in that it delves into the pains and challenges faced by each member of the cast.

Ted Lasso is nearly perfect, with so much heart and pining for what the world could be, and often is for those who have learned how to live within it without succumbing to anger and bitterness. The show's lessons are remarkably apt for older adults.

A positive mindset may very well be the key to a long and enriching life, according to the Asher Longevity Institute, a Washington, D.C.-based organization devoted to using science and easy-to-implement lifestyle changes to help its constituents lead active lives into their 90s and beyond. Studies have found that people who practice positive thinking have lower rates of depression, anxiety, and stress, while it can also enhance our physical health by reducing the risk of heart attack, stroke, and other life-threatening conditions.

Maintaining a positive mindset in older age may be good advice, but it can be easier said than done considering the hurdles that getting older can bring: the debilitation or death of a spouse or partner, the slow decline of our own faculties, the loss of friends and family, a therapy or surgical procedure that does not go according to plan, etc.

One way is to practice mindfulness, according to the Asher Longevity Institute, which involves being present in the moment and focusing on the aspects of our lives that bring us joy and contentment. Other ways: surrounding oneself with friends and family who have a healthy mindset, consuming uplifting media (i.e., Ted Lasso), and expressing gratitude for the blessings in our lives. Taking some time every day to reflect on the things for which we are thankful may help us resist the temptation to ruminate on the path not taken, lament the "good old days," or indulge emotions that do not serve our interests.

I am reminded of the noted poet Donald Hall, who served as poet laureate of the United States from 2006 to 2007. The love of Hall's life, Jane Kenyon, passed away in 1995 at the age of 48. Hall was 67 at the time of her death, and the experience upended his life; he wrote numerous beautifully written books about Kenyon's illness and death, and the heartache of her loss.

Yet he refused to let grief consume him. He continued to write and travel. He also found love again, though he always kept Kenyon in his heart. Hall died in 2018, at the age of 89, and even toward the end he seemed to have retained his good nature.
Published (and copyrighted) in Suburban Life magazine, June 2023.