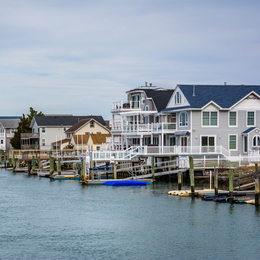 Making Waves
Whether they stay for a weekend, a season, or the rest of their lives, area natives simply cannot get enough of life "down the shore."
Spending time around so-called "blue spaces," or areas near water, offers numerous benefits to humans' health and wellbeing. Living near water has been shown to lower stress and anxiety, increase happiness, and lower heart and breathing rates. Some researchers say it can even fuel our creativity, spark our imagination, and encourage resilience.
Plus, being near the water just feels good—listening to the soft roar of the waves, feeling the warm breeze on our skin, walking along the liminal space where sand and surf meet while pondering the challenges and opportunities life brings our way.

No wonder so many families from the Philadelphia area make a beeline for the Garden State Parkway every summer. Going "down the shore" is a generational tradition. Whether you stay for a day, a weekend, or longer, there is simply no other place on Earth quite like it. Many treasure the joys of sun, sand, and surf so much, they decide to relocate there, either seasonally or permanently.

Many retirees and pre-retirees have chosen to build new homes along the South Jersey coast. In March 2022, 1,141 permits were issued for single-family detached homes in the South Jersey shore markets, according to a recent story from U.S. News & World Report. In March 2023, the figure rose to 1,159 permits, marking a 1.58 percent increase year over year. Single-home permits hit their peak in July 2022, at 1,248.

For those who prefer not to build a new home from the ground up, the South Jersey real estate market remains dynamic. Although sales have calmed a bit since their peak in the early days of the pandemic, units sold in Atlantic and Cape May counties climbed to 520 in May 2023, an 8 percent increase over the prior month (482), according to recent data from The Long & Foster Market Minute.

Many are building or renovating their shore homes for the long haul, complete with elevator or lift readiness and easy-to-navigate open floor plans. In other words, people are devoted to spending the rest of their lives near the water, reaping all the benefits such a lifestyle provides.
Published (and copyrighted) in Suburban Life magazine, June 2023.