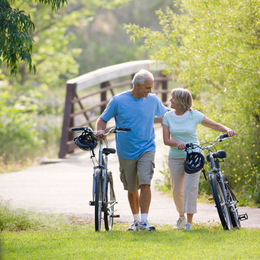 Best Wishes
No matter how someone plans to retire, first-class retirement communities and other local resources help retirees realize their vision.
There's no "one way" to retire. Everyone has a different vision for their retirement.
Some people do not intend to ever fully retire, too enthralled with the rhythm, purpose, and other benefits that come from a fulfilling career. Others might want to move nearer to the beach or the mountains, and simply enjoy the serenity their new surroundings provide. Perhaps retirement includes a packed schedule, including new hobbies, trips abroad, and frequent visits from the grandkids. Others might want to retreat to a continuing care retirement community (CCRC) to meet new people, pursue new activities, and live with the assurance that, no matter what happens in the years ahead, they will be well cared for.

The Philadelphia area has an abundance of first-class CCRCs, each devoted to helping their residents make the most of their retirement. While residents treasure the many opportunities to enrich their lives through first-class wellness facilities, fine dining, and opportunities to reinvent themselves, many are drawn to certain communities for the assurance of lifelong care. These communities have evolved to accommodate virtually every healthcare need, from independent living and personal care, to medical care, memory care, and more.

Following is a guide to the some of the area's finest CCRCs and allied care communities. We acknowledge that the Philadelphia has many exceptional communities and facilities devoted to caring for people of retirement age, not all of which are listed here.

Best of Retirement, Class of 2023
Acts Retirement Life Communities
Brittany Pointe Estates in Lansdale, Fort Washington Estates, Granite Farm Estates and Lima Estates in Media, Gwynedd Estates in Ambler, Normandy Farms Estates in Blue Bell, Southampton Estates, and Spring House Estates in Lower Gwynedd
actsretirement.org

Arbour Square of Harleysville
Harleysville
arboursquare.com

Artis Senior Living
Huntingdon Valley, Yardley, and Princeton, New Jersey
artisseniorliving.com

Atria Senior Living
Atria Center City in Philadelphia and Atria Lafayette Hill
atriaseniorliving.com

The Attleboro Community
Langhorne
attleborocommunity.com

Brandywine Senior Living
Dresher Estates, Haverford Estates, Longwood in Kennett Square, Senior Suites in East Norriton, and Upper Providence in Phoenixville
brandycare.com

Chandler Hall
Newtown
ch.kendal.org

Cornwall Manor
Cornwall (Lebanon County)
cornwallmanor.org

Dunwoody Village
Newtown Square
dunwoody.org

Elm Terrace Gardens
Lansdale
elmterracegardens.org

Five Star Senior Living
The Devon Senior Living, NewSeasons at New Britain in Chalfont, and Forwood Manor in Wilmington, Delaware
fivestarseniorliving.com

Freedom Village at Brandywine
Coatesville
fvbrandywine.com

Friends Home & Village
Newtown
fhvpa.org

Garden Spot Village
New Holland
gardenspotvillage.org

HarborChase of Wilmington
Wilmington, Delaware
harborchase.com/harborchase-wilmington

HarborChase of Princeton
Princeton, New Jersey
harborchase.com/harborchase-princeton

The Hearth at Drexel
Bala Cynwyd
thehearthatdrexel.org

Heartis
Warminster and Yardley
heartis.com

Hershey's Mill Villages & Golf Club
West Chester
hersheysmill55plus.com

The Hickman
West Chester
thehickman.org

HumanGood
The Mansion at Rosemont, Rydal Park and Rydal Waters in Jenkintown, and Spring Mill Pointe in Lafayette Hill
humangood.org

IntegraCare
Glen Mills Senior Living, Exton Senior Living, Magnolias of Lancaster
integracare.com

Kendal-Crosslands Communities
Kennett Square
kcc.kendal.org

The Landing of Collegeville
Collegeville
leisurecare.com

The Manor at York Town
Jamison
themanoratyorktown.org

Maplewood at Princeton
Plainsboro, New Jersey
maplewoodseniorliving.com

Masonic Villages
Lafayette Hill and Warminster
masonicvillages.org

Meadowood Senior Living
Lansdale
meadowood.net

Merrill Gardens
Arbour Square in West Chester, Eagleview Landing in Exton, Mercer Hill at Doylestown, Merrill Gardens at Glen Mills, The Pinnacle in Plymouth Meeting, Truewood by Merrill in Glen Riddle
merrillgardens.com

Oxford Enhanced Senior Living
Langhorne
oxfordenhancedseniorliving.com

Pennswood Village
Newtown
pennswood.org

Pickering Manor
Newtown
pickeringmanor.org

Pine Run Retirement Community
Doylestown
pinerun.org

Pleasant View Communities
Manheim
pleasantviewcommunities.org

Priority Life Care
Symphony Manor of Feasterville and Independence Court of Quakertown
prioritylc.com

Riddle Village Retirement Community
Media
riddlevillage.com

SageLife
The 501 at Mattison Estate in Ambler, Chestnut Ridge and Plush Mills in Wallingford, Daylesford Crossing in Paoli, Echo Lake in Malvern, and Ovation at Riverwalk in Princeton, New Jersey
sagelife.com

The Solana Doylestown
Warrington
thesolanadoylestown.com

Springton Lake Village
Media
springtonlakevillage.com

Sunrise of North Wales
North Wales
sunriseseniorliving.com

Symphony Square
Bala Cynwyd
symphonysq.com

The Watermark at Bellingham
West Chester
bellingham.watermarkcommunities.com

Waverly Heights
Gladwyne
waverlyheightsltd.org

White Horse Village
Newtown Square
whitehorsevillage.org
A Sense of Purpose
Diane Brueilly may have reached "retirement age," but she does not intend to stop working anytime soon. She has too many people to help, too many lives to touch.

Brueilly, age 68, is a caregiver with Griswold Home Care, an organization founded by Jean Griswold in suburban Philadelphia more than 40 years ago. Brueilly has been caring for others since she was a teenager, when she tended to her ailing grandmother in Pennsylvania's Tioga County. Later, she moved to Glenside and cared for an aunt who had multiple sclerosis.

"Originally, I lived on a farm and [my grandmother] lived in town," Brueilly recalls. "She taught me how to clean a house, about home cooking—those kinds of things. She taught me a lot about life.

"On the farm, I had a lot of love and compassion for animals," she continues. "Not to compare animals with people, but I think that experience helped me when I started coming into people's homes and caring for them. I'm there to help them feel better. If they're in hospice, I can offer care and comfort, both to the person and their family."

With Griswold, Brueilly cares for individuals in need of everything from daily activities to hospice care. One individual required care for nine months, while others have required care for as little as one week. Live-in care requires tremendous sacrifices of time and energy, as most individuals require around-the-clock attention.

"The work involves body, soul, and mind," she adds. "It's a matter of building trust and demonstrating that I'm there for care. For me, this work has changed my opinion of aging for the better. It has given me a sense of purpose.

"In the past few years I have been brought in to do hospice care," she continues. "It is difficult, and I hate it; it's painful for me as well as the person. They often know the end is coming, and they need a sense of steadiness. That's my purpose."

Terri Rosen, the owner and director of Griswold Home Care in Center City, says caregivers like Brueilly provide care and support to people of all backgrounds, means, and ages. She describes Brueilly as hardworking, honorable, and reliable.

"Caregiving is a calling, not a job," Rosen says. "She wants to give back. That's what sets Diane apart."

Brueilly recently won a National Caregiver Scholarship from the Jean Griswold Foundation, awarded to caregivers across the country for their courage, compassion, and perseverance. She intends to use the $2,000 award to continue her education in intercultural studies.

"We are an intercultural society now," she says. "I've learned quite a bit with each class I've taken. I feel I've been able to pinpoint a lot of things relating to people with cultural differences to make a trusting and positive relationship."

When asked about the future, including her own retirement, Brueilly focuses not on herself but on the people she can help.

"This work has been an investment of my life," she says. "Hopefully it will make a difference."
Published (and copyrighted) in Suburban Life magazine, June 2023.