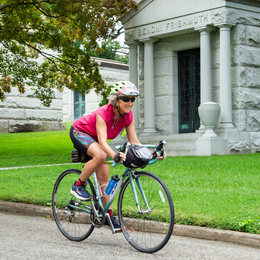 Endless Opportunities
Besides serving as an inimitable resting place for the dearly departed, Laurel Hill offers a "blank canvas" for guests to exercise, entertain, and otherwise enjoy a truly stunning property.
Ask 10 different people who visit Laurel Hill on a regular basis to name their favorite part of the 265-acre property, and you're liable to hear 10 different answers. Even those who know it best, like Rhonda DiMascio, admit that their preference varies day by day, even hour by hour.

Rolling hills and green open spaces, ornate mausoleums and detailed gravestones that tell stories about the lives of people who have preceded us in death, an accredited arboretum with horticultural display gardens and more than 6,000 trees and shrubs—Laurel Hill truly has something for everyone.

"It changes seasonally as well," says DiMascio, director of the Friends of Laurel Hill, a nonprofit that supports the cemetery's mission through year-round programming, promoting its core values, and fundraising. "In the snow, everything takes on a different appearance and a different meaning. Things can look different in the morning or in twilight. Depending on your mood and what you're doing that particular day, you might have different favorites. Laurel Hill changes all the time; it's very special and unique."

It is no wonder that Laurel Hill has evolved into much more than an organization devoted to helping families grieve and honor their loved ones with multiple burial options and on-site funeral home services. As its website proclaims, guests are able to "appreciate the beauty of the living world in a place built to honor the dead."

That might mean taking in the stunning views, immersing oneself in the natural surroundings, attending a special event, or exercising on the grounds of the two campuses, Laurel Hill East in Philadelphia and Laurel Hill West in Bala Cynwyd. The cemetery is also part of The Circuit Trails, one of the largest networks of multi-use trails in the country.

"One of our three fundamental pillars, along with eternal rest and civic value, is recreation," says CEO Nancy Goldenberg. "That includes everything from the walking tours we give and the programs we offer to simply opening our gates and allowing people to come in and walk their dogs, stroll with their families, ride their bikes, or enjoy a picnic. They can engage in passive recreational activities like photography, bird watching, relaxing, or writing poetry. We really think of our grounds as open green space for use by the community, free of charge, 365 days a year."

More and more people take advantage of those opportunities every year. The number of annual leisure visitors to Laurel Hill has more than doubled since 2019.

"Personally, I've talked to people who literally have lived next door to us for decades and hadn't been in the cemetery," Goldenberg says. "Then they came in for the first time—maybe because of COVID, maybe because of something else—and once they discovered how beautiful, clean, and safe our property is, they've made it part of their daily routine and brought their friends and families to enjoy it as well."

DiMascio and her staff of full-time employees and volunteers also do their part to welcome guests through creative programs and educational experiences. The calendar, which can be accessed on Laurel Hill's website, includes a panoply of entertaining events: outdoor movie nights, a classic car show, a therapeutic horticultural series, and concerts by acts such as Philadelphia punk legends The Dead Milkmen. Walking tours include "Hot Spots & Storied Plots" and "Sacred Spaces & Storied Places."

Fall is an especially busy time, particularly near Halloween, as can be expected for a cemetery. Events include Market of the Macabre, featuring over 60 vendors; the Rest in Peace 5K, in which participants are encouraged to come in costume; and the Gravediggers' Ball, an annual fundraiser.

In addition to this year-round programming, Laurel Hill is a popular site for a wide range of private events.

"The majority of the inquiries we receive are for weddings," says Joanie Sweeney, Laurel Hill's marketing, communications, and events specialist. "We also accommodate group meetings, such as gardening clubs and school groups, as well as corporate retreats, family reunions, birthday celebrations, company parties—you name it, we can host it."

While weddings are held throughout the year, they are quite popular around Halloween for couples seeking an unconventional ceremony, perhaps with a dark romance theme. Laurel Hill offers the Conservatory Greenhouse, a sun-filled setting that can seat up to 110 guests, with a cocktail room and outside veranda that can accommodate an additional 100 people. The Atrium within the Laurel Hill Funeral Home offers more intimate gatherings, and its Chapel of Peace is a perfect venue for a traditional wedding. The abundance of outdoor space at Laurel Hill means the options are "almost endless," according to Sweeney.

"There are so many event venues nowadays that offer a similar kind of style, décor, and setup," she says. "We offer indoor and outdoor space that is very customizable for people. I like to tell them it's a blank canvas, and there's a lot that they can do with it."

Clearly, there can be any number of reasons to visit Laurel Hill, and for those local residents who still have not seen it in person themselves, Goldenberg urges them to delay no longer. It is a place, after all, where even the guests get creative in finding ways to use the property.

"One of the most unusual recreational activities I've seen in my five and a half years of being here was when I saw two brothers who were at their father's grave," Goldenberg says. "They were having a picnic and they had a television hooked up so they could watch the opening game of the Eagles' season. They said their father was a huge Eagles fan, so they come out once a year to watch a game with him and have a picnic.

"The fact that they found a way to combine memorializing and remembering their father in a way that he would have liked, while they too enjoyed our grounds in a passive recreational way, was just beautiful. In a nutshell, this is what Laurel Hill is all about."
Laurel Hill East
3822 Ridge Ave.
Philadelphia, PA 19132
(215) 228-8200
Laurel Hill West and Laurel Hill Funeral Home
225 Belmont Ave.
Bala Cynwyd, PA 19004
(610) 668-9900
Photo by Alison Dunlap
Published (and copyrighted) in Suburban Life magazine, July 2023.

---