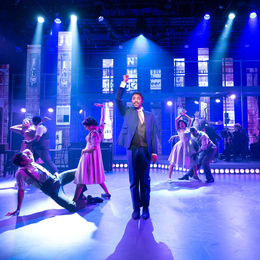 The Art of Being Human
People's Light in Malvern explores the human condition through meaningful theater productions designed to uplift, connect, and spark conversation. 
The importance of the performing arts in modern society cannot be understated. In addition to providing a much-needed diversion from the trials of everyday life, live theater offers a space for people to come together, discuss and exchange ideas, and uplift one another. This is exactly the mission of People's Light, a premier professional theater in Malvern, Chester County.

"We're very much a people-first organization, in terms of how we operate internally as well as the art we put on stage," says Zak Berkman, Producing Artistic Director for People's Light. "We focus on the human condition, asking what makes people feel seen, feel heard, and connect more with each other."

The story behind the theater's name traces its origins back to a leading local light-rental company, also called People's Light. Berkman explains that the theater signed its nonprofit forms initially thinking it would come up with a more suitable moniker later, but the name stuck.

"Some people think we're a utility company, and some people think we're a cult," he says with a laugh. "I like the idea of thinking we're a little bit of both."

"I think the name is reflective of being a gathering place where people can come to really understand each other's stories," adds Erica Ezold, Managing Director. "It's funny to me that, yes, the name was accidental, but I think it's appropriate and really fits."

With an audience that pulls from the five-county area, Berkman says People's Light stages productions that seek to "reflect and represent people in our midst, both with current stories and stories that have been around for decades and decades."

In addition to a theater, the sprawling campus includes The Farmhouse, a venue space that can accommodate up to 250 guests, as well as The Fern & Fable, a restaurant offering seasonally inspired dishes made with local ingredients set within a 1700s farmhouse.

"Our seven-acre campus is a place where various constituents can gather and connect and find stories that allow them to share a sense of belonging and community," Berkman says. "We want to be a 'third place,' in addition to home and work, where people from this part of Pennsylvania that's so diverse and distinctive want to come to gather to be around friends and family, and discover new people and things they didn't know."

People's Light dates back to 1974. While the details of its milestone 50th season have not yet been finalized, the organization has a stellar lineup planned for its 49th season, including works from writers with distinct voices who say something meaningful for the people of this region. One example: the world premiere of Bonez, a play by Steve H. Broadnax III, billed as a thrilling examination of black male friendships over a game of dominoes.

The rest of the season will include a mix of plays and musicals, including a production of the seasonal classic A Christmas Carol, featuring Ian Merrill Peakes as Scrooge. The season will also see the return of Robert Montano in SMALL, a production based on the actor's own experience pursuing a career as a horse jockey. Christina Anderson's the ripple, the wave that carried me home, meanwhile, centers on the desegregation of swimming pools in the Midwest.

"It's funny, heartfelt, and deeply moving," Berkman says of the work. "The story of segregated swimming pools is still front of mind for folks in this area, and I think it is going to speak to many communities, black and white, who remember well when swimming pools in our area were segregated and what that said about our local communities."

"I think that what keeps, and should keep, theater alive is that it is a thread to connect people," Ezold says. "There's nothing like the feeling of being connected. There have been research-based studies that link empathy to the live theater experience. That's something that was missed during the pandemic. It's different to watch television in isolation on the couch versus being in a shared space with people."

The People's Light initiative "New Play Frontiers," which has been a signature program for about 10 years, offers writers the chance to explore stories found within Chester County. In this program, writers immerse themselves in their communities and use the experience as inspiration to create and workshop plays that may one day land onstage. Another new initiative, a play lab called The Kiln, further demonstrates the theater's commitment to developing in-house works.

"We're the only year-round producing theater of our scale in the area," Berkman says. "If we were ever to go away, there would be a tremendous hole. We're thinking now about the form in which sustainability will come, and we really have to rethink how we work, how to expand and diversify our programming so many more stakeholders will come."

People's Light has explored this idea through music, concerts, and town-hall meetings. A new offering known as "Flight Nights" allows guests to enjoy libations and short plays, soothing the palate and the soul.

"Theater has always been a place of social gathering," Berkman says. "It's not all about 'content,' as we call it now. It was about the social experience and theater as the gravitational force for that experience, providing a shared moment for that experience to take place. That's what live arts has always been and will always be. In a democracy, this is especially important.

"We want to remind people that people want to be around other people," he continues. "It's not just about the play, but also the food, the drink, the lobby, the energy of the folks greeting people, the music playing beforehand—it's the experience of going out and reminding people that they like it."

The area's unique geography makes People's Light an especially exciting meeting place—a nexus of rural, urban, and suburban.

"We're definitely not a shy part of the world," Berkman says. "We are a place that loves to talk to one another and chew on really big questions, whether it's will Trea Turner ever hit again for the Phillies, or a political question, or the nature of how alcohol is purchased in this locality. As a theater, our main job is to give people something they really want to talk about."

"As a 'purple' area, we have the opportunity to bring people together who wouldn't necessarily connect in other ways with this powerful form of storytelling," Ezold says. "Watching a story unfold onstage, you either feel represented or it tells someone else's story, which builds empathy. I think theater creates dialogue and greater understanding between people, and we're in a time now where that's really lacking."

Humankind has entered an era in which technology that was designed to connect people has left them feeling more polarized and disconnected than ever. Theater, Berkman believes, acts as a catalyst to rekindle the conversation.

"When people visit People's Light, we want them to leave with their heads spinning, hearts swelling, and feeling like they have a bigger life," he says. "Whether you like something or don't like it, we're nourishing people with that conversation. I think that's part of the social experiment of theater."
People's Light
39 Conestoga Road
Malvern PA 19355
(610) 644-3500
Peopleslight.org
Photo: The cast of Personality: The Lloyd Price Musical, People's Light 2022
Published (and copyrighted) in Suburban Life magazine, July 2023.
---