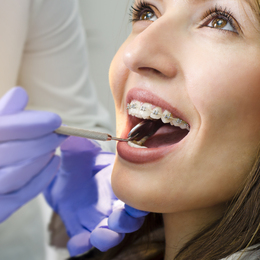 Straight Shooters
Leading orthodontists align much more than patients' smiles.
In the words of A Game of Thrones novelist George R.R. Martin, "The living should smile, for the dead cannot." The quote may seem a bit morbid, but his point is well taken: We are alive, so we might as well enjoy it. But for some people—namely, those with crooked or misaligned teeth—sharing a smile is a bridge too far.
Your friendly neighborhood orthodontist is ready to help.

Orthodontists may be best described as dentists who commit to an additional two to three years of specialized education beyond dental school to learn the ins and outs of aligning and straightening teeth. That may sound simple enough, but the study of orthodontics encompasses the diagnosis, prevention, interception, and correction of malocclusion (the abnormal alignment of the upper and lower teeth), as well as neuromuscular and skeletal abnormalities of the developing or mature orofacial structures.

Correcting a misaligned bite can improve the way a person chews, bites, speaks, and even breathes. It can also have a profound effect on a person's confidence, thereby making a difference on just about every other part of a person's life. And orthodontics is hardly just for kids. Some orthodontists in the Philadelphia area estimate that adults account for as much as half of their patient base.

The question remains: How does someone go about selecting an orthodontist to perfect their smile? We're glad you asked.

As part of our recent Top Dentists feature, we invited readers to vote for the orthodontists and other dental health providers they consider the area's best and brightest. Those "votes" are included here, along with the names of a few notable orthodontists who have been featured in the pages of this magazine. We present our 2023 Top Orthodontists.
2023 Top Orthodontists
Dr. Andrea Appel
Dr. Andrew Appel
Dr. Steven Appel
Appel Orthodontics
Multiple locations
appelortho.com

Dr. Alexander C. Apple
Penn Dental Family Practice
Multiple locations
mypenndentist.org

Dr. Benjamin K. Azizi
Azizi Orthodontics
Ambler and Glenside
aziziorthodontics.com

Dr. Joseph Brogan
Heine & Associates Family Dentistry
Newtown
heinefamilydental.com
Dr. Raymond S. Buttenbaum
Buttenbaum Orthodontics
Paoli
buttenbaumortho.com

Dr. Benjamin A. Cassalia
Cassalia Orthodontics
Chalfont and Ottsville
drcassalia.com

Dr. Daniel Cassarella
DCO Orthodontic Specialists
Worcester
dco-ortho.com

Dr. Jordan Cogan
Dr. Cathleen George
CG Orthodontics
Yardley and Richboro
teethstraight.com

Dr. Steven M. Cohen
Steven M. Cohen, D.M.D., M.S.D.
Philadelphia
phillybraces.com

Dr. Anthony L. Cook
Dr. Patricia D. Gutsche
Cook & Gutsche Orthodontics
Springfield
greatorthosmiles.com

Dr. Steve A. DelliGatti
Dr. Michael Milewski
DelliGatti and Milewski Orthodontic Group
Ambler and Northeast Philadelphia
dmorthogroup.com

Dr. Tanja J. de Marsche
Dr. William Roberts
Roberts & de Marsche Orthodontics
Philadelphia and Lawrenceville, New Jersey
robertsanddemarsche.com

Dr. Jake Dorfman
Dorfman Orthodontic Group
Bensalem and Southampton
dog-ortho.com

Dr. Marianna Evans
Infinity Dental Specialists
Glen Mills and Newtown Square
infinitydentalspecialists.com

Dr. Shawn M. Faust
Faust Orthodontics
Havertown
faustorthodontics.com

Dr. Christine Ferrell
West Chester Orthodontics
West Chester
wcbraces.com

Dr. Dovid Friedman
Friedman Orthodontics
Merion Station
friedmanorthodontics.com

Dr. Jamie N. Goodreau
Jamie N. Goodreau, D.M.D., M.S.D.
Chalfont
drgoodreau.com

Dr. Colleen Gordon
Gordon Orthodontics
Ambler
orthodontistambler.com

Dr. Sally Gupton
Sally A. Gupton, DDS
Fort Washington
sallyguptonortho.com

Dr. Kellyn Hodges
Kellyn Hodges Orthodontics
Multiple locations
hodgesortho.com

Dr. Neil Mandalia
My Smile Orthodontist
Newtown
mysmileorthodontist.com

Dr. LynAnn Mastaj
Mastaj Orthodontics
Bryn Mawr
lynannmastaj.com

Dr. Antonino G. Secchi
Devon Orthodontics
Devon
devonortho.com

Dr. Tejjy Thomas
Center City Orthodontics
Philadelphia and Cherry Hill, New Jersey
centercityortho.com

Dr. Orhan Tuncay
Rittenhouse Orthodontics
Philadelphia
rittenhouseorthodontics.com

Dr. Todd M. Welsh
Bucks County Orthodontics
Doylestown
buckscountyorthodontics.com
Published (and copyrighted) in Suburban Life magazine, July 2023.