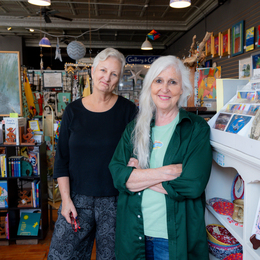 Life as a Work of Art
As co-owners of Chimayo Gallery and Gift Shop in Perkasie, Alix Stoll and Priscilla Gray-Stoll celebrate togetherness, healing, and the joy of artistic expression.
A pilgrimage to the village of Chimayó, New Mexico, abruptly altered the shared trajectory of native New Yorkers Alix Stoll and Priscilla Gray-Stoll.
"It's a small town north of Santa Fe we had visited, and that visit was a catalyst for our lives," says Priscilla. "Santa Fe is a beautiful town, an incredible sanctuary. Alix had looked up sacred places to visit while we were out there, so we got a rental car and drove up to Chimayó. It's an amazing place where the soil is sacred. People go there to heal."

While there, they began to feel a sense of healing, too—from city life, from the rigors of work, and from the simple act of living in a wounded world.

"Within a week [of coming home] we decided to sell the house, retire, and move," Priscilla says. "I had always wanted to open some sort of business, so that kept bubbling up."

Memories of their time in Chimayó kept returning to them. Alix, a painter, and Priscilla, a former educator with an interest in sewing, both had creative backgrounds, so they thought: Let's open an art gallery. It did not matter that neither of them had prior experience getting an art gallery off the ground or running a retail establishment of any type.

"In New Mexico, we went up the Turquoise Trail," Priscilla says. "We saw all these people living in mining huts, selling their wares out of the front of the hut. And we said, 'If other people can do it, we can do it.' So that's what we decided to do."

In the early 2010s, they settled in the quiet Bucks County borough of Perkasie, where they had an existing family connection, and brought their art gallery to life. Its name, naturally: Chimayo Gallery and Gift Shop.

The gallery, which first opened on Market Street and has since moved to the corner of 7th and Arch, sells fine art, pottery, and jewelry, among other handmade gifts. Some of the art that adorns the walls comes from the mind and paintbrush of B.A. Stoll, which is Alix's pseudonym. She tends to paint in two different styles, both rather abstract; one style includes distinctive four-legged creatures roving the landscape, with or without human-like riders.

"I don't know what those creatures symbolize, and I don't want to know," says Alix, whose expertise also includes acting and writing; her children's book, The Little Child in the Sky, is available at Chimayo. "I have always drawn and painted, and I have been surrounded by artists all my life. Being around that dynamic in my childhood got me in the mindset of artists and their bravery."

Chimayo's carefully curated merchandise may be best described as funky and unpretentious. The gallery has a sizeable waiting list for artists and makers, both established and emerging, many of whom have local roots. Unlike the offerings at some galleries, much of the merchandise at Chimayo is rather affordable.

"Everyone should be able to have affordable art in their homes," Priscilla says. "Considering everything else in the world, art offers solace and calm and understanding. Like literature, it exposes you to a world you don't know and opens it up to you.

"I think of books like The House on Mango Street [by Sandra Cisneros]," she continues. "I want to read about other people and how their lives differ from mine, and books like that give me an understanding of other people's experiences. Art does the same thing."

Alix and Priscilla also wanted their space to be more than "just a gallery." They wanted to provide a community space where people could gather and find common ground. And that's exactly what they have done, through a monthly book group and a knitting circle, among other gatherings. It's a unique atmosphere for a small town such as Perkasie—a sanctuary-like "third place," akin to a library, a garden, or other public spaces where people find peace in a chaotic world.
'Find Your People'
Alix and Priscilla met through their respective preschool-age children, who attended the same Montessori school in New York. At the time, both women were single mothers by choice, and they quickly became friends. Their friendship evolved into something far greater. They have since been married twice—first when their kids were little, as a "family marriage," and a second time shortly after Gov. Andrew Cuomo signed New York's Marriage Equality Act into law.

"Our mission is to create community," Priscilla adds. "We're not expecting to make $1 million at the shop; we just want to do what we want to do. We have found there are some amazing people here. … Just before we moved here, we were wondering if we were going to be accepted here, not that Long Island is so advanced. And we were told, 'Know what? You will find your people.' We did, and we started making friends through the gallery.

"One of our thrusts of being here in Perkasie, without sounding corny, is to spread the love," she continues. "We're just here to keep living and being kind to one another, and to remind people that we are all way more alike than we are different. We live in a nice, diverse community. It's a nice place to live, and we're happy here; we just want to add to the joy of living in Perkasie."

As for what comes next, Priscilla says, "Our ambition is behind us." She will continue to sew and otherwise work with her hands, Alix intends to keep writing and painting, and together they will continue to foster a culture of togetherness and healing, just like the one they found in New Mexico so many years ago.

In the meantime, Priscilla adds, "We're waiting patiently for grandchildren."

Team Effort
For these local companies, success is a family affair.
Holland Floor Covering's roots in Bucks County stretch back to 1973. The family-owned business has since expanded its footprint to the Main Line with the opening of a second location in Wayne. Members of the Hansbarger family have been leading the way for 50 years. This includes Pamela Gifford, the company's CFO and daughter of founders Dave and Judy Hansbarger, and Sarah Alles, Pam's daughter, who has played a key role in the company's Main Line expansion. Mother and daughter treasure the opportunity to work together toward something meaningful. While Pam can envision a day when she will wind down her career and Sarah is closer to the beginning of hers, they both feel tremendous pride in nurturing a company that has served homeowners and businesses for generations. hollandfloor.com
Arthur I. Martin, known to most people as Art, founded The Martin Wealth Management Group 50 years ago. A former financial advisor who now holds the title of senior financial associate for the Princeton, New Jersey-based firm, Art has been thrilled to see the firm grow and evolve through Wade R. Martin, Art's son, who serves the group as managing director and financial advisor, and Zach Martin, Art's grandson, who serves the group as first vice president, financial advisor. Their job titles aside, the Martins and other members of The Martin Wealth Management Group at RBC Wealth Management view themselves as educators and problem solvers, no matter what the problem may be. While the group's financial advisors prioritize helping clients plot out the future through carefully curated investments and other financial vehicles, they do much more than that. The list of ways in which they have helped put clients' minds at ease (and the minds of non-clients, too) is surprising—and surprisingly comprehensive. martinwmg.com
The husband-and-wife team of Stephen Matta, D.O., and Mary Anne Matta lead Meeting Point Health, an integrative medicine clinic located in an historic building in Manayunk. The practice's name refers to the clinicians' distinctive approach, a confluence of the best elements of Eastern and Western medicine. The Mattas founded Meeting Point Health in 2017, driven by a singular goal: to identify the root cause of each patient's illness and then optimize the patient's health through treatments designed to stimulate the human body's innate healing response. Their patient population includes people of every age, ethnicity, educational background, and economic status. Their patients do, however, share at least two commonalities: the willingness to invest in their health, and the desire to reclaim their medical autonomy after less than satisfactory experiences in more traditional healthcare environments. meetingpointhealth.com
Irina Frolov, D.D.S., may have founded Miracle Dental Center, but the Bucks County dental practice has truly become a family affair. Dr. Frolov's son, Alex Tyurin, D.D.S., joined the practice about a year and a half ago. Dr. Tyurin, who has a profound interest in oral implantology, has helped Dr. Frolov expand the practice's care options and serve a broader population of patients. Considering the Feasterville-Trevose-based practice's recent investments in technology upgrades and other advances to enhance patients' comfort and convenience, Drs. Frolov and Tyurin feel as though the practice is better equipped than ever to serve patients' needs by creating healthy, functional, and aesthetically pleasing smiles. miracle.dental
Amy Batra and Sanjay Batra, Ph.D., met 20 years ago at a networking event. In March 2020, the Batras began building a small empire of health-and-beauty brands focused on aesthetics and dermatology, all based largely out of their home and laboratory in Bucks County. Their company, WETHRIVV®, represents years of experience in the aesthetics, biotech, and pharmaceutical industries, including working for some of the world's largest and best-known companies. The company has accumulated a legion of customers devoted to its portfolio of innovative, elegant, and all-natural products, each designed to fulfill a specific need, previously unmet. The company's creations include a line of anti-aging and skincare products under the Maskad® brand, as well as Revivv®, a topical drug-free serum to promote hair growth. wethrivv.com

Photo by Jody Robinson
Published (and copyrighted) in Suburban Life magazine, July 2023.