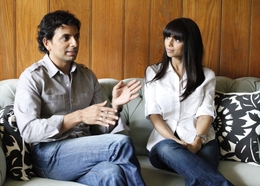 No Fear
M. Night Shyamalan and his wife, Bhavna, take bold action to make the world a better place
It's a bright, cloudless morning on the Main Line—perfect weather for a Wednesday in early May—and Dr. Bhavna Shyamalan is preparing to leave for a weeklong trip through parts of Central America far from the routes tramped by even the most adventurous tourists. She sits comfortably with her husband on a mint-colored couch, her delicate hand clasped gently in his. They laugh and trade stories about their years together, their shared accomplishments, looking, in a word, happy.
The scene, however, doesn't seem quite right.
For a man who earned his fame as a writer, director and/or producer of Hollywood blockbusters thick with dark imagery and serpentine plot twists—"The Sixth Sense," "Signs" and, most recently, "Devil," to name just a few—M. Night Shyamalan seems surprisingly at ease, and more carefree than one might expect considering the risk involved in his wife's upcoming trek. After all, the trip will be anything but a poolside vacation.
In fact, she and a colleague will traverse some of the most depressed areas of Guatemala, Honduras and Nicaragua. The itinerary includes hiking to within spewing distance of an active volcano; donning daffodil-yellow protective beekeeper suits; traveling alternately by mule and by boat to meet with natives in the remotest of areas; and visiting communities of scavenger families who survive only by "fighting with vultures" to sell scraps unearthed in nearby trash heaps.
"I was always someone who enjoyed traveling and who wanted to see the world when I grew up," says Bhavna, who spent parts of her young life in Uganda and Hong Kong, as well as New Jersey. "I don't know if I was ready to do something like this when I was younger, and I think it was fear of the unknown that kept me from being ready. Now I don't want fear to hold me back."
Such trips have become familiar territory for Bhavna, who has braved the likes of scorpions, primitive restroom accommodations and other tests of one's will during past treks to parts of Africa and India—all as research for her philanthropic work in the M. Night Shyamalan Foundation.
The Shyamalans breathed life into the Berwyn-based nonprofit in October 2001, essentially as a conduit to correct social injustice and alleviate poverty by investing in programs designed to improve education and quality of life. The foundation's focus has evolved considerably over the years, always looking for ways to help those less fortunate both in the Philadelphia area and globally. Overseas, the foundation often partners with nongovernmental organizations (NGOs) to maximize its investments of time, money and human capital.
"It's also about justice—the idea that we need to act," says Bhavna, a psychologist who met her future husband nearly 20 years ago while both were students at New York University. "We can't just sit back and do nothing, because we're then basically condoning the injustice, whatever it may be.
"Ultimately the goal [of the foundation] would be to provide education, but sometimes you can't get there without first removing the other barriers," she continues. "When you're educated, I think you can understand the possibilities. When you don't have exposure through education, then your world is very small and your worldview is very small. So you almost can't dream further, but with education all of a sudden you can start thinking about other things."
Education brings freedom in other ways, Night believes: "It's hard to control people if they're educated. It's hard to keep them suppressed."
How to Fish
While Bhavna focuses her efforts largely on helping those in the poorest parts of developing nations, Night directs his attention toward helping the disadvantaged of southeast Pennsylvania. To date the foundation has awarded grants in excess of $1.6 million, to fund scholarships and housing in Philadelphia, and adoptions and critical services internationally, for example—all bankrolled by the Shyamalans, with limited donations.
"It's personal—the city and its welfare," Night says. "What can we do to make a difference here and, being one of its sons, what can I do to contribute back? … Our first attempt was basically asking the question: What's the biggest impact one can make with one's time and one's money? And I think as usual it isn't so much the money as it is the human capital. You start to realize that as time goes on, but first [we simply tried to] write big checks to places we thought it could go and make an impact."
Low-income housing was an early investment, for example, but the foundation steadily shifted its focus toward education—"the equivalent of teaching them to fish vs. giving them fish," says Night—because the Shyamalans considered it the core issue undergirding all others. The motivation began close to home; studies suggest Philadelphia ranks among the lowest U.S. cities in terms of residents with a college education. U.S. Census figures indicate that just 17.9 percent of the city's residents age 25 and above hold a bachelor's degree or higher, compared with 24.4 percent nationally.
"If we were starting society over and we were settling down, what would be the one thing you focus in on?" he says. "It would be, 'Let's get education right.' If you do that, they'll build the hospitals, they'll build the roads, they'll keep everything safe, they'll figure out a better way. But if [education] is broken, then it doesn't matter what you're doing on all those other fronts."
And that's largely why the Shyamalans have, for the past two years, focused on Philadelphia's ailing public school system—working to determine optimum conditions for teaching city students as a means of keeping them on the path to higher education. The research will culminate in an upcoming forum through which they will disseminate their findings to educators, administrators, experts, etc., to effect positive change.
"When I looked at it, I saw it as a doable proposition: helping 187,000 kids in 240 schools," he says. "That's enough to fill three football stadiums, and if you can fix the problem for that group, then the entire city changes. … I hope over the next three, four, five years that this one becomes real and we're deeply embedded in the change that hopefully will begin soon."
Bad Things
Abroad, the Shyamalans seek out "emergent leaders" in troubled or oppressed communities to act as extensions of themselves, according to Night. Example: a young woman in Nagpur, India, named Usha, whose slum of mostly uneducated residents—Usha being an outspoken exception—was being terrorized by local thugs, abetted by the police.
Bhavna's father, the late Prakash Vaswani, who helped establish and grow the foundation until his death in 2007, had read about Usha's plight in the New York Times. He left his daughter with two very impactful words: "Help her." That was all the push she needed. She sought out the author of the Times story, Nicholas D. Kristof, in order to find Usha … and then found a way to help her.
"As a foundation we want to allow people to hope, even to see themselves as valuable and have the wherewithal to matter in some way," says Bhavna. "My father said 'Help her,' so we went to India and tried to help. … I was nervous, but it was something I really wanted to do. Here I am, scared about being in this place because I was uncomfortable, but also thinking, Here's someone who's fearless and is going to act, so I'm going to act, too."
Through the foundation, the Shyamalans first hoped to provide scholarships and other education opportunities for children of the Nagpur slum, but Usha insisted job creation was a more immediate need. The local women had to be able to work in order to pay for their children to go to school and, therefore, change their lives for the better. The foundation then worked with an Indian NGO, the National Institute of Women, Children and Youth Development, to create a three-year plan that would teach local women and some men—about 300 people in total—essential skills in a variety of jobs as a means of entrepreneurship and self-empowerment.
"Sometimes you see bad things," Bhavna says, "but you also see so many amazing people who are doing something about it. I've heard people say, 'It's too sad, and I don't want to hear about it.' If it's too sad, how can you not be compelled to act? Whether you decide to act or not, there are systems out there designed to hold people down. … I'm always left feeling, How can I do enough?"
Not every project the foundation undertakes requires the equivalent of moving a mountain. A relatively small grant of less than $7,000 helped significantly improve the quality of life for roughly 1,000 people tied to a farming project in the Samburu District of Kenya, Africa. The foundation partnered with a California-based NGO called The Samburu Project to provide funding for a generator and water-well pump that would complete a drip-irrigation system. As a result, the farming community has been able to harvest more crops and multiply its income from approximately $6,000 per year to more than $50,000 per year.
But, as intended, the grant solved problems running much deeper than poor access to water for crop irrigation, according to Jennifer Walters-Michalec, the foundation's program officer and sole employee, who accompanied Bhavna on the recent exploratory trip to Central America, among others.
"It's never about doing just one thing," she says. "As an example, access to water [in the Samburu District] was incredibly difficult; some of the women would spend six hours a day collecting water, and because of that they had no education and they suffered from all kinds of health problems. These are systemic problems, and we found that a small grant here had the potential to eliminate all that."
Although much of the foundation's work is done over the phone and behind the scenes, there are ample opportunities to get one's hands dirty—such as the Central America trip to research programs designed to improve agriculture and/or education. Such opportunities have exposed Bhavna and Walters-Michalec to encounters both somber and inspiring.
"We were visiting programs that try to help scavenger families who live or work in the big trash dumps in Guatemala City and Nicaragua," says Walters-Michalec. "These are people who are sort of fighting with vultures in piles of trash, looking for things they can sell to make money. … It was a very sobering moment to see a human being reduced to that kind of existence."
Other moments are more surreal. Walters-Michalec recalls a solo trip she took on the foundation's behalf to an outlying part of Kenya, where she stayed in "a luxury tented camp." One night while she was being escorted back to her tent by a Maasai warrior to protect against lions or other lurking predators, she was attacked—by a horde of bugs.
"It was an infestation," she says. "They were in my hair, they were in my tent. I don't do well with bugs, but I survived. … The experience made me realize that I'm not some delicate little girl and that I don't have to be this westernized. Now I'm not scared of doing almost anything."
Vetted by Life
Unfortunately, the sheer number of good people who need help—and who openly request it from the foundation—continues to grow. Of course, the Shyamalans want to help everyone, but they have only X amount of time and resources to contribute. Because of this the foundation has had to take a more structured approach—identifying "emergent leaders," for example—to determine which causes they can support.
"The philosophy is that they need to be pre-vetted by life a little bit," says Night. "There are a million people out there who have these wonderful ideas and are deserving of help, but we wait for one step further, I think, for life to have thrown everything at them and yet they still succeeded. At that point we come in and say, 'What do you need? What else do you need? How do you take this from Step 1 to Step 3?'
"Hopefully," he continues, "we'll find dozens of these people. We feel like the vetted leaders are the ones who have the greatest impact because they're basically an extra arm of us in those regions. They've lived that whole life and know the ups and downs of it."
Considering his artistic sensibilities, it's unsurprising that Night also looks for something else when evaluating prospective projects to fund: inspiration.
"When I hear an inspiring story, I feel motivated," he says. "It's more than writing a check or giving time; it's something like you feel honored to be taught by this person of how strong the human spirit is. … Through the foundation, I get to be near and inspired by these incredible individuals around the world, and it feeds my soul and feeds me. I want to wake up and feel great about the world."
Bhavna considers it remarkable that Night has "never said no," referring to his support of the foundation and her work within it. "And I think part of it is that he just believes in the world," she says. "He has an absolute belief in the world and its people."
For her part, the foundation's work is about correcting an injustice, the simple act of doing the right thing. If it means slogging through a Nicaraguan rainforest or watching for roving lions on the African savanna in order to help reshape a deserving community, so be it.
Yet there's an even more intimate and not altogether unrelated purpose that drives the Shyamalans' work with the foundation: setting an example for their three young daughters—ages 14, 11 and six. It appears to be working; during their summer vacations, in fact, the two eldest daughters have made formal recommendations, aided by research and PowerPoint presentations, about where the foundation should aim its funding.
"A big part of our hope is to create an environment where our children are aware of the injustices going on in the world so as they grow up it's in their consciousness," Bhavna says. "Hopefully they will be compelled to do something about it. And by seeing us as models doing something about it, it becomes part of their vocabulary.
"We want them to see that it's possible to do something positive in the world as an agent of change."
For more on the M. Night Shyamalan Foundation, visit MNSfoundation.org.