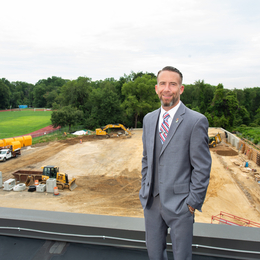 Forward Progress
Father Judge High School honors its founding principles as it continues to renovate its campus and add impactful programs designed to prepare students for the future.
Since its founding in the 1950s, Father Judge High School has a proven track record of developing young gentlemen who strive to reach their full potential. The Northeast Philadelphia-based Catholic school has established many traditions along the way to celebrate its students and the brotherhood that exists among them. The latest of those traditions links the school's storied past with its exciting future.
It's called Career Signing Day, which is similar to National Signing Day, through which high school student-athletes commit to playing a sport at the collegiate level; after inking a letter of intent, the student-athletes pose for photos with their parents and other family members, all wearing gear from the chosen university. In Father Judge's version, graduates of the school's highly successful welding program sign offers to join respected companies such as Holtec International, DC Fabricators, and PTR Baler before enjoying a luncheon with their new employers.

"They get their hard hat and a sweatshirt showing where they're going to work right out of high school," says Brian Patrick King, president of Father Judge and an alumnus himself. "It's an exciting time for these kids and their families, and it's nice to honor them, because they certainly didn't take the easy route in completing this program while also meeting all of the requirements for a Judge diploma."

The welding program was created to meet a high demand for those types of positions and has led to high-paying jobs for Father Judge students upon graduation. It's just one part of "Father Judge Evolution 2.0," a recent undertaking at the school meant to expand its offerings and broaden its impact. Evolution 2.0 encompasses an ambitious expansion project, updated facilities, strong alumni support, strategic partnerships, real-world experience through internships and co-op programs, and opportunities to earn college credits, all with the goal of helping students discover the path that is right for them.

"The address for the school is 3301 Solly Avenue, and I frequently have told folks over the years that our focus has to be on 3301," King says. "That's why we started this campaign to secure the future. We've been around for 70 years, but if we want to be around for 70 more, the idea of being relevant in the marketplace is important.

"This is a strategic evolution and a massive capital investment that benefits every cross section of student," he continues, "and I feel confident that when parents walk through the door here, they will see a focus on their son's mental, spiritual, emotional, and physical development."

The crown jewel of the plan is the Career Pathways Academy, an $11.5 million, 20,000-square-foot structure on campus that will house the Connelly Welding Lab, the new Faulkner Automotive Institute, and a forthcoming program in the works geared toward HVAC and mechanical services. The academy is slated to open next school year.

Father Judge has always thrived in serving top-tier students. For example, one recent grad, John Clark '23, was the only student in the country to be accepted to all five military academies, ultimately choosing to attend the Air Force Academy. For those students seeking academic assistance, peer tutoring, and assistance with study skills, the Father Brisson Center for Academic Excellence—the recent recipient of a $1 million renovation and expansion—is devoted to assisting students of all calibers. The shift of focus has become putting students on pathways to best use their God-given talents to be successful no matter where life takes them—college, the work force, the military, or the trades.

"There's no other Catholic school in the country doing what we are doing," King says. "The investment this campaign will make in the school over the next five years will set the table for another 70 years of Father Judge serving its community and remaining a sustainable, relevant leader in the secondary educational sector."

Father Judge recently installed an e-sports lab with a TV studio, is renovating all of its science labs, and is in the process of adding a 3D makerspace. The athletic department is also getting a makeover that will include refurbished locker rooms, plus the addition of a crew room, a wrestling room, and a personal trainer's room for rehabilitation and workout assessments.

As for the shift toward career and technical education (CTE), if the automotive and HVAC programs are half as successful as the welding program has been, there are going to be a lot of happy Father Judge students, families, and partners.

"We're delivering companies employees who are disciplined; they show up every day, and are Salesian gentlemen," King says. "They have a strong moral compass, and they're qualified in math and reading comprehension. They have all of those skills, and the employer just has to get them the last 15 percent of the way and teach them their company's culture."

This new direction shows that Father Judge is not only committed to progress, but also celebrates its past—including those students who have laid the foundation. In turn, Father Judge alumni are always quick to show their support for their alma mater, as evidenced by the all-class reunion held in North Wildwood this summer, which was attended by more than 2,000 people.

Judge's motto of "Be who you are, and be that well"—words once spoken by Saint Francis de Sales—is meaningful to every student who passes through the halls, whether he graduated in the 1950s or last year.

"Our boys are still rooted in that idea," King says. "It's very organic, and it's not forced. I think it's worked for us because, while other schools may change, we've maintained who we are and we're still mission-driven. As much as we add elements to help the students, the identity of the school has remained at the forefront over the last seven decades."
Father Judge High School
3301 Solly Ave.
Philadelphia, PA 19136
(215) 338-9494
FatherJudge.com
Photo by Alison Dunlap
Published (and copyrighted) in Suburban Life, August 2023.
---