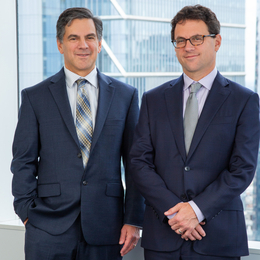 Leading the Way
After pioneering a novel approach to investing more than four decades ago, Prudent Management Associates continues to blaze a trail for investors.
Prudent Management Associates was built on a foundation of creativity, durability, and academic expertise—much like each investment plan tailored by the firm's advisory team. The firm's long and deep roots in the Philadelphia area can be traced to Marshall Blume, Ph.D., a professor of finance at The Wharton School of the University of Pennsylvania; and Ed Snitzer, a Philadelphia businessman and lawyer.
When they founded the firm more than 40 years ago, Blume and Snitzer created a novel approach to constructing the architecture of a secure future for high-net-worth families, small to medium-sized businesses, and not-for-profit organizations. The firm was an early pioneer of an investment-management approach that combines academic finance with a Registered Investment Advisor model. In other words, the firm's investment advisors were early adopters of academic techniques used to create portfolios that prioritize diversification and risk control, built with carefully evaluated and selected mutual funds.

Although Prudent Management Associates remains a family operated enterprise, the leadership has changed. The second generation of the Snitzer family—namely, brothers Fred Snitzer and Paul Snitzer—now helm the firm.

"I think one of the reasons for our longevity is that my father and Marshall were early," says Managing Director Fred Snitzer, who joined the firm in 2002. "They started the firm in 1982, when the financial services business was much different than it is today. Rather than picking stocks, they were using academic finance to build risk-controlled portfolios, keep costs low, and help people achieve their goals. Their ideas worked, and have since been widely adopted."

The past four years have been among the most transformative in the firm's history. In 2019, Ed Snitzer and Marshall Blume both passed away. Then came the COVID-19 pandemic, during which the firm upgraded its technology platform and also moved its headquarters from the skyscraper formerly known as Mellon Bank Center to Two Commerce Square. General Counsel/Chief Compliance Officer Paul Snitzer and Chief Information Officer Joe Furka guided the firm through the transitions.

"It was an emotionally difficult time," recalls Paul Snitzer, referring to the death of his father and Marshall Blume. (Paul joined the firm in 2011 after working for almost 20 years as an attorney for two national law firms headquartered in Philadelphia.) "It wasn't long after our father died that the pandemic began. We had anticipated a transition period and the challenges that came with it, but no one could have anticipated that we would be required to shut our offices and scatter to the winds.

"At the same time," he continues, "the markets sort of nose-dived in March 2020, and we were in regular communications with our clients as that occurred. We had to keep the business running when it seemed like the world was ending, and that's what we did."

Prudent Management Associates has done much more than "keep the business running." Its relatively small staff aside, the firm has more than $1 billion under management (as of the end of July 2023). Fred attributes the firm's good fortune to its nimbleness and commitment to first-class service. Many PMA clients have been with the firm for 15 years or longer. Prudent Management Associates provides a comprehensive suite of services, including retirement planning, generational transfer planning, and cash-flow analysis, among others.

"Fit is very important when it comes to the relationship with a client," Fred says. "We prefer to work with people who value our approach and understand the academic background and its basis for the firm. We have a wide mix of types of clients, including professors from local universities, doctors, lawyers, small businesspeople, local nonprofit institutions, multigenerational families including grandparents, their children and grandchildren, and many others. I'd say most of our clients have a minimum of $1 million to $1.5 million [in investable assets], and our average client has well more than that. … We're a conservative firm, and we take pride in that. Our clients are not expecting us to shoot the lights out, but to perform reliably even during volatile times."

Fred cites the firm's relationship with select professors from Wharton, which has endured despite Blume's passing. An advisor to the firm as Senior Investment Strategist, A. Craig MacKinlay, Ph.D., is a full-time professor of finance at Wharton. Professor MacKinlay is a prominent member of the academic finance community, having spent almost 40 years at Wharton and authored work for many prestigious academic publications.

"Marshall was a student of Harry Markowitz, a University of Chicago professor who won the Nobel Prize for his ideas about creating a portfolio to effectively manage risk," Fred adds. "Marshall and Markowitz remained friendly. Having a Wharton professor as an advisor throughout the firm's history has been critical to our success."

Under the firm's processes "knowing what's important to clients makes it easier when there's volatility or when bad things happen in the markets," Fred continues. "It gets back to tailoring everything the right way so our clients are well positioned even when they enter a crisis."

Daniel B. Berkowitz, CFA®, CIPM©, joined PMA in 2019, before which he worked for Vanguard's Investment Strategy Group. In his role as an investment director, Berkowitz devotes most of his time and energy to honing the firm's investment strategy and processes. He works closely with Professor MacKinlay to carefully vet any prospective investment products the firm might consider adding to client portfolios.

"What we do is a blend of art and science, both qualitative and quantitative," Berkowitz says. "Considering how dynamic the markets are, there's always a new set of challenges and problems to solve. The customization component is what I love most about the job. You have the science piece, but there has to be a judgment component. You can't take a one-size-fits-all approach and apply it to every person or institution. Everyone's needs, goals, and risk tolerance are different.

"We have a strong emphasis on risk control through diversification, because no one should have to take more risk than they need to in order to meet their investment goals," he continues. "Other key tenets of our philosophy are low investment costs, investment transparency, and discipline in long-term investing."

As Fred and Paul reflect on all the changes and challenges the past few years have brought, the Snitzers feel immense pride for having led the firm through the "trial by fire" after the death of the founders and the pandemic-related lockdowns.

"We never want to lose the intimate connection with the client," says Fred. "Making the client experience primary has been part of our culture for 40 years. We're focused on making sure our clients always get a prompt response from us. We want to make sure they know who we are, what we stand for, and how we can help, and that's never going to change."
Prudent Management Associates
Two Commerce Square
2001 Market Street, Suite 3910
Philadelphia, PA 19103
(215) 994-1062
www.prudentmanagement.com
The information contained in this article is not a solicitation to purchase or sell investments. The strategies mentioned may not be suitable for all investors as the appropriateness of a particular strategy will depend on an investor's individual circumstances and objectives. Investing involves risk and there is always the potential of losing money when you invest.
Suburban Life is not a current client or investor of Prudent Management Associates. Suburban Life was paid by Prudent Management Associates for preparing and distributing this article. As a result, the article is in the nature of an advertisement and not an independent evaluation of Prudent Management Associates' business.
Photo by Alison Dunlap
Published (and copyrighted) in Suburban Life, August 2023.
---