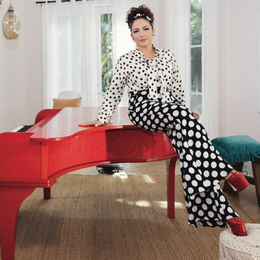 In Perfect Harmony
Gloria Estefan continues to hit all the right notes.
Ever since Gloria Estefan was a young child, she claims she "saw" or "knew" things that were going to come to pass at some point in the future. So it should come as no surprise that after first meeting her now-husband Emilio and joining his band, the Miami Latin Boys, that she envisioned a much brighter future than the small gigs they were playing in local clubs on the weekends.
Decades later, it's easy to see that Estefan's premonition was spot on as the group that would later become the Miami Sound Machine would go on to tremendous success, creating some of the biggest hits in modern music. Meanwhile, she and Emilio continue to build upon their empire, which has stretched well beyond the music world.

Estefan has become one of the most celebrated and recognized artists of all time: more than 100 million records sold worldwide, 38 No. 1 hit singles, seven Grammys, five Latin Grammys, and one Presidential Medal of Freedom. Earlier this year she added to her list of honors with her induction into the Songwriters Hall of Fame. There's even a Broadway show—On Your Feet!—based on her and Emilio's lives and the music they created and which the couple executive produced.

We talked with Estefan about her storied career, life away from the spotlight, and what drives her to continue to create the soundtrack to our lives.
Q&A
Do you ever pause to think about longevity or reflect on the legacy you continue to build upon?
As far back as I can remember, whenever I would think about the things that I wanted to do or decisions I needed to make, my second thought would be about the impact of that decision on my long-term future. Perhaps this came from being a first-generation immigrant and being keenly aware of the trauma my parents and grandparents lived by having to leave their successful lives in Cuba, my native land, and come to a new country to start over. It was important for me to take steps forward but try to ensure that it was always on solid ground.

After marrying Emilio and having our son, Nayib, it became important that our decisions take into account the impact they would have on our son or future children in the hopes that we would make them proud. After our initial success with our music, it became important for us to take into account our culture and the impact our decisions might have on our Cuban people who saw us as an example of what could be achieved in this great country and the world.

It has also always been very important to us to continue to grow and evolve in our careers and not stay stagnant, repeating ourselves musically in order to "play it safe" with what had worked before. We have always wanted our music to grow as our lives and experiences have grown, and I believe that our fans have appreciated it.
Can you talk a little bit about the connection you and Emilio have after all this time together?
I have to say that, despite the fact that we have spent the last 47 years as a couple, 44 of them, married, time has literally flown for us both. Emilio and I have very different personalities, but it creates a beautiful balance. I always kid that if we were both like me, we'd still be playing guitar on our living room couch, and if we were both like him we'd be dead of heart attacks by now from overworking every possible moment. But that's the beauty of our relationship, we fill each other in. We love a lot of the same things—family, nature, animals—and we rarely differ on music, politics, religion, or priorities so we don't have many reasons to argue.
After all that you've accomplished, both professionally and personally, what still motivates you?
My motivation has always been driven by my love for my family and the fact that I want to be the best person I can possibly be for them and for me. That has grown to include my fans, which I consider family and also brings with it the responsibility that comes with being seen as representatives of our culture. I don't like to let people down, especially myself, and I live each day excited to learn new things, try new things, be resourceful and self-sufficient, and continue evolving, growing, and becoming stronger.
So what's next for you, anything on the horizon you can share with us?
Right now I'm very excited to be working on a very special musical project with my daughter, Emily, that I can't share the details of yet but can tell you it's a challenge, a first for me, and I have a "feeling" that it will be another milestone.
Published (and copyrighted) in Suburban Life, August 2023.