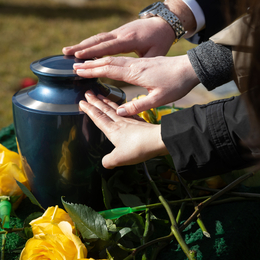 Life After Death
Interest peaks in more natural options for parting ways with the earth.
My paternal grandfather used to say the same joke to my grandmother, and anyone else who might have been listening: "When I die, just drag me into the woods and let the animals do what they will."
He was probably only half-joking, because he was the type of person who believed in keeping things as simple and economical as possible. He also loved spending time in nature. Of course, my grandfather did not quite get his wish when he passed away, but he did receive what he considered the next best thing—cremation, with his remains scattered at some of his favorite places, including the peak of a modest mountain north of the Philadelphia suburbs.

Non-casketed funerals seem to be increasingly popular among Americans, according to statistics from the National Funeral Directors Association. The annual number of cremations in the United States is expected to rise from 1.91 million in 2022 to 2.26 million by 2030, and to 2.94 million by 2040.

Another area of interest is alkaline hydrolysis, also known as flameless cremation, water cremation, or simply aquamation. Said to be a more eco-friendly alternative to flame-based cremation, aquamation is currently legal or allowable in more than half of all U.S. states, though Pennsylvania is not yet among them.

Laurel Hill, a cemetery with two campuses in Philadelphia and Bala Cynwyd, does offer aquamation—but only for pets. It does, however, have Nature's Sanctuary, Valley View Green, and, in the near future, Bala Green. When its original green burial area, Nature's Sanctuary, opened in 2007, Laurel Hill became the first cemetery in the world to receive the SITES Gold designation for sustainable landscapes.

Places like Laurel Hill require that everything involved in a green burial be 100 percent friendly to the environment. Burial options include a wooden casket, a wicker vessel made of seagrass, or a linen shroud, with graves dug by hand. There are even restrictions on the clothes the deceased may wear at burial—biodegradable linen or cotton. Laurel Hill's green areas forgo headstones, opting instead for natural-stone ledger walls containing the names of those buried therein.

Another option that may be more in line with the kind of no-fuss "burial" my grandfather used to joke about: Penn Forest Natural Burial Park, the Keystone State's first exclusively green burial ground, which has similar biodegradability provisions as Laurel Hill. It seems akin to being interred in the woods, with a third of its 35 acres set aside as a nature preserve to provide habitat for native wildlife and plants. Penn Forest is a bit of a drive from Philadelphia, in the town of Verona, 13 miles northeast of downtown Pittsburgh.

Other natural burial grounds are not far from the Philadelphia area: Mayrest Cemetery and Steelmantown Cemetery, both in New Jersey, the latter of which also offers green burials at sea, whereby cremains are fashioned into so-called "reef balls"; and Greensprings Natural Cemetery Preserve in New York.

Had he been alive to see it, my grandfather probably would have loved the idea. But that wouldn't have stopped him from pointing to the base of a tree behind the house, and telling my grandmother where to place him when the time came.
Published (and copyrighted) in Suburban Life, August 2023.