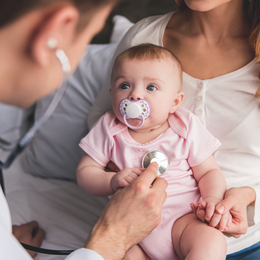 Flying Start
Pediatric specialists help parents ensure healthy, productive lives for their children.
Every caring parent strives to put his or her child on the path to a long and productive life. Their efforts to ensure such an outcome begin at the earliest stages, by watching over their children's health and development.
Of course, parents can't do it alone; they need help from medical professionals who have devoted their careers to safeguarding children's health. Some of the country's finest pediatric specialists practice in the Philadelphia area, many of whom are featured here. We present our 2023 Leaders in Children's Health, updated and expanded from our recent Top Physicians feature.
CHILD & ADOLESCENT PSYCHIATRY
Dr. Josephine Elia
Nemours Children's Health
Multiple locations
nemours.org
DEVELOPMENTAL AND BEHAVIORAL PEDIATRICS
Dr. Nathan J. Blum
Dr. Marianne M. Glanzman
Dr. Patty Huang
Children's Hospital of Philadelphia
Multiple locations
chop.edu
HUMAN GENETICS AND METABOLIC DISEASE
Dr. Daniel J. Rader
Children's Hospital of Philadelphia
Multiple locations
chop.edu
NEONATOLOGY
Dr. Eric Eichenwald
Dr. Gita H. Jani
Children's Hospital of Philadelphia
Multiple locations
chop.edu
PEDIATRIC ALLERGY & IMMUNOLOGY
Dr. Kathleen E. Sullivan
Children's Hospital of Philadelphia
Multiple locations
chop.edu
PEDIATRIC CARDIOLOGY
Dr. Aaron T. Dorfman
Dr. Stacey Drant
Dr. Chitra Ravishankar
Dr. Joseph Rossano
Dr. Jack Rychik
Dr. Maully J. Shah
Children's Hospital of Philadelphia
Multiple locations
chop.edu
Dr. Wolfgang A.K. Radtke
Dr. Steven B. Ritz
Dr. Bradley W. Robinson
Dr. Deepika Thacker
Nemours Children's Health
Multiple locations
nemours.org
PEDIATRIC CARDIOTHORACIC SURGERY
Dr. J. William Gaynor
Children's Hospital of Philadelphia
Multiple locations
chop.edu
PEDIATRIC EMERGENCY MEDICINE
Dr. Cynthia J. Mollen
Dr. Kathy N. Shaw
Children's Hospital of Philadelphia
Multiple locations
chop.edu
PEDIATRIC ENDOCRINOLOGY
Dr. Diva D. De León-Crutchlow
Children's Hospital of Philadelphia
Multiple locations
chop.edu
Dr. Daniel A. Doyle
Dr. Anthony Gannon
Nemours Children's Health
Multiple locations
nemours.org
PEDIATRIC GASTROENTEROLOGY
Dr. Sheeja K. Abraham
Dr. Jose Fernando del Rosario
Dr. Joan S. DiPalma
Dr. Stephen E. Shaffer
Nemours Children's Health
Multiple locations
nemours.org
Dr. David Piccoli
Children's Hospital of Philadelphia
Multiple locations
chop.edu
PEDIATRIC HEMATOLOGY-ONCOLOGY
Dr. Emi Caywood
Dr. Edward Anders Kolb
Dr. Robin E. Miller
Dr. Jonathan Powell
Dr. Andrew Walter
Nemours Children's Health
Multiple locations
nemours.org
Dr. Anne Reilly
Dr. Alexis A. Thompson
Dr. Daniel C. West
Children's Hospital of Philadelphia
Multiple locations
chop.edu
PEDIATRIC INFECTIOUS DISEASES
Dr. Audrey R. Odom John
Children's Hospital of Philadelphia
Multiple locations
chop.edu
Dr. Karen Ann Ravin
Nemours Children's Health
Multiple locations
nemours.org
PEDIATRIC NEUROLOGY
Dr. Brenda L. Banwell
Dr. Xilma Ortiz-Gonzalez
Children's Hospital of Philadelphia
Multiple locations
chop.edu
Dr. Stephen J. Falchek
Dr. Badal G. Jain
Dr. Mena T. Scavina
Nemours Children's Health
Multiple locations
nemours.org
PEDIATRIC OTOLARYNGOLOGY
Dr. Patrick C. Barth
Dr. Heather C. Nardone
Dr. Richard J. Schmidt
Dr. Udayan K. Shah
Nemours Children's Health
Multiple locations
nemours.org
PEDIATRIC PULMONOLOGY
Dr. Aaron S. Chidekel
Dr. Robert A. Heinle
Nemours Children's Health
Multiple locations
nemours.org
Dr. Jennifer Logan
Dr. Courtney M. Quinlan
Dr. Michael S. Schwartz
Lehigh Valley Health Network
Multiple locations
lvhn.org
PEDIATRIC RHEUMATOLOGY
Dr. AnneMarie Brescia
Nemours Children's Health
Multiple locations
nemours.org
Dr. Edward M. Behrens
Children's Hospital of Philadelphia
Multiple locations
chop.edu
PEDIATRICS
Dr. Amy J. Allen
Dr. Linda Barkasy
Dr. Kimberly C. Bay
Dr. Louis M. Bell
Dr. Judy C. Bernbaum
Dr. Deirdre Bonett
Dr. Kelly Bradley-Dodds
Dr. Una Brewer
Dr. Anne Callaghan
Dr. Danielle Casher
Dr. Sharon M. Corcoran
Dr. Michael Dreyer
Dr. Angela Ellison
Dr. Marni Falk
Dr. Jennifer H. Galasso
Dr. Robert Grundmeier
Dr. Annique Hogan
Dr. Mark P. Johnson
Dr. Asmita J. Joshi
Dr. Richard Z. Kaplan
Dr. Julie E. Kardos
Dr. Bethany E. Kutz
Dr. Susan P. Magargee
Dr. Susan K. Miller
Dr. Dorothy R. Novick
Dr. Suzanne P. Olivieri
Dr. David M. Pollack
Dr. Anne Rosato
Dr. David Rubin
Dr. Richard M. Rutstein
Dr. Richard M. Santos
Dr. Sara Shamimi-Noori
Dr. Alyssa Siegel
Dr. Joseph W. St. Geme
Dr. Ira Strassman
Dr. Andrea Thorp
Dr. JoAnne K. Woehling
Dr. Kathleen M. Zsolway
Children's Hospital of Philadelphia
Multiple locations
chop.edu
Dr. Cameron Amirault
Dr. Michael Devon
Dr. Kristen Kucharczuk
Dr. Burton H. Langer
Dr. Janet M. Michaelson
Dr. Joshua A. Rabinowitz
Advocare Main Line Pediatrics
Malvern and Narberth
advocaremainlinepeds.com

Dr. Geoffrey L. Bajwa
Dr. Susan B. Conley
Dr. Erica L. Cucinella
Dr. Kimberly B. Fuld
St. Christopher's Hospital for Children
Multiple locations
towerhealth.org

Dr. Tara J. Berman
Dr. Andreas Bollmann
Dr. Hal C. Byck
Dr. Allison S. Fanelli
Dr. Laura M. Lundgren
Dr. William G. McNett
Dr. Ellen I. Ross
Dr. Philip Siu
Nemours Children's Health
Multiple locations
nemours.org

Dr. Richard Boles
Dr. Lawrence Laveman
NeurAbilities Healthcare (Autism and Autism Genetics Specialists)
Multiple locations
neurabilities.com

Dr. Kimberly C. Brown
Dr. David E. Burnham
Dr. Jill E. Colabroy
Dr. Laura E. Darrow
Dr. Colleen M. Fitzpatrick
Dr. Amy A. Jibilian
Dr. Emily J. Kraus
Dr. Katherine R. Still
Lehigh Valley Health Network
Multiple locations
lvhn.org
Dr. Thomas Coyte
Dr. Lynn Dever
Dr. Nora Esteban-Cruciani
Dr. Brad Feldstein
Dr. Susan Leib
Dr. Leigh Roberts
Dr. Alan Schindler
Einstein Healthcare Network – Jefferson Health
Multiple locations
einstein.edu

Dr. Karen W. David
Doylestown Health
Doylestown
doylestownhealth.org

Dr. Lee Jaffee
Tri-County Pediatrics
Multiple locations
tricountypeds.com
Dr. Marie Carrier Kinsley
Dr. Marylee Mundell
Pediatric Care Group
Jenkintown and Richboro
pcgkids.com

Dr. Gerald M. Raymond
Dr. Kendra W. Sirolly
Penn Medicine Princeton Health
Multiple locations
princetonhcs.org
PEDIATRIC OBESITY MEDICINE
Dr. Issy C. Esangbedo
Children's Hospital of Philadelphia
Multiple locations
chop.edu
PEDIATRIC SURGERY
Dr. Loren Berman
Dr. Stephen P. Dunn
Dr. Charles N. Paidas
Dr. Kirk W. Reichard
Nemours Children's Health
Multiple locations
nemours.org
PEDIATRIC SPORTS MEDICINE
Dr. Lawrence Wells
Children's Hospital of Philadelphia
Multiple locations
chop.edu
PEDIATRIC UROLOGY
Dr. Teodoro Ernesto Figueroa
Nemours Children's Health
Multiple locations
nemours.org
PULMONARY AND SLEEP MEDICINE
Dr. Lisa R. Young
Children's Hospital of Philadelphia
Multiple locations
chop.edu
Published (and copyrighted) in Suburban Life, September 2023