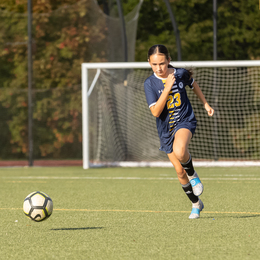 A Winning Culture
Besides having yielded a trove of championships, the Academy of Notre Dame de Namur's athletics program teaches values and skills that will guide students for the rest of their lives.
With 20 years of experience as an athletic director, including 14 in competitive Philadelphia-area schools, Sheila Pauley has been fortunate to have a front-row seat for dozens of championship teams and countless student-athletes who excelled on the field or the court. When she arrived at the Academy of Notre Dame de Namur earlier this year, she found an athletics program devoted to winning, continual self-improvement, and promoting students' success and well-being.
"I've been so impressed by the sense of pride and school spirit here at Notre Dame," Pauley says. "You certainly see it at the games and competitions outside or in the gym, but also in the hallway every day. The faculty is so excited about how the teams are doing, and so are the athletes' peers. Where my office is located, I can hear them in the morning, asking each other how their teams did the night before."

Notre Dame Head of School Dr. Laura Hotchkiss is now in her third year at the all-girls' Catholic college-prep school in Villanova. She, too, has witnessed the same genuine support within each athletics program.

"The girls here are very enthusiastic participants," Hotchkiss says. "They are excited to be competing on the field, and they are also great cheerleaders on the sidelines or at practice. When the other girls need a little extra boost of energy, their teammates are always there to provide that incentive and that encouragement to go further and do more."

There has certainly been plenty to root for lately at Notre Dame, which competes in the Inter-Academic Athletic League (Inter-Ac) for varsity sports. This fall alone, the school's renowned field hockey program vaulted to the top of the national rankings and clinched the Inter-Ac title, the cross-country team has captured its third league title in a row, and the volleyball team is aiming for its 10th consecutive state championship.

The value of athletics at Notre Dame goes far beyond the contents of a trophy case. Notre Dame students who choose to participate in athletics adopt values that will stay with them as they move onto college or enter the work force—namely, self-confidence, discipline, teamwork, accountability, loyalty, and respect.

"I think that sports here provide students with another avenue and area for success, and also for personal challenge," Hotchkiss says. "There is significant research about the long-term benefits of athletics in regards to employment and leadership skills, and the benefits they get from learning how to work together on a field, which is a little different than learning how to work together in a math classroom.

"You show up in a different way when you're supporting your teammates, compared to showing up for something personal that only affects you," she continues. "On a team, your decisions, your commitment, and your dedication impact the whole group. All of those skills are preparing them for, what we say at Notre Dame, life beyond the gates."

Students are also exposed to different personalities in a team environment. The experience teaches them how to collaborate and compromise, sometimes leading and sometimes following the lead of their teammates. For Pauley, hearing a Notre Dame player speak about that experience during a recent athletic open house was a proud moment.

"She talked about how, by being on a team at Notre Dame, she's learned how to deal with different types of individuals and how important that is for the future," Pauley adds. "That made me think: We're doing something right."

In addition to the aforementioned sports, Notre Dame offers soccer and tennis in the fall. Winter sports include basketball, swimming, and indoor track, while spring programs include softball, lacrosse, golf, track and field, and crew, which recently traveled to Boston to compete in the prestigious Head of the Charles Regatta. Notre Dame recently added new head coaches in basketball, lacrosse, and softball, and Pauley is eager to see how each of those teams moves forward.

Notre Dame's robust athletics program includes multiple options for middle school students. For many girls, middle school represents their first exposure to athletic competition. Coaches work closely with these students to hone their athletic skills, build team spirit, and learn sportsmanship so the girls are better prepared for the higher level of competition once they move on to upper school.

Notre Dame encourages all its students to participate in multiple sports, a notion that is reinforced by college coaches who visit the school and tout the importance of avoiding overuse injuries caused by specializing in one sport year-round. Students who are not interested in the competitive aspects of athletics have ample opportunities to become part of the teams.

"Something that feels unique here to me is how so many kids want to be around those student-athletes and part of that team or program, as opposed to just going home at the end of the school day," Pauley says. "Maybe they don't have the skill set or the ability to play at the varsity level, but they can fill the manager's role, keep the score, or help film the games and still be an integral part of the program."

Outside of the athletics department, Notre Dame teaches students the value of healthy living and fitness through its physical education curriculum. That goes hand in hand with the school's ND Cares program, an initiative focused on the mental health, well-being and spiritual development of both the upper school and middle school students in grades six through 12.

Physical activity and team sports clearly play a major role in Notre Dame's overall philosophy of preparing girls for the next stage of their lives and giving them all the tools to be successful women. In her short time at Notre Dame, Hotchkiss has been moved by the school's commitment to giving its graduates a voice, a feeling of confidence, and a sense of purpose in making a difference in their communities.

"It's definitely a school steeped in tradition, yet I think it's a place that pivots and adjusts based on what girls need to know as they head out to the world," she says. "I think it's so important for girls to think about how they can be great students, how they can be great citizens, and how they can be great participants in the community. They can get that through their experiences in the arts, athletics, campus ministry, and service, as well as through athletics. We are dedicated to their whole selves."
Academy of Notre Dame de Namur
560 Sproul Road
Villanova, PA 19085
(610) 687-0650
NDAPA.org
Photo by Nina Lea Photography
Published (and copyrighted) in Suburban Life, October 2023.
---