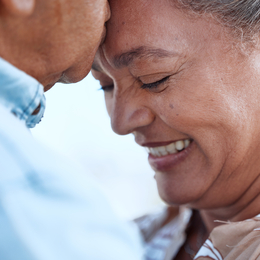 Never Too Old
The desire for love and intimacy does not diminish with age.
The name Susan Noles may sound familiar, even if you don't know why. Noles, a 66-year-old resident of Delaware County, is one of the women vying for the love and attention of Gerry Turner, the principal protagonist on the inaugural season of the ABC series The Golden Bachelor. Regardless of how you feel about reality television, the show shines a spotlight on the fact that we're never too old to experience the joys of love and intimacy.
While age-related changes to our physical and emotional health can sometimes get in the way, the desire for intimacy does not diminish with age. Not only does physical intimacy make us feel closer to our partners, but it also reduces stress, improves sleep, and contributes to better overall health.

A story in a recent issue of The Lancet cited a U.S. study of people ages 75 to 85 who were sexually active; 54 percent of those surveyed reported having sex two or three times per month, and 23 percent reported having sex one or more times per week.

Recent conversations with two men over the age of 60 confirmed these statistics. While both were happy to discuss the subject, both also said they preferred not to use their full names out of respect to their partners.

From J.G.: "My wife and I have been having sex twice a day, pretty much every day, since before our honeymoon. Maybe the physical act has changed a little bit as we've gotten older, but I would say our level of intimacy—how close we feel to one another—has only gotten stronger. That time together makes us better as a couple."

From J.A.: "We don't 'get together' every morning or every night, but it's at least three or four times a week. I'd say there are times when [my wife] could probably do without, but I'm always ready, willing, and able."

While many of us may be "ready and willing," sexual dysfunction caused by age, disease, or other disorders means that not all of us are "able." So, even if sex is off the table, seniors can embrace intimacy in other ways: holding hands, sharing massages, slow dancing to a favorite record, cuddling on the couch over a movie, even spending a night on the town for cocktails and a romantic dinner.

Additional challenges may arise for the newly uncoupled from the loss of a partner due to death or divorce—namely, the prevalence of sexually transmitted diseases among older adults. Data from the U.S. Centers for Disease Control and Prevention indicate significant increases in cases of gonorrhea, chlamydia, and syphilis, among others, in the 55-and-older age group. Moral of the story: While you're never too old for sex, you're also never too old to do it safely.

Whether someone is 25 or 75, the ability to maintain a satisfying intimate relationship comes down to one essential ingredient: partner-to-partner communication. Having an honest discussion with a partner enables us to set boundaries, explore interests, and come to terms about topics such as frequency and duration. In other words, talking about it in advance can make the experience more gratifying for all involved when the mood strikes.

Published (and copyrighted) in Suburban Life, October 2023.