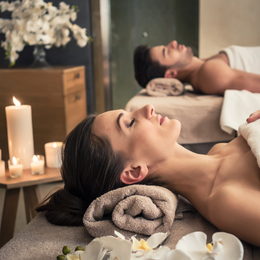 Indulge
Enjoy the benefits of rejuvenation at these spas, salons, and other self-care destinations.
Me. How many other words in the English language say so much with so few characters? Even so, too few of us take enough time to treat that two-letter word with the reverence it deserves.
The pulls of work, family, and other obligations seem to always be knocking on the door, demanding our attention. As a result, self-care becomes something we'll get to later, but later does not always come.

By saying "maybe tomorrow," however, we're doing ourselves, our families, and other important people in our lives a disservice. Indulging in relaxing activities and pampering ourselves every now and then are vitally important to our overall wellbeing. Self-care offers numerous benefits, according to the National Institute of Mental Health: It enables us to better manage stress, lower our risk of illness, and increase our energy.

For anyone in need of assistance in their search for self-improvement, check out this baker's dozen of spas, salons, and other places that excel in providing TLC for the face and body, as well as the mind.
Resolve any stress, tightness, or malaise that may be sapping your energy by stepping into 1859 Wellness Spa and Salon in Manayunk. The spa's tranquil environment and lineup of massage options, among other self-care services, offer a balm to the world's many stressors, troubles, and other things that may be keeping you awake at night. The result: a calm mind and restored body. 1859wellness.com

Brows by Bree & Company in Warminster applies an expert hand to permanent makeup solutions such as brow tattooing and lip tinting. For anyone who regrets or has outgrown a tattoo, Brows by Bree also specializes in tattoo removal, among other services. browsbybree.com
For anyone in need of a "skin refresh," Connolly Dermatology provides a wide range of cosmetic dermatology treatments, including Botox, dermal fillers, and chemical peels. The practice has its own line of medical-grade skincare products so patients can adopt at-home regimens to supplement any clinical treatments they might have received. Connolly Dermatology has multiple locations throughout the region. connollydermatology.com

Davis Cosmetic Plastic Surgery takes a balanced approach to rejuvenating the face and body. Led by Steven L. Davis, D.O., FACOS, the practice offers surgical options such as face-lifts, breast augmentations, and abdominoplasty, plus nonsurgical alternatives such as dermal fillers and skin-tightening treatments. Bonus: If there's a new therapy or device on the market, Dr. Davis has likely seen it and used it, as he works closely with many manufacturers to help bring new treatments to market. daviscps.com
Dawn Marie Scappaticci and her team at Dawn Marie Studio in Richboro offer an array of treatments pertaining to permanent cosmetics—lip blush, microblading, scalp micropigmentation, and more. Scappaticci is a big proponent of education, for clients and for the industry as a whole. Her studio has gained a reputation as a leading educator of aestheticians and permanent-cosmetic artists. dawnmariestudio.com
Bucks County-based Dionis Goat Milk Skincare manufactures more than 150 products, including hand creams, fragrance-free soaps and lotions, and treatment-based products such as body serum with collagen. All of its skin and body solutions are made with grade-A whole goat milk. Dionis prides itself on being a cruelty-free brand; the company maintains certification from Leaping Bunny, a consumer watchdog for makers of cosmetics. dionisgmskincare.com
Eminence Medical Aesthetics, a 4,000-square-foot medical spa in Princeton, New Jersey, has continually expanded its menu of face and body procedures since its founding in 2013. The current lineup includes injectables, medical facials, peels, fat reduction/body contouring, permanent cosmetics, and much more. Owner Galina Kotovets has had such success running her own medical spa that she was inspired to found Princeton Aesthetics Academy to teach others how to follow her lead. eminencema.com
If you prefer a more natural and conservative approach to rejuvenation, Buckingham-based Hush Medical Aesthetics may be the place for you. Owner Nicole Hollander, R.N., offers cosmetic enhancements such as microneedling, photo-rejuvenation, and skin resurfacing with one goal in mind: to restore clients' confidence. The firm's less-is-more, multiple-modality approach also incorporates medical-grade skin care, laser treatments, and injectables. hushmedical.com
KP Aesthetics in Newtown Square offers treatments to address almost every part of the face and body, with all services rooted in safety, efficacy, and lasting results. Some of KP Aesthetics' treatments focus on the skin's surface, while others target what lies beneath. Popular facial treatments include microneedling and chemical peels, as well as Botox and dermal fillers, which may help reduce the subtle signs of aging. KP Aesthetics also offers intravenous nutrient therapy to help patients feel refreshed from the inside out. kpaesthetics.com
With offices in Newtown and King of Prussia, Modern Aesthetic Plastic Surgery comprises a team of surgeons and other aesthetic experts who take a comprehensive approach to serving patients' aesthetic goals. Founded by Robert Skalicky, D.O., the holistic practice customizes treatment to each patient, whether they require medical-grade skin care, minimally invasive procedures such as dermal fillers and neuromodulators, or complex surgical interventions. modernaestheticplasticsurgery.com

When clients come to Nurture Spa in New Hope, they are immersed in an environment of refinement and relaxation. Owner Carolyn Holdsworth has created a menu of spa services designed to nourish and restore the face and body. Some clients come for one of Nurture's many massage options, each designed to address a specific need, while others come for the ample skincare offerings or an expertly done mani-pedi. No matter the need, Nurture Spa customizes treatment accordingly. nurturespa.com
Kate Filiberto, the founder of Skintegrity in Haddonfield, New Jersey, is driven by her passion for improving the health and appearance of each client's skin. She does so through medical-grade technologies and services that require little to no downtime. Options include facials, chemical peels, microdermabrasion, and LED treatments, as well as Ionix, an advanced treatment that uses various modalities to smooth and tighten the skin. skintegrityspanj.com
No drama and no stress—that's the kind of private salon experience Natalie Webb wanted to create when she founded WEBBeauty in Washington Crossing. Webb, who excels in everything from cut and color to balayage, loves to create new looks for clients (women and men) in a tranquil environment. Besides one-to-one attention in her increasingly busy chair, Webb offers her own line of custom hair products for at-home use. webbeautyllc.com
Published (and copyrighted) in Suburban Life, October 2023.