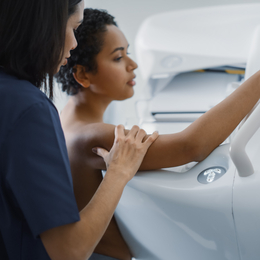 Undaunted
A cancer diagnosis often stirs up fear, grief, and anger, yet it can also stoke the desire to take action.
Nothing is more personal than a cancer diagnosis. Some who receive such a diagnosis are overcome by fear, grief, and anger, as they envision the worst. Others are motivated to fight, both for themselves and for others. Robin Cohen felt compelled to take action, even though the diagnosis belonged to someone else.
Cohen, an oncology nurse at Lankenau, traces her decision to get involved to a woman named Sandy Rollman. The two met the day Rollman was diagnosed with ovarian cancer, and the disease took her life within six months. The experience inspired Cohen to co-found a nonprofit that might help raise awareness and funds to help those affected by the disease. The nonprofit's name: the Sandy Rollman Ovarian Cancer Foundation, based in Wynnewood.

"Sandy and I became friends, and she confided in me things she couldn't confide in her family," Cohen recalls. "By taking care of her, I knew what a woman who has been diagnosed with ovarian cancer could go through—not just from a clinical perspective but from a personal one. At the time, women [with a diagnosis of ovarian cancer] had so few resources and so little hope, and I wanted to change that."

In the more than 20 years since, the Sandy Rollman Ovarian Cancer Foundation has raised millions of dollars to fund potentially lifesaving research and clinical trials. It has also nurtured a network of programs and support services to help women deal with the emotional, physical, and spiritual distress they may be feeling as they receive treatment for the disease.

Madlyn K. Abramson's breast cancer diagnosis led to a similar transformation in how she lived her life; it also sparked a revolution in how cancer is treated. Through Abramson's benefaction and vision, combined with that of her husband, Leonard Abramson, what is now known as the Abramson Cancer Center at Penn Medicine has dramatically altered how it conducts cancer research and delivers care to those affected by cancer in its many iterations.

Abramson passed away in April 2020, but her commitment to help those who have been diagnosed with cancer lives on through her descendants. Her daughter, Nancy Abramson Wolfson, co-chairs the nonprofit Philly Fights Cancer. Every year Philly Fights Cancer hosts a gala event to raise funds for cancer research. The May 2023 event, for example, raised $6 million for research and clinical trials at Abramson Cancer Center.

Taking action seems to run in the family. Wolfson's daughter, Stephanie Wolfson Cohen, has followed in her mother's—and grandmother's—footsteps; she co-chairs the Young Friends of Philly Fights Cancer, which mobilizes younger generations to support the nonprofit's mission.

"It's been heartwarming to see her involvement," Wolfson says of her daughter. "For Stephanie, her grandparents named the cancer center, so this was something she knew from the time she was young. She understands the importance of doing something about it. Besides her grandmother, she had a close friend who was affected with leukemia in the first grade. When you see cancer affect the people you know and love, it makes it much more personal. You realize that cancer is not just something that happens to other people."

Most people believe cancer "won't happen to me," according to the results of a recent survey provided by the Ohio State University Comprehensive Cancer Center. Among survey respondents, 75 percent of women and 91 percent of men believe they will not get breast cancer, considered one of the most common kinds of cancer, if not the most common.

Approximately 297,790 new cases of invasive breast cancer are expected to be diagnosed in women by the time 2023 reaches its end, according to the American Cancer Society; approximately 43,700 women will die from breast cancer. And it's not just women; about 2,800 new cases of invasive breast cancer will be diagnosed in men this year, and about 530 men will die from the disease.

Screening mammography is the No. 1 tool for detecting and addressing breast cancers at their earliest, most treatable stages. Apart from lumps that can be detected by touch, many symptoms of breast cancer may not be immediately recognizable—namely, retracted, inverted, or downward-pointing nipples, breast puckering, the loss of feeling in part of the breast, pitting or thickening of the skin on the breast, and nipple discharge.

Any woman or man in need of specialized care in the aftermath of a breast-cancer diagnosis—or anyone looking to gain clarity on a situation they may suspect is breast cancer—should consult a qualified professional. The following list includes some of the area's most accomplished breast surgeons and specialists, many of whom were featured in our recent Top Physicians report.
Top Physicians: Breast Surgery
Dr. Donna Angotti
Doylestown Health
Doylestown
doylestownhealth.org
Dr. Rachel P. Dultz
Penn Medicine Princeton Health
Multiple locations
princetonhcs.org

Dr. Lisa K. Jablon
Einstein Healthcare Network – Jefferson Health
Multiple locations
einstein.edu

Dr. Stacy L. Krisher
Dr. Anna Mazor
Comprehensive Breast Care Surgeons of Holy Redeemer
Southampton
comprehensivebreastcare.com

Dr. Stefania E. Nolano
Abington Hospital Jefferson Health
Willow Grove
drnolano.com
Dr. Catherine M. Porter
Chester County Hospital | Penn Medicine
West Chester
chestercountyhospital.org

Dr. Russell M. Reisner
St. Mary Medical Center
Langhorne
stmaryhealthcare.org
Published (and copyrighted) in Suburban Life, October 2023.