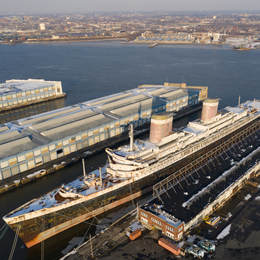 Still Making Waves
Anchored in Philadelphia, the historic SS United States has left an indelible mark.
Philadelphia's abundance of historical treasures far exceeds the familiar likes of Independence Hall, the Betsy Ross House, and the Philadelphia Museum of Art. Consider the SS United States, a mammoth, record-setting, and much-admired ocean liner that has a strong local connection and an incredibly rich history, as well as some amazing, internationally renowned accomplishments.
Conceived by a man named William Francis Gibbs, the SS United States traveled extensively, and enjoyed unprecedented admiration and success before settling down here—or, more accurately, before it was retired here. The SS United States has been anchored at Pier 82 on the Philadelphia waterfront for the past 27 years. This magnificent ship, though faded and rusted after being partially stripped down and idle for so long, remains a sight to see given its remarkable size: 990 feet (100 feet longer that the Titanic), 175 feet high from keel to funnel top, and a gross weight of 53,329 tons.
The SS United States also has many proud distinctions that truly place it in the upper echelon of famous ocean-going vessels, nearly all of them due to the masterful construction and engineering of Gibbs, who grew up in the Rittenhouse Square section of Philadelphia. First of all, Gibbs's favorite ship remains the largest ocean liner ever constructed entirely within the United States. In addition, on the ship's maiden voyage, from New York City harbor to the United Kingdom, on July 3, 1952, the ship set the record for a transatlantic trip for an ocean liner by making the crossing in three days, 10 hours, and 40 minutes, breaking the previous record of the Queen Mary by 10 hours. She also set a new record on the return trip, with an average speed for the round trip being 36 knots (40 mph). Incredibly, those speed records remain standing to this day—an amazing testimonial to Gibbs's talents as a ship designer and builder.
As Ray Griffiths, the ship's caretaker and director of operations for Atlantic Logistics (the management firm of the SS United States), pointed out on a recent tour of the ship, Gibbs made her "sleek, sturdy, powerful, and fast." Despite the fact that the ship has been sitting idle for nearly three decades, Griffiths said the SS United States "is still structurally sound." Among other things, an elongated egg-shaped hull and a lightweight aluminum superstructure made the ship designed for speed. To complement those design elements, the ship had the most powerful steam turbines of the time that drove four 18-foot-wide propellers. When going full steam, the SS United States had a previously unheard of 300,000 horse power.
Along with his expertise for making his ships fast and powerful, Gibbs was a stickler for overall safety, especially fire prevention. When the SS United States made its maiden voyage, the only wood on the entire ship was the piano in the ballroom and the butcher's block in the kitchen; even the clothes hangers were made of aluminum.
Also on the tour was Susan Gibbs, William Gibbs's granddaughter and head of the SS United States Conservancy. She explained how some of the first-class passengers found it difficult to get used to eating on metal tables and sitting on metal chairs. "In fact," she pointed out, "all the furnishings in the ship were metal." There were murals and paintings on the first-class dining room walls, but oil paintings were forbidden.
A Remarkable Past
The ship's history is just as impressive as its makeup and design.
The SS United States cost $74 million to build, 70 percent of which was picked up by the U.S. government, with the understanding that the ship would be built to certain navy specifications so it could be easily converted to a troopship, if needed. The ship could hold 2,000 people. It made 400 transatlantic trips from 1952 to 1969.

The American public fell in love with the SS United States after reading about that historic maiden voyage. In fact, throughout the 1950s and '60s, people from all around the world booked trips on the world's fastest ocean liner, including luminaries such as Bob Hope, John Wayne, Cary Grant, Marlon Brando, Princess Grace of Monaco, Marilyn Monroe, Harry Truman, and many others. In 1968, a young Bill Clinton booked passage on the ship to begin his classes at Oxford.

Another individual who sailed on the SS United States was a retired Allentown physician, Dr. Harold Goldfarb, who, in May 1964, made one trip on the ocean liner as the ship's surgeon and as a kind of seagoing concierge.

"I did it for honeymoon money," Dr. Goldfarb, who got married shortly after the trip, said in a recent interview. "I got on the ship and all these people were asking me where things were and I didn't know. So I went in my cabin and read all about the ship.

"The ship was beautiful and very fast," he continued. "When you were on the deck, it was like riding in a convertible with the top down. And the crew was great; they couldn't do enough for me. They were very accommodating and tried hard to please all the passengers. It was a great experience."

Unfortunately, it became very expensive to run the immense ship, so the ship's owner, United States Lines, decommissioned her. The ship had various owners over the ensuing years, all with different plans for her future. One popular idea for the ship's future was to transform it into a floating casino, but nothing ever materialized. Because none of those owners could make the ship profitable again, it ended up being partially stripped down and towed to Philadelphia in 1996.

In 2011, after securing a very large donation, the SS United States Conservancy—a group of passionate and preservationist-minded people—bought the SS United States for $5.8 million, just in time to save the ship from being scrapped. The conservancy has high hopes for continued donations, large or small, that will one day make the ship somehow useful, appreciated, and enjoyed once again.
Gibbs: Aristocrat, Artist, Sailor
While the SS United States was Gibbs's masterpiece, it was just one of his many highly touted shipbuilding accomplishments. He was widely considered America's greatest naval architect. He was driven and determined to build the perfect ship every time and would not settle for less than that. In a 2012 article in Harvard Magazine, Gibbs was described as a man "who had the diction of a Philadelphia aristocrat, the mind of an artist, and the mouth of a sailor."

From the time he was eight years old and saw an ocean liner on the Delaware River, Gibbs was obsessed with ships. In fact, through his college years he spent much of his time studying British ships. He spent time at both Harvard and Cambridge, and wavered in his course of study among science, economics, and law. Even after getting his law degree from Columbia University in 1913, mainly to please his father, Gibbs still dreamed of being a shipbuilder. As a young lawyer, Gibbs won his first and only case before dedicating his life solely to naval architecture and engineering.

Gibbs and his brother, Frederick Herbert Gibbs, both spent time working for the International Mercantile Marine Company. In 1922, the brothers formed their own company when they were given a government contract—due to William Gibbs's highly respected work during World War I—to recondition the Leviathan, a seized German ocean liner formerly known as the SS Vaterland.

In 1929, William Gibbs formed a new company with Daniel H. Cox, a noted yacht designer of the era. Together they designed many military ships over the years, rising to the occasion during World War II, during which they conceived more than 5,000 ships for numerous countries' navies.

"During World War II, there were hardly any Navy ships that weren't designed by Gibbs," Griffiths added.

Due to his many contributions to the Allied cause, it would not be inaccurate to refer to Gibbs as a war hero. He designed the landing craft used in the Normandy invasion and greatly aided in the mass production of the Liberty Ship cargo vessels that were so important to the survival of beleaguered England. Gibbs also designed mine sweepers, destroyers, and escort carriers.

Of all of Gibbs's many accomplishments, the SS United States was his pride and joy. He went so far as to meet the ship on every one of her return trips to New York City.

"You can't set her on fire, you can't sink her, and you can't catch her," he was famously quoted as saying about his beloved ocean liner.

Gibbs died in 1967, two years before the SS United States was decommissioned.
An Uncertain Future
Not surprisingly, the ship is rather barren now. When you look at certain sections of the ship, you can imagine what they looked like in the ship's heyday. The orchestra stand for the first-class dining room has a small stage extending from high up on one wall, overlooking the dining area. A grand staircase—similar to the iconic one on the Titanic—leads to the ballroom. On the bridge, the windows operated like automobile windows, with people able to crank them up and down—a rare feature on a ship, according to Griffiths. The huge anchors and chains and an above-water propeller (60,000 pounds) were also interesting to see, as were the two large engine rooms. The beautifully designed manganese/bronze propellers are so impressive that they have been on display in different locations on the East Coast, including the Mariners' Museum and Park in Newport News, Virginia, where the SS United States was constructed, and the American Merchant Marine Museum in New York.

In partnership with RXR Realty of New York City, SS United States Conservancy is dedicated to vigorously pursuing two very important goals: raising awareness about the SS United States and its important role in American and maritime history; and securing the financial resources to preserve this extraordinary creation of William Francis Gibbs. In a recent email, Susan Gibbs said the conservancy would like to see the vessel become a mixed-use destination and world-class museum.

Photo by Felix Mizioznikov/Shutterstock.com
Published (and copyrighted) in Suburban Life, October 2023.