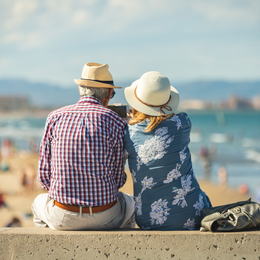 World of Opportunity
Retirees indulge their appetites for creativity, exploration, and reinvention.
"Find a way to fill the days."
That was the best bit of advice Randy Del Gatto received from a friend who preceded him in retirement. Del Gatto took the advice to heart last year when he retired from his longtime job as the director of business operations for a large retail company in the Carolinas.

"When you're working, you spend eight to 12 hours a day at your job, so the time passes way too easily," says Del Gatto, who has family in Bucks County. "When you retire, you find that you have more time than you know what to do with, but you hit your stride after a few weeks. Looking back, I'm not sure how I got it all done when I was working.

"Retirement takes some intention," he continues. "If you don't know what to do with yourself, you might go a little stir crazy [in retirement]. Some friends of mine decided to go back into the work force even though they didn't really want to; they couldn't think of anything else better to do."

Del Gatto has not had the same problem. He fills his days by hitting the gym and plotting out trips to see parts of the world he and his wife have not yet gotten to. Argentina and Antarctica are on the list, he says. Unlike his friends, he has no plans to go back to the working world.

"I don't have the time or the interest," he adds. "I've got too much to do and too little time."

Francis J. Roach is retired, too. He and his wife, Barbara, live at Arbour Square in Harleysville. Like Del Gatto, they have had no trouble staying busy. They both volunteer their time to causes at the community; she works at the thrift store while he builds upon his extensive résumé in community service. He rattles off a dozen or more ways in which they can enrich their days, thanks to opportunities made available by Arbour Square, either formally or informally.

"We've made a lot of new friends here, so you find things you have in common with people and you always learn something new," Roach says. "You have a hundred things to keep you busy—theater, exercise, slot machines, bingo. Just about anything you want to do, any interest you want to pursue, you have the opportunity. Now's the time to do it."
Living Well
Pennsylvania has an abundance of continuing care retirement communities, independent-living facilities, and other organizations that can help older Americans live their best lives. The area's exceptional CCRCs and likeminded enterprises are known for providing superior care, whether they live in a community (independent living, personal care, or memory care) or choose to "age in place." While many of those organizations are listed below, we acknowledge that the area's many exceptional communities and allied service providers go beyond the ones mentioned here.

Acts Retirement Life Communities
Brittany Pointe Estates in Lansdale, Fort Washington Estates, Granite Farm Estates and Lima Estates in Media, Gwynedd Estates in Ambler, Normandy Farms Estates in Blue Bell, Southampton Estates, and Spring House Estates in Lower Gwynedd
actsretirement.org
Amada Senior Care
In-home caregivers
amadaseniorcare.com

Arbour Square of Harleysville
Harleysville
arboursquare.com

Artis Senior Living
Huntingdon Valley, Yardley, and Princeton, New Jersey
artisseniorliving.com

Atria Senior Living
Atria Center City in Philadelphia and Atria Lafayette Hill
atriaseniorliving.com

The Attleboro Community
Langhorne
attleborocommunity.com

Brandywine Senior Living
Dresher Estates, Haverford Estates, Longwood in Kennett Square, Senior Suites in East Norriton, and Upper Providence in Phoenixville
brandycare.com

Chandler Hall
Newtown
ch.kendal.org

Cornwall Manor
Cornwall (Lebanon County)
cornwallmanor.org

Dunwoody Village
Newtown Square
dunwoody.org

Elm Terrace Gardens
Lansdale
elmterracegardens.org

Five Star Senior Living
The Devon Senior Living, NewSeasons at New Britain in Chalfont, and Forwood Manor in Wilmington, Delaware
fivestarseniorliving.com

Freedom Village at Brandywine
Coatesville
fvbrandywine.com

Friends Home & Village
Newtown
fhvpa.org

Garden Spot Village
New Holland
gardenspotvillage.org

HarborChase of Wilmington
Wilmington, Delaware
harborchase.com/harborchase-wilmington

HarborChase of Princeton
Princeton, New Jersey
harborchase.com/harborchase-princeton

The Hearth at Drexel
Bala Cynwyd
thehearthatdrexel.org

Heartis
Warminster and Yardley
heartis.com

Hershey's Mill Villages & Golf Club
West Chester
hersheysmill55plus.com

The Hickman
West Chester
thehickman.org

HumanGood
The Mansion at Rosemont, Rydal Park and Rydal Waters in Jenkintown, and Spring Mill Pointe in Lafayette Hill
humangood.org

IntegraCare
Glen Mills Senior Living, Exton Senior Living, Magnolias of Lancaster
integracare.com

Kendal-Crosslands Communities
Kennett Square
kcc.kendal.org

The Landing of Collegeville
Collegeville
leisurecare.com

The Manor at York Town
Jamison
themanoratyorktown.org

Maplewood at Princeton
Plainsboro, New Jersey
maplewoodseniorliving.com

Masonic Villages
Lafayette Hill and Warminster
masonicvillages.org

Meadowood Senior Living
Lansdale
meadowood.net

Merrill Gardens
Arbour Square in West Chester, Eagleview Landing in Exton, Mercer Hill at Doylestown, Merrill Gardens at Glen Mills, Truewood by Merrill in Glen Riddle
merrillgardens.com

Oxford Enhanced Senior Living
Langhorne
oxfordenhancedseniorliving.com

Pennswood Village
Newtown
pennswood.org

Pickering Manor
Newtown
pickeringmanor.org

Pine Run Retirement Community
Doylestown
pinerun.org

Pleasant View Communities
Manheim
pleasantviewcommunities.org

Priority Life Care
Symphony Manor of Feasterville and Independence Court of Quakertown
prioritylc.com

Riddle Village Retirement Community
Media
riddlevillage.com

SageLife
The 501 at Mattison Estate in Ambler, Plush Mills in Wallingford, Daylesford Crossing in Paoli, and Echo Lake in Malvern
sagelife.com

The Solana Doylestown
Warrington
thesolanadoylestown.com

Springton Lake Village
Media
springtonlakevillage.com

Sunrise of North Wales
North Wales
sunriseseniorliving.com

Symphony Square
Bala Cynwyd
symphonysq.com
Visiting Angels
In-home caregivers
visitingangels.com

The Watermark at Bellingham
West Chester
bellingham.watermarkcommunities.com

Waverly Heights
Gladwyne
waverlyheightsltd.org

White Horse Village
Newtown Square
whitehorsevillage.org
Published (and copyrighted) in Suburban Life, October 2023.