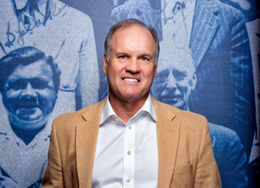 Iron Man
Former Phillie Ryne Sandberg heads home as manager of the
Ryne Sandberg has a sign on his office door at Coca-Cola Park, home of the Lehigh Valley IronPigs, which is a mere 20 minutes from the northernmost parts of Bucks County. The sign reads: "Boss Hog."
And so the Hall of Fame second baseman, who was drafted by the Phillies in the 20th round in 1978 and debuted in the majors in 1981, returns to his roots as manager of the IronPigs, the Phillies' minor-league affiliate.
When he was inducted into the Hall in 2005, Sandberg talked about being taught by the likes of Phillies greats such as Pete Rose—his "hero"—as well as Mike Schmidt, Steve Carlton and Manny Trillo. These legends re-instilled in him his father's advice: "Keep your nose clean, your mouth shut and your eyes and ears open because you might learn something."
Over the years, he kept in touch with several of his friends from the Phillies—specifically, John Vukovich, Tony Taylor and Ruben Amaro Sr. Now, Sandberg's fealty is to the latter's son, Ruben Amaro Jr., general manager of the Phillies.
"We were very fortunate to be in a position to get [Sandberg]," Amaro Jr. says. "He has a passion for developing his players."
Sandberg coached four years in the Chicago Cubs' minor-league system in Peoria, Ill. (Class A), Knoxville, Tenn. (Double-A), and Des Moines, Iowa (Triple-A); his teams twice finished first. He was named Manager of the Year in his only year coaching Triple-A.
At first Sandberg didn't know if he should try coaching but turned to the managers who most influenced his career: Don Zimmer and Jim Frey. "They told me, 'You know baseball; just be yourself,'" Sandberg says.
"I preach team play," he adds. "You execute what's asked of you. If you're asked to lay down a bunt or execute a hit-and-run, and the guy behind you gets the RBI instead of you, that's fine. Your turn will come. Then good things happen for everyone."
On the field, that's exactly the way he played. And that's why Sandberg, who batted in 100 runs, hit 40 homers and stole 50 bases a season, was also his teams' best bunter.
A shortstop in the minors, Sandberg was included in the 1982 trade that sent five-time all-star shortstop Larry Bowa to the Chicago Cubs for shortstop Ivan DeJesus. The Cubs' manager Dallas Green, who managed the Phillies to their first World Series title in 1980, insisted on having Sandberg as part of the deal. Sandberg played 15 seasons in Chicago, where he won nine Gold Gloves and seven Silver Sluggers, played on 10 All-Star teams and was named MVP in 1984.
Now he tells minor-leaguers: "Don't always focus on the parent club. Nine of the top 10 [minor-league] prospects are traded before they move up. … I use myself as an example—650 at-bats in the minors—three years later I'm traded," after only six at-bats in the majors.
"I loved everything about the way he played," says Phillies manager Charlie Manuel. "His No. 1 priority is winning the game. … And if he feeds the Phillies team with great players, I'll like him that much better!"
The bar is already set high, with more than 60 players from the IronPigs have gone to the big leagues in the last few years. Sandberg truly believes that minor-league baseball is "the best family entertainment around"—and nowhere better than at Coca-Cola Park, where tickets are likely more readily available than at the parent club's ballpark at the corner of Philly's Broad and Pattison.
"Ryne will do well here," says Amaro Jr.—and he's been right so far. As of press time, Sandberg's IronPigs were first in the International League's North division, with a record of 43-28, for a winning percentage of .606.
Photography by Richard Hafner, courtesy of the IronPigs