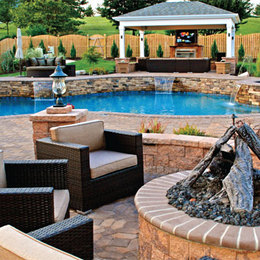 Home Improved
For homeowners and contractors, Allied Landscape & Contractor Supply has the materials for any project.
When Alan and Terry Besley and their three children sat on their deck at their home in Collegeville, they spent more time thinking about all its problems than they did enjoying the summer evenings.
The 14-year-old wooden deck was in disrepair, and the backyard it overlooked was strewn with rocks and patches of dirt and had developed a significant water retention problem.
During the winter of 2008, the Besleys called Jeff Acosta at WJA Landscaping in Collegeville to transform their backyard into the oasis they had always wanted. Within a few weeks, Acosta did just that, creating a breathtaking multi-tier patio, with a walkway, landing, light-capped pillars, fire pit, rounded steps and retaining walls.
"Hiring WJA was one of the best calls we ever made," Terry Besley says.
Equally as good was the call Acosta made to his materials provider, Allied Landscape & Contractor Supply. "Allied is where I go to get what I need for my customers," Acosta says. "They have great service, honest prices and the best materials I need to get the job done right."
Whether a project is being done by a professional contractor or a homeowner himself, Allied Landscape & Contractor Supply is the place to go for everything needed to upgrade or transform any landscape or hardscape.
Serving a six-county area of southeastern Pennsylvania, Allied stocks an array of landscaping supplies, including E.P. Henry Hardscaping pavers and retaining walls, Pennsylvania bluestone, flagstone, natural stone walls and boulders, outdoor fire pits and fireplaces, mulches, soils, river jack stone and building aggregates.
Also available are masonry-related products such as E.P. Henry Cast Veneer Stone, cinder blocks, bagged cement, masonry sands, wire and rebar.
As for product quality, Allied Landscape & Contractor Supply fully stocks the industry leader—E.P. Henry, the oldest family-owned and operated manufacturer of unit concrete products in America. E.P. Henry's pavers and walls are the premier materials used to construct beautiful walkways, patios, walls and driveways.
With three locations from which to choose—Dresher, Limerick and Gap—Allied makes it convenient to make your outdoor dreams come true. "As a hardscape and masonry center, Allied offers customers everything to make their project as perfect and pleasing as possible," says Mike Scharnikow, general manager at Allied. "Contractors come to us because they know they get quality products at a fair price, with service. Do-it-yourself homeowners also come to us, and if a homeowner needs some help getting the job done, we hold seminars three times in the spring and three times in the fall at each of our locations. If a homeowner is interested in hiring a professional, like WJA Landscaping, we will present them with a list of qualified companies that have the highest level of experience in many facets of landscape construction.
"Allied's mission is to make sure the customers—contractors and individuals—are satisfied."
Customers have been extremely satisfied. It's among the chief reasons Allied Landscape & Contractor Supply has thrived for 9 years under the umbrella of the local parent company, Allied Concrete and Supply, which has been in business for 57 years.
"Customers reach a level of comfort doing business with us because they know we're going to be here for them for the long haul," Scharnikow says. "We're not going to be here today and gone tomorrow."
Neither is your home—which is why Allied Landscape & Contractor Supply is the company to call when improving your landscape to increase your home value.
"Creating an outdoor living environment is huge," Scharnikow says. "The improvement is outdoors, but it's really an addition to your home and overall family lifestyle. "That's where homeowners see a dramatic return on their investment if they decide to sell; research within the industry shows that it is close to a 20-percent return on the initial cost of a landscape project."
Alan and Terry Besley are thrilled with the results of their project, and say they are eager for the weather to break so they can begin enjoying their backyard oasis.
If ever you decide to make a good call, as the Besleys did, Allied Landscape & Contractor Supply should be on the other end of it.
Allied Landscape & Contractor Supply has three locations: 1752 Limekiln Pike, Dresher, 215- 643-9857; 200 Limerick Center Rd., Limerick, 610-495-1408; and 5834 Old Lincoln Highway (30), Gap, 717-442-4390.
Visit AlliedLandscape.com.
Phil Gianficaro is an award-winning professional writer based in Doylestown.