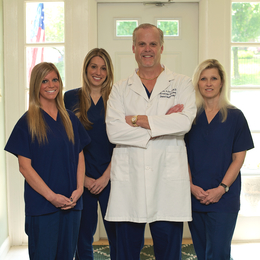 Smiling Again with James A. Vito, DMD
Dr. James Vito's patients rediscover their smile and enjoy a fuller life
The party of four enjoyed a celebratory dinner at a popular steakhouse in King of Prussia this past spring. The choice cuts of mouth-watering meat, each as tender as a lullaby, brought smiles to their faces.
The most incredible smile, however, belonged to 68-year-old Don Doros of Holland in Bucks County.
Seated across from him and his wife was Dr. James Vito, D.M.D., the acclaimed Main Line cosmetic dental surgeon responsible for putting the sizzle back in his smile and his life.
"I told Dr. Vito that right after he was through with my dental implants, the first thing I wanted to do was go to dinner and have a big steak," Doros says. "When my implants were done, he treated my wife and me to dinner. Because of him, I'm able to enjoy food again."
Steak was not always an option for Doros, given a litany of dental problems stemming from childhood, when, he believes, he did not receive enough fluoride.
Fast-forward to adulthood. After being repeatedly dissatisfied with his family dentist—"He wasn't talented enough to help me," Doros says—his wife began researching solutions to his problems in 1987.
Finally, Mrs. Doros struck gold. She directed her husband to the Perio-Prosthesis Center at the University of Pennsylvania, where he met a graduate student named James Vito.
"Meeting Dr. Vito as a young man was one of the best things that ever happened to me," Doros says. "He rebuilt my entire mouth by putting in permanent bridges and implants. All my teeth were replaced with prosthetics. It took a year and a half, but it was worth it. He did a fantastic job."
So fantastic, in fact, that upon Dr. Vito's graduation, Doros became and has remained a patient for a quarter century. He has followed Dr. Vito as his dental practice relocated from Blackwood, N.J., to Princeton, N.J., to his present location in Wayne.
When Doros' 25-year-old bridgework needed to be replaced last year, his longtime dentist and friend performed the work, skillfully rebuilding his jawbone with grafts, followed by the installation of six implants and prosthetic teeth.
A year after the process began, Doros was enjoying steak—and life—once more.
"Dr. Vito is a perfectionist," Doros says. "He is an expert in the fit, procedure and look. He knows everything about prosthetic dentistry and implantation. If you have a problem, he's the only man you want to see."
Legions of patients echo Doros' praise for Dr. Vito, including one who travels from his home in South Carolina to the dental office in Wayne.
Such loyalty is understandable, as Dr. Vito is among one of the most highly trained and accomplished in his field. He has been performing implant surgery and dental implant restoration since 1987 and in his Wayne office since 1999. He's skilled in the surgical placement of dental implants as well as the restoration of dental implants. He received his surgical and restorative training and certification in this area from the Misch International Implant Institute.
Dr. Vito is one of a few dual board-certified implant dentists in the country. He is board certified through the International Congress of Oral Implantologists and the American Board of Oral Implantology/Implant Dentistry. He is certified as a Master in Implant Prosthodontics through the International Congress of Oral Implantologists. He lectures nationally and locally on dental implants, and is a clinical professor of periodontics and implant dentistry at the Kornberg School of Dentistry at Temple University.
"Basically, a dental implant is a titanium substitute for a single missing tooth or a series of teeth," Dr. Vito explains. "The dental implant itself replaces the missing root structure. Once the foundation has been established by placing the implant in the jawbone, and allowed to heal for a period of time, we then add components to the implants that then allow me to connect the final implant-supported restoration to the dental implant.
"If things are done correctly the new restoration is virtually undetectable. So that if I'm crowning two front teeth and one is a crown on a natural tooth and the other on a dental implant, you'd be hard pressed to tell which is which."
When multiple teeth are missing in the front of a patient's mouth, many times the cause is bone loss. In those cases Dr. Vito can rebuild the bone and soft tissue to provide an ideal environment in which to place the implant.
Since his post-graduate days at Penn, Dr. Vito has witnessed and experienced an explosion in the demand for dental implants.
"Dental implants weren't well received when I first started back in 1987," he says. "I'd mention them and people ran for the hills. It was a foreign concept. It wasn't in vogue as it is today. The interesting thing is, people were OK with putting a titanium screw in their hip or knee, but couldn't get their mind around the idea of putting a screw in their mouth.
"All that changed in the mid-'90s, when the science got much better. Originally, dental implants were used for people who couldn't wear their dentures because their jawbones were so flat the dentures wouldn't fit regardless of the amount of adhesives they used. And because of the success we had with dentures, people eventually accepted implants to replace a missing tooth or teeth without involving the otherwise intact surrounding natural teeth."
For patients who require extensive dental work but may be without the financial means or patience to undergo bone grafts and gum surgeries necessary to build an ideal foundation for implants, Dr. Vito can offer an alternative. All-on-4 is an implant and restorative concept where four to five dental implants are placed in the lower or upper jaw to support a screw-retained hybrid prosthesis.
"We can typically do an All-on-4 procedure the same day or within 24 hours," says Dr. Vito. "For example, there might be someone who has an activity coming up, but can't wear their dentures anymore. We can plan the case in such a way that we can have the preliminary work done prior to the day of the procedure. On the day of the procedure, the dental implants are placed, impressions made and the next day the new restorations are placed on the dental implants and the patient can function immediately with the new restoration."
Since his time in grad school, Dr. Vito has witnessed the destructive power of poor dental health and how it can negatively affect someone's life in various ways.
"Some people get to the end of their rope," he says. "As you get older, you socialize more around food. You meet family, friends and associates for lunch, for dinner or attend graduation parties or weddings. If you can't eat because of dental problems, you probably don't go to these events or you sit in the corner with your mouth closed if you do go.
"But with dental implants, we can make sure those things don't happen. People don't have to sit in a corner. They can enjoy life."
And, in Don Doros' case, they can also enjoy a nice juicy steak.
Phil Gianficaro is an award-winning writer based in Lansdale.
Kim Billingsley is a freelance photographer based in Doylestown.
Dr. James Vito, D.M.D
523 E. Lancaster Ave.
Wayne, PA 19087
Phone: 610-971-2590
Website: JamesVito.com
Teeth by Tonight
Dental Implants
E-mail: info@jamesvito.com