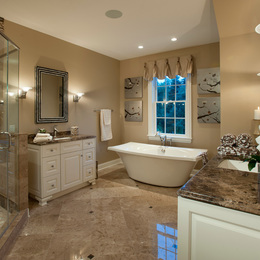 Rock Solid
Turn to Colonial Marble & Granite for the finest stone and service available
Life just got a little easier—a little better, in fact—for homeowners looking to undertake a kitchen, bath or other home-remodeling project. Although industry home-improvement leader Colonial Marble & Granite maintains its 100,000-square-foot showroom and production facility blessed with the largest inventory of precious stone slabs in the tri-state area, such selection and convenience simply weren't enough.
The King of Prussia-based company recently opened seven external satellite locations at prominent malls throughout the greater Philadelphia area as a way to help locals plan their home remodels and renovations. The new locations include: The Court and Plaza at King of Prussia Mall; the Montgomery Mall in North Wales; the Oxford Valley Mall in Langhorne; the Lehigh Valley Mall in Allentown; the Quakerbridge Mall in Lawrenceville, N.J.; and the Hamilton Mall in Mays Landing, N.J.
"We're 100 percent committed to customer satisfaction," says James Freeman, vice president of sales and marketing for Colonial Marble & Granite. "Whether it's at one of our external mall locations or at the showroom in King of Prussia, whatever a customer is looking for, we can make it happen for them."
In addition to the new locations, which have significantly expanded Colonial Marble's reach, the company's presence has bloomed elsewhere through sponsorships of Philadelphia's professional sports teams, namely the Flyers, Sixers and Union. Recent developments aside, the heart of Colonial Marble & Granite's operation remains in King of Prussia, where the company maintains a nearly unlimited selection of marble, granite, onyx, travertine and other precious stones to enhance homeowners' kitchens, bathrooms and other spaces.
Colonial Marble & Granite, which is a proud member of consumer-protection organizations such as the Better Business Bureau and Marble Institute of America, possesses the largest inventory of its kind in the tri-state area, if not the country: more than 4,500 stone slabs in excess of 450 different colors, according to Freeman.
"Other fabricators might have 100 or more, if they're lucky," he says. "Here at our showroom we have all these products indoors 12 months a year, so you can come in and see various options. It's simple: Come in, find the stone you fall in love with, put your name on it and it's yours."
Colonial Marble & Granite's home base has more in common with a comprehensive design center than a typical home-remodeling showroom, with true-to-life lighting and ancillary design components to provide a "one-stop shopping" experience. Put another way, the showroom's atmosphere enables customers to get a better sense of how the stone will look once they take it home.
"We have full kitchen displays on view to touch and feel, so they can get a feel of what it would look like," Freeman says. "You can come in here and see floors, kitchens, countertops, etc., and it allows them to see it all together and make some educated decisions as to what they want their home to look like."
The King of Prussia showroom may bear close resemblance to a design center, but staff members have worked hard to make sure it is also a comfortable, relaxing place to spend their time—especially on weekends.
"We do a cookout for customers every Saturday, 52 weeks a year, from 10 a.m. to 6 p.m.," Freeman says. "It's a barbecue-style cookout, and it's free for customers coming in. We did it for the first time on Memorial Day 2008, because it was our first holiday being open; our customers loved it, and our employees loved it. Now we do it every holiday and every Saturday. Last year we had a foot of snow on the ground, and we were out there barbecuing."
'Exactly What You Want'
Nikos Papadopoulos and Angelo Bekas founded Colonial Marble & Granite in 2006, using variety, quality and service as their store's defining distinctions. In the time since, the company has revolutionized the industry with the use of its fabrication technology. Once a customer chooses a world-class stone, skilled technicians machine-cut the slab using CNC (computer numerically controlled) technology for a precision cut. Because of this, homeowners have as much control and creativity as they wish in making each piece one of a kind.
"With the traditional hand fabrications, there's going to be some variance," Freeman says. "We'll have some sealing and polishing that are done by hand, but because we have CNC and use only top-level industry products, you're guaranteed to have precision cuts and consistency throughout, and as the customer you get exactly what you want."
Beyond quality and cut consistency, there's also the central issue of price. Previously, many homeowners got used to being unsure as to what they were paying with other fabricators, according to Freeman, but Colonial Marble & Granite changed the nature of the business locally by moving to an all-inclusive pricing structure. For example, the company has been running a special promotion that includes up to 50 square feet of granite—more than enough to accommodate most kitchens—a new stainless-steel sink and faucet, with labor, edging and sink installation included, for one low cost.
In addition to stone slabs, the company also has an increasingly sophisticated selection of tiles, most commonly used for kitchens and baths but also for outdoor flooring and fireplaces. Again, Colonial Marble has enough options to suit any customer's taste and style, from the uncomplicated to the extravagant.
"We have thousands of different options for tile—as low as $1 per square foot to as high as $100 per square feet—for anything a person might be looking for," Freeman says. "And we're probably going to have it in a fantastic price that's going to be much less than they might see somewhere else."
Colonial Marble & Granite Inc.
201 West Church Road (entrance off of Henderson Road), King of Prussia
610-994-2222
ColonialMarble.net
Jennifer Updike is a freelance writer based in New Hope.
Rob Hall is a photographer based in Plumsteadville.