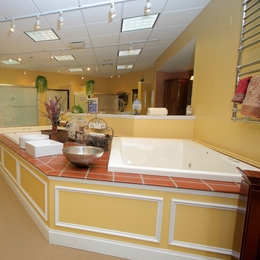 Clean Start
Expect unmatched variety and expertise at GSI Bath Showplace
Although they are rarely the focal point of a home, bathrooms never lack in form, function and, sometimes, beauty. This is why they are one of the most often renovated rooms in the house. And although such home renovations require investment of time and money, local homeowners at least have the GSI Bath Showplace, a trusted local source offering ample variety of top-tier products and the knowledge to educate based upon years of industry expertise.
"Having a local expert who can meet face to face and work in collaboration with selected contractors and interior designers is hard to find," says John Vitale, who oversees all six of the showrooms at GSI Bath Showplace, including two suburban locations in Wayne and Doylestown. "It is even harder to find a place where no appointment is required."
GSI Bath Showplace is a concept that started with one location more than 20 years ago and has evolved into six showrooms throughout Greater Philadelphia and South Jersey. The showrooms are filled with whirlpools and baths, vanities, sinks, toilets and fixtures and faucets. Each showroom has several vignettes with working showers and toilets, as well as a library of product catalogs, which expand upon the available options.
Being focused solely on the bathroom, GSI offers consumers a broader line of products and brands than home-improvement stores that try to offer options for every room in the house. The carefully selected brands reflect GSI's commitment to high quality and include contemporary, transitional and traditional styles.
"We carry such well-known favorites as American Standard, Delta, Grohe and Moen," says Vitale. "As the largest distributor of TOTO products in this area, we share their promise of offering bath fixtures that save time and money with top-of-the-line performance and reliability."
With its long-standing wholesale division behind it, GSI is also an expert in plumbing accessories and contractors' needs.
"On the Internet, consumers need to browse one site after another to find all the pieces then hope they will work together," Vitale says. "That's not always the case. Contractors are left sorting through the various elements, while consumers spend hours searching for the right item then returning the wrong one. It comes down to time and money—two things that GSI helps save."
In short, the goal of GSI and its staff is to simplify the shopping experience, according to Maureen Manney, showroom manager at the location in Wayne. "We act as a liaison between consumers and their contractors, translating many of the details throughout the process," she says. "Our experience takes out the guesswork."
Hot Tips, Cool Trends
According to Vitale, a number of trends have sprouted that run the gamut in terms of the products GSI provides. One of the biggest is in the selection of frameless heavy-glass shower doors, which are prized for their durability and ability to add beauty and sophistication to any bathroom. Also, a rain-head shower with a separate hand spray, while not new, remains a popular choice among clients; used more for cleaning purposes, the handheld piece does help rinse those hard to reach spots.
Vanities, on the other hand, are all about storage, though most homeowners no longer want the boxy cabinet style. "Instead," Vitale says, "a stand-alone, furniture style piece that leaves space between any side wall and the cabinet offers a solution that provides storage, yet with an airy appearance. Normally transitional in style, these wood pieces are topped with natural stone to accent the room." For those in need of more storage, old-fashioned medicine cabinets have evolved. There are now modular wall units with mirrors that create depth and a larger room appearance. Some even have televisions built into the glass.
Whirlpool baths remain popular and, with the more innovative air tubs, jets are replaced with air bubbles that encircle the perimeter of the bathing well and burst against the bather's skin.
Toilets also continue to evolve. A particularly unique technological advancement is the TOTO Neorest, which has a built-in bidet, dryer, deodorizer and a heated seat that automatically raises when one gets close and lowers when he or she is done. Also, homeowners now lean toward those that are a bit taller, otherwise referred to as comfort height.
"One of the most frequently asked questions remains if 1.6-gallon flush toilets work," Vitale says. "The answer is yes—the technology is far improved. In fact, we are starting to see more commodes with a 1.28-gallon flush, offering even greater water conservation and savings."
Creative Solutions
More and more often, clients want to be engaged throughout the renovation process, and Vitale considers this a positive trend. Although the GSI team is available to guide the conversation with questions, there are a number of ways that homeowners can help. Knowing the room size, for example, and bringing any type of architectural drawing if the room is to be expanded, is a good first step, he says. Other helpful information includes the current bathroom layout, including the sizes for each fixture. Once the space is outlined, the key is to define what the client wants and needs.
"What are they looking for in the bathroom in terms of fixtures, styles and overall appearance?" Manney says. "The more details we have the better. With all this information in hand, we are able to offer valuable insight based upon our expertise and create the ideal, efficient bathroom to meet their needs."
Vitale adds, "At GSI, it's not about being a jack of all trades. We want to be the master in one area: affording clients the highest level of personal, face-to-face attention and marrying it with a broad selection of bathroom products and brands all in one spot. We provide creative suggestions and solutions, and we rest our reputation on it."
Visit GSI Bath Showplace, the area's largest distributor of TOTO products, online at GSIBathShowplace.com.
Two Suburban Locations:
DEVON
757 W. Lancaster Ave., Wayne
610-688-7134
DOYLESTOWN
636 N. Main Street, Doylestown
215-348-5720
Showplace Hours
Tues., Thurs., and Fri.: 8:30 a.m. to 4:30 p.m.
Wed.: 8:30 a.m. to 8 p.m.
Sat.: 9 a.m. to 3 p.m.
Glori Gayster is a freelance writer based in South Jersey.
Felicia Perretti is a freelance photographer based in Philadelphia.