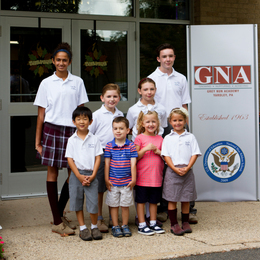 'Home Away from Home'
How students grow, achieve and prepare for the future at Grey Nun Academy
It's impossible for Karen Rooney to not notice how composed her daughter, Kaitlyn, has become—how she has come into her own person—despite her young age. But she also sort of expected it.
"She's so comfortable in her own skin," Rooney says of her daughter. "She's been given so many opportunities to stand up in front of her class, in front of people she might not know, and develop confidence at an early age. That kind of experience is invaluable."
Kaitlyn is a seventh grader at Grey Nun Academy, a private, Catholic, co-educational elementary school on a serene 90-acre campus in Yardley. She's been going to the school for nine years, having started her education there in prekindergarten. Rooney describes her daughter's school as "a very nurturing environment that embraces you as soon as you walk through the doors."
"I wanted Kaitlyn to go to a personal school, but I also wanted the religious aspect so she could have that background," she says. "The faculty and teachers know every student, so nothing slips by.
When it's time for students to move on, many of them have expressed how confident they are as they approach their first year of high school. And more often than not, because of their preparedness and the education they've received, students are accepted into their first choice in high school.
"Grey Nun Academy is everything we thought it would be and more."
Founded in 1963 by the Grey Nuns of the Sacred Heart, Grey Nun Academy emphasizes social justice, peace and compassion in its teachings. And, as Rooney suggests, the school's mission is also to ensure students are perfectly prepared for the next phases of their education, according to Marianne Finnegan, the school's principal.
"We're teaching basic respect for individuals, but we also want to help children be the best they can be—academically, socially, behaviorally, emotionally," says Finnegan, now in her sixth year as principal after a distinguished career as a teacher in and around Lower Bucks County. "Even when their children are four or five years old, parents are already thinking about where their children will go next. Our job is to make sure they are prepared."
An Uncommon Culture
Grey Nun Academy's culture is unique in its support of students. To begin with, class sizes are remarkably small—18 students, on average—and the student/teacher ratio is 11:1. The school is also highly advanced, technologically speaking, with computer-equipped homerooms and a mobile laptop cart with 25 netbook computers "so we can have every child on the Internet," says Finnegan. In addition, the school now has a brand-new Apple Lab to "tap into children's creative side" in terms of digital photography and graphic design to ensure that students are comfortable using both platforms.
Although technology is a wonderful tool, Grey Nun Academy's greatest asset is its faculty. The school strives to hire and retain the best teachers who embrace the culture, which is based on an extraordinarily close bond between teachers and students, as well as strong communication between teachers and parents. All students, even if they are average or even struggling learners, can thrive with the right degree of support and nurturing, Finnegan believes. The school also has a strong professional development program and other resources devoted to helping teachers grow and excel on behalf of the student body.
It seems parents have high expectations when they send their children to Grey Nun Academy, and the faculty works hard to deliver, according to Stephanie Rothenberg, who has been teaching mathematics at the school for six years. "What we do is figure out what a child needs in order for them to excel," she says. "We meet with the parents and talk as a group to come up with some kind of plan to help each child succeed."
Does the formula work? Absolutely, says Rothenberg. She would know. Not only is she a teacher at the school, but she's also a parent of three Grey Nun Academy students: a daughter in seventh grade, a son in fifth and a daughter in fourth.
"We're not just teaching academics; we're teaching life skills," she says. "We tell them, 'In three years you're going to be going on interviews to high schools, and you have to act like a grownup. You have to act properly. You have to speak well. You have to be able to work well within a group, not just by yourself.' We try to teach all these life skills in our day-to-day lessons.
"This is a great place for kids to grow up. It's their home away from home."
Grey Nun Academy's curriculum and learning structure evolve as students advance from one grade to the next. For example, students in prekindergarten through second grade benefit from having two certified teachers in their classrooms every day to promote personalized learning in small groups. In grades three through five, students have a secondary support teacher for reading and mathematics, though not every day to provide more autonomy. In addition, the Academy is a firm proponent of differential learning, recognizing that different students learn in different ways.
"In every grade, students are offered several project-oriented assignments," says Rooney. "One year, the students each took on a character from Pennsylvania and essentially became that person. My daughter was Mrs. William Penn, and she and the other students put on a presentation for the parents about who they were as individuals. … My daughter is very creative, and that type of learning really suits her."
To further enrich student development, Grey Nun Academy also has a full-time counselor who helps identify specific areas in which students need support.
"All of our students have the potential to be high achievers and highly successful, but each one of them is on a different road," Finnegan says. "Our counselor helps children identify where they need help, so they feel comfortable saying so to their teacher. It provides for a lot of personal reflection … and teaches them to be self-assessors."
Parents and students aren't the only ones who have taken notice of Grey Nun Academy's commitment to exceptional education. In November 2009, Grey Nun Academy was one of 50 private schools in the nation to receive a National Blue Ribbon School of Excellence Award from the U.S. Department of Education. The award honors public and private elementary, middle and high schools that are either academically superior or have made dramatic gains in student achievement and helped close gaps in achievement among minority and disadvantaged students.
Although academics are critically important, they represent just one element of the invaluable experience afforded to every student of Grey Nun Academy.
"People are looking for more than strong academics in a school; they truly want to inculcate values in their children, and I think that can happen in a small school like ours," says Finnegan. "We provide the strongest nurturing environment possible, and when you do that you find that students can do incredible, amazing things."
Grey Nun Academy
1750 Quarry Road, Yardley
215-968-4151 Home
GNAedu.org
Those who would like to catch the "welcoming spirit and sense of community" that are hallmarks of Grey Nun Academy are invited to attend the Academy's Open House scheduled for Sunday, Nov. 6 from 12 noon to 2 p.m. and Wednesday, Nov. 9 from 9 a.m. to 11 a.m. There, one can experience the Academy's children, meet inspirational teachers and talk with committed parents.