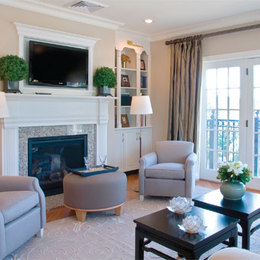 Welcome Home
Elegant residences and a dynamic community awaits at the Wellington at Eagleview
When choosing a home, you're also often choosing a community. At Wellington luxury condominiums in Exton, you're choosing an elegant home and a lively, welcoming community.
The Hankin Group, developers of the Wellington as well as the award-winning Eagleview Town Center, believes that living doesn't just happen inside your home, but also outside your front door. Wellington is a limited collection of luxury condominiums designed with the active and sophisticated resident in mind.
Blenda Mourar, the sales manager at Wellington and a resident of Eagleview herself, says life in Wellington and around the square is truly unique.
Luxe Living
With eight creatively designed two-bedroom floor plans ranging from 1,800 square feet to 2,300 square feet, residents can find the ideal home for their needs. There are 12 units on each of the four floors, including the penthouse level.
The East-facing units all have balconies overlooking the woods behind the building."It's very peaceful, very quiet, and there is usually wildlife running around back in the woods," says Mourar. She says some of the units on the front of the building also have balconies, which residents will sit on to watch the happenings in the community and park.
The building features several desirable amenities, such as private self-parking in a garage with direct access to the residence via an elevator, trash and recycling disposal, controlled access for security, and energy efficient windows and doors.
Another perk of living in Wellington is the worry-free building maintenance.
"With this past winter and the weather we had people are looking to simplify their lives," Mourar says."Everything here is taken care of for the residents, so they don't have to think about maintenance."
Laura and Richard Grant, residents of Wellington for about a year and half, agree that it makes life much easier.
"We were empty nesters and wanted to downsize and have a hassle-free lifestyle," Laura Grant says."We love it."
Each condominium features the highest quality materials and appliances. "You wouldn't need to upgrade a thing," Mourar says, "because they're done that well."
Some highlights include hardwood floors and premium carpet, walk-in closets, gas fireplaces with stone surround and large windows with beautiful views and lots of natural light.
The kitchens and bathrooms feature granite countertops, porcelain or ceramic tile floors, Kohler fixtures, Sub-Zero refrigerators and Wolf premium appliances. Pricing for the Wellington starts at $399,000.
Know Your Neighborhood
Life in Eagleview is one of the most attractive aspects of Wellington. Mourar lives in the community and admits that there's no place she'd rather live.
"I know I'm a sales person, but I truly mean that," she says. Don't just take her word for it, though. Mourar says they often host cocktail parties for potential residents to meet with current residents to hear about what it's really like living at Wellington.
"The people who live here really love it," Mourar says."They are delighted to talk and talk about how much they love it." Grant is a resident of Wellington and also raves about the perks of living in such a vibrant community. She says it is a relaxed and pleasant atmosphere, with access to everything you could need and many events for area residents.
"There's the beautiful park where they have entertainment in the summer," Grant says. "You can bring a picnic dinner or some wine and sit on lawn chairs to listen to the music. Everyone really enjoys it. The families have fun, and couples have fun."
The Eagleview planned community is special in that the need for a car is greatly diminished. Right outside the front door of the Wellington, you'll find a charming neighborhood complete with beautifully manicured green spaces and all the necessities. Fitness centers, the Brickside restaurant, Nudy's restaurant, a beauty salon, pharmacy, YMCA and several retail boutiques are a few of the available amenities.
Winding walking paths, a koi pond and a gazebo decorate the central park area, where Wellington residents enjoy spending a sunny day or a warm evening.
Location is key when it comes to choosing a home, and residents of Wellington find that the easy access to the turnpike makes it a quick trip downtown to Philadelphia or out to shop at King of Prussia Mall.
Winning Developers
The Hankin Group has been building a broad range of residential communities in Chester County for more than 50 years.
Its experienced professionals come from a diverse set of complimentary areas of expertise,such as planning, design, engineering, finance, construction, leasing and 24x7 property management. When clients or residents need help resolving a problem, they need to look no further than under their own roof for assistance.
Whether building a 'green' commercial building, a new urbanist community, or constructing a new local library, the Hankin Group remains focused on quality, perfection and attention to detail.
They are intent on designing and developing real estate with a keen eye on sustainability. By living or working in a LEED certified building or energy efficient Hankin Group property, residents enjoy the benefits of saving energy and water, and ultimately money by taking advantage of innovative technology and construction expertise.
As always, the Hankin Group is dedicated to giving back. Each year a portion of its profits flows back through The Hankin Foundation, which supports the area's community institutions, non-profit organizations and other charitable efforts.
Make an appointment with Blenda Mourar today by calling 610-458-3717 between noon and 5 p.m. daily, or go to WellingtonOne.com. Wellington is located at 510 Wellington Square, Exton.