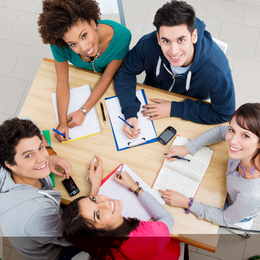 Private Eyes
An in-depth "report card" of the private high schools in the Philadelphia suburbs
With the 2011-12 school year off to the races, Suburban Life takes an in-depth look at the area's foremost private high schools. In the following pages we've gathered essential statistics—average class sizes, student-teacher ratios and standardized test scores, among others—to provide a snapshot of each of the private high schools in the four-county area surrounding Philadelphia.
It's virtually impossible, of course, to determine a school's worth just by reviewing the ones and zeroes, but the information in this report can help determine how well a particular school and its staff are equipping the student body with the essential skills and tools they need to build a solid foundation for the future.
One must also consider a school's athletic programs, social structure and other factors, such as moral guidance and the ability to identify and then hone each student's individual strengths. Lucky for us—and for the future of our region—the suburbs are rife with excellent options for a student of any level.
Data was compiled using resources from the National Center for Education Statistics, Private School Review and school websites, as well as interviews with school administrators. Tuition costs listed are for the 2011-12 school year. Suburban Life has used its best efforts to gather the information for this list but does not guarantee that the information is complete or accurate.
Jump to:
Archbishop Wood Catholic High School
655 York Road, Warminster
Student Body: Coed
Total Students: 1,079
Senior Class: 287
Student/Faculty Ratio: 20:1
Avg. SAT Score: Unavailable
Tuition: $5,600
Graduate to 4-year College: Unavailable
Conwell-Egan Catholic High School
611 Wistar Road, Fairless Hills
Student Body: Coed
Total Students: 959
Senior Class: 242
Student/Faculty Ratio: 22:1
Avg. SAT Score: Unavailable
Tuition: $5,600
Graduate to 4-year College: Unavailable
George School
1690 Newtown Langhorne Road, Newtown
Student Body: Coed
Total Students: 825
Senior Class: 242
Student/Faculty Ratio: 8:1
Avg. SAT Score: Unavailable
Tuition: $45,710 (Boarding Student), $31,780 (Day Student)
Graduate to 4-year College: Nearly 100%
Holy Ghost Preparatory School
2429 Bristol Pike, Bensalem
Student Body: All Boys
Total Students: 518
Senior Class: 128
Student/Faculty Ratio: 11:1
Avg. SAT Score: Math/Reading - 1235 | Writing - 620
Tuition: $16,000
Graduate to 4-year College: 100%
Middle Earth Academy
299 Jacksonville Road, Warminster
Student Body: Coed
Total Students: 50
Senior Class: 12
Student/Faculty Ratio: 8:1
Avg. SAT Score: Unavailable
Tuition: Unavailable
Graduate to 4-year College: Unavailable
Plumstead Christian School
5765 Old Easton Road, Plumsteadville
Student Body: Coed
Total Students: 391
Senior Class: 41
Student/Faculty Ratio: 12:1
Avg. SAT Score: Unavailable
Tuition: $10,990
Graduate to 4-year College: Unavailable
Solebury School
6832 Phillips Mill Road, New Hope
Student Body: Coed
Total Students: 218
Senior Class: 46
Student/Faculty Ratio: 8:1
Avg. SAT Score: Unavailable
Tuition: $45,850 (Boarding Student), $ 30,900 (Day Student)
Graduate to 4-year College: 98%
Villa Joseph Marie High School
1180 Holland Road, Holland
Student Body: All Girls
Total Students: 365
Senior Class: 105
Student/Faculty Ratio: 10:1
Avg. SAT Score: Math - 552 | Reading - 563 | Writing - 604
Tuition: $11,150
Graduate to 4-year College: 100%
CFS - The School at Church Farm
1001 E. Lincoln Hwy., Exton
Student Body: All Boys
Total Students: 174
Senior Class: 30
Student/Faculty Ratio: 5:1
Avg. SAT Score: Unavailable
Tuition: $26,250 (Boarding Student), $16,250 (Day Student)
Graduate to 4-year College: 100%
Coventry Christian Schools
699 North Pleasantview Road, Pottstown
Student Body: Coed
Total Students: 244
Senior Class: 23
Student/Faculty Ratio: 8:1
Avg. SAT Score: Math - 570 | Reading - 576 | Writing - 564
Tuition: $6,840
Graduate to 4-year College: 98%
Delaware Valley Friends School
19 E. Central Ave., Paoli
Student Body: Coed
Total Students: 187
Senior Class: 45
Student/Faculty Ratio: 6:1
Avg. SAT Score: Unavailable
Tuition: $35,200
Graduate to 4-year College: 95% to 98%
Devon Preparatory School
363 N. Valley Forge Road, Devon
Student Body: All Boys
Total Students: 197 (Upper School)
Senior Class: 56
Student/Faculty Ratio: 10:1
Avg. SAT Score: 1278 (3-year average)
Graduate to 4-year College: 100%
Malvern Preparatory School
418 S. Warren Ave., Malvern
Student Body: All Boys
Total Students: 624
Senior Class: 117
Student/Faculty Ratio: 10:1
Avg. SAT Score: Unavailable
Tuition: $26,700
Graduate to 4-year College: 100%
The Phelps School
583 Sugartown Road, Malvern
Student Body: All Boys
Total Students: 121
Senior Class: 35
Student/Faculty Ratio: 5:1
Avg. SAT Score: Unavailable
Tuition: $21,750 (Day Student)
Graduate to 4-year College: 95%
Upattinas School
429 Greenridge Road, Glenmoore
Student Body: Coed
Total Students: 64
Senior Class: 19
Student/Faculty Ratio: 11:1
Avg. SAT Score: Unavailable
Tuition: $13,020
Graduate to 4-year College: Unavailable
Valley Christian School
200 Airport Road, Coatesville
Student Body: Coed
Total Students: 95
Senior Class: 3
Student/Faculty Ratio: 8:1
Avg. SAT Score: Unavailable
Tuition: $3,780
Graduate to 4-year College: Unavailable
Villa Maria Academy High School
370 Old Lincoln Highway, Malvern
Student Body: All Girls
Total Students: 422
Senior Class: 111
Student/Faculty Ratio: 8:1
Avg. SAT Score: Math - 580 | Reading - 580 | Writing - 605
Tuition: $14,100
Graduate to 4-year College: 99% to 100%
Academy-Notre Dame De Namur
560 Sproul Road, Villanova
Student Body: All Girls
Total Students: 539
Senior Class: 96
Student/Faculty Ratio: 9:1
Avg. SAT Score: Math - 540/660 | Reading - 530/680 | Writing - 550/680
Tuition: $19,261
Graduate to 4-year College: 100%
Archbishop John Carroll High School
211 Matson Ford Road, Radnor
Student Body: Coed
Total Students: 977
Senior Class: 182
Student/Faculty Ratio: 20:1
Avg. SAT Score: Unavailable
Tuition: $5,600
Graduate to 4-year College: Unavailable
Archbishop Prendergast High School
401 N. Lansdowne Ave., Drexel Hill
Student Body: All Girls
Total Students: 1,287
Senior Class: 341
Student/Faculty Ratio: 23:1
Avg. SAT Score: Unavailable
Tuition: $5,350
Graduate to 4-year College: 95%
Cardinal O'Hara High School
1701 South Sproul Road, Springfield
Student Body: Coed
Total Students: 1,917
Senior Class: 459
Student/Faculty Ratio: 20:1
Avg. SAT Score: Unavailable
Tuition: $5,600
Graduate to 4-year College: Unavailable
Country Day School of the Sacred Heart
480 S. Bryn Mawr Ave., Bryn Mawr
Student Body: All Girls
Total Students: 325
Senior Class: 49
Student/Faculty Ratio: 7:1
Avg. SAT Score: Unavailable
Tuition: $15,950
Graduate to 4-year College: Unavailable
Delaware County Christian School
462 Malin Road, Newtown Square
Student Body: Coed
Total Students: 972
Senior Class: 83
Student/Faculty Ratio: 14:1
Avg. SAT Score: Math - 598 | Reading - 576 | Writing - 567
Tuition: $12,804
Graduate to 4-year College: 95.4%
Monsignor Bonner High School
401 - 403 N. Lansdowne Ave., Drexel Hill
Student Body: All Boys
Total Students: 1,282
Senior Class: 343
Student/Faculty Ratio: 22:1
Avg. SAT Score: Unavailable
Tuition: $5,350
Graduate to 4-year College: 88.5%
Westtown School
975 Westtown Road, West Chester
Student Body: Coed
Total Students: 762
Senior Class: 113
Student/Faculty Ratio: 8:1
Avg. SAT Score: Unavailable
Tuition: $43,730 (Boarding Student), $27,480 (Day Student)
Graduate to 4-year College: 100%
MONTGOMERY COUNTY
Abington Friends School
575 Washington Lane, Jenkintown
Student Body: Coed
Total Students: 702
Senior Class: 62
Student/Faculty Ratio: 8:1
Avg. SAT Score: Unavailable
Tuition: $27,000
Graduate to 4-year College: 100%