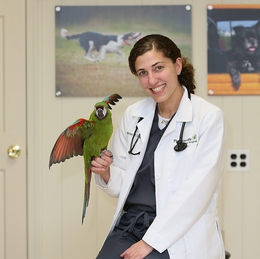 Keeping Local Hearts Healthy
With the Heart Center at Phoenixville Hospital, exceptional cardiovascular care is just a heartbeat away
The statistics are alarming. Almost one million Americans die of cardiovascular disease each year, accounting for more than 40 percent of all U.S. deaths. Heart disease doesn't affect just the elderly either; it is the leading cause of death for all Americans age 35 and older.
Considering the epidemic of heart disease, Phoenixville Hospital has established the highest standard of cardiovascular care with a comprehensive community facility that continues to expand in terms of size and capability. The hospital's Heart Center, which opened in 2003, now features a breadth of cardiology services, such as diagnostic care, intervention, surgery, rehabilitation and preventative care.
When the Heart Center opened in 2003, Kathleen Magness, M.D., chief of cardiology, performed its first cardiac intervention in the hospital's catheter lab. Hans M. Haupt, M.D., who joined the staff as director of cardiothoracic surgery through an affiliation with University of Pennsylvania Health System, did the hospital's first open heart-surgery the very next day.
"Our cardiology program is very extensive for a community hospital," says Dr. Magness. "Patients can remain in their neighborhood for specialized procedures, be cared for by experienced specialists, and are visited by their primary physician throughout their hospital stays. Our cardiac program benefits from the University of Pennsylvania affiliation with exceptionally qualified physicians devoted to an individualized patient approach."
Fast-forward to 2009, when Phoenixville Hospital built a new patient tower that includes an intensive-care unit, a 24-bed unit with state-of-the-art technology and experienced staff who can manage patient issues, no matter how complex. The hospital also offers a large, comprehensive onsite Cardiac Rehabilitation Center.
In 2009 Phoenixville Hospital performed 1,600 procedures at its two cardiac catheterization labs, and demand for such procedures has only intensified. Projections for 2011 are to complete more than 2,800 procedures. In early 2012, Phoenixville Hospital will build a third state-of-the-art cardiac catheterization laboratory with a bi-plane unit. The third lab will function primarily as a dedicated electrophysiology laboratory. This lab will also have the capability to provide neuro-interventional and vascular procedures.
The Heart Station, located on the first floor of the hospital, is where all of the minimally invasive cardiac testing procedures are performed, including nuclear and non-nuclear cardiac stress testing, vascular ultrasound, echocardiography, EKG, Holter monitoring, transesophageal echocardiogram, cardioversion and implanted defibrillator threshold testing.
The cardiac surgery program at Phoenixville is in the top 10 percent in the nation for quality care and patient outcomes. According to an internal survey of patients who were treated for heart failure and those who underwent cardiothoracic surgery, 100 percent would recommend the hospital.
Also on the rise is minimally invasive robotics-assisted cardiothoracic surgery at the Heart Center. Dr. Haupt uses the da Vinci Si HD robot to assist with delicate surgeries. Patients experience multiple benefits from this technologically advanced alternative to traditional surgery, including smaller incisions and faster recovery times. "These procedures are less invasive," says Dr. Haupt, "which means better outcomes for the patients."
Close to Home
In 2009, upon the arrival of electrophysiologist Saeid Sajadi, M.D., comprehensive management of heart-rhythm problems at Phoenixville Hospital became possible. Management of patients with abnormal heart rhythms such as slow or fast heart beats, atrial fibrillation, and patients in need of implantation or extraction of pacemakers and defibrillators are now addressed.
"With a better understanding of abnormal rhythms and improvement of technology in treating them, the majority of patients can be treated with minimally invasive procedures that require a short hospital stay," says Dr. Sajadi. "Our patients who once needed to go to other hospitals or to commute to Center City Philadelphia to get their care, can now stay close to home in new private rooms and under the care of experienced staff."
Although patients no doubt appreciate the quality and breadth of heart care now available at Phoenixville Hospital, they're not the only ones who have noticed. Phoenixville Hospital has received numerous awards including the Gold Award for Coronary Artery Disease given by The American Heart Association/American Stroke Association "Get With The Guidelines" program and a Blue Distinction Center for Cardiac Care by Independence Blue Cross.
Considering all the advancements now available Heart Center at Phoenixville Hospital—not to mention future additions already underway—it's safe to say that superior cardiovascular care is now just a heartbeat away.
Technology Lends a Helping Hand
Since the 2007 inception of the Robotic Surgery Center at Phoenixville Hospital, more than 1,000 robotic-assisted surgeries have been performed by a team of 12 specially trained surgeons in such areas as urology, gynecology, cardiothoracic, gynecologic oncology and ear, nose and throat.
Phoenixville Hospital was proud to be the first hospital in Chester and Montgomery counties to acquire the latest robotic technology: the da Vinci Si HD. Benefits to the patient, which can be substantial, include less pain, blood loss and scarring; shorter recovery time and quicker return to normal daily activities; and, in numerous cases, improved clinical outcomes.
Urologist Pankaj Kalra, M.D., is the medical director of the Robotic Surgery Center. Dr. Kalra performed Phoenixville Hospital's first robotic prostatectomy in January 2007 and has done more than 300 robotic procedures to date to solve patient conditions related to the prostate, bladder and kidneys. The latest addition to the hospital's Si procedures is TransOral robotic surgery (TORS) performed by Joshua Goldberg, D.O. The robot is used to perform ENT procedures as a way to treat benign and select malignant tumors in adults. Phoenixville Hospital is one of only a few facilities locally with TORS capability.
Robotics has become increasingly important for a number of procedures at Phoenixville Hospital and elsewhere. Surgeons performing robotic-assisted surgery at Phoenixville include: Pankaj Kalra, M.D., urology, medical director of the Robotic Surgery Center; Dominick M. Giuffrida, D.O., OB/GYN, director of gynecologic robotic surgery; M. Allyson Brown, M.D., OB/GYN; W.F. Fahmy, M.D., F.A.C.S., general surgery; Joshua Goldberg, D.O., otolaryngology (ENT); Hans Haupt, M.D., cardio/thoracic; Brett LeBed, M.D., urology; Peter Oskanian, M.D., Urology; Jose Moreno, M.D., urology; Brian Rosenthal, D.O., urology; Joann Sansone, D.O., OB/GYN; and Waleed Shalaby, M.D., OB/GYN.

Phoenixville Hospital
140 Nutt Road
Phoenixville, PA 19460-3906
610-983-1550
Leslie Feldman is a writer based in Dresher.
Felicia Perretti is a photographer based in Philadelphia.