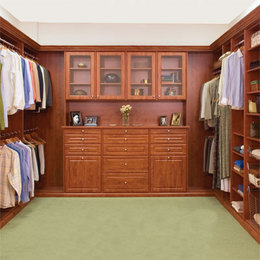 Creating Spaces
Make more room with organization from Closets by Design
When it comes to organization and functionality, there are several areas that seem to beg for some structure. Closets that become a catch-all for clothes, shoes, linens, accessories, home items, toys, and more. Garages can become so full of gardening equipment, unused furniture and electronics that there's hardly enough room for a vehicle. And offices would be buried under papers and supplies without some organization system.
Closets by Design in Exton custom designs, manufactures and installs products that can solve these organizational problems and fix more complicated spaces.
Consolidating Makes Sense
According to experts who study levels of anxiety in adults, morning is one of the highest on the list. Whether you're rushing to get to a meeting on time or trying to get the kids out the door, it doesn't matter. You still need your wardrobe, shoes and accessories.
You may have items in your home stored in a variety of places. Clothes in the closet. Shoes under the bed. Accessories in the top dresser drawer. Makeup in the bathroom.
What would it be like to save time in the morning by simply consolidating all that you need? Closets by Design meets with each customer in a free in-home design consultation. The designers ask personal questions to meet that goal, such as: do you like your socks folded? Pants hung by the waist – long or in half? Shoes facing in or out? Jewelry in a drawer or hanging?
And the reason for all the questions? Charles Waterman, owner of Closets by Design says, "Life is crazy enough." His company wants to "give time back to the homeowner" by helping to consolidate their necessities.
Another benefit to organization, Waterman says, is increased space. "We can typically double the size of your space without even moving a wall," he says.
Keith Lowe of Middletown, Del., has worked with Closets by Design for a variety of upgrades in his home, including creating new closet spaces in his master bedroom, guest bedroom, pantry and stairs. Each had its own unique requirements, according to Lowe, but, "it's easier to take care of a house when it's organized," he says. Having custom-made closets has made all four of his spaces more organized and functional.
Mary Beredjiklian, of Media, says that her new garage cabinets are "very clean and streamlined." In fact, they keep her from seeing the clutter and make sure everything has its place, including canned goods, bottled water, cleaning supplies and even hazardous materials.
Top Notch Service
A common complaint when ordering prefabricated cabinets is the lack of service continuity if something goes wrong. If there is a problem with a delivery, oftentimes the original contract person is not available and a customer has to wait to get the problem resolved. A local cabinet company like Closets by Design provides a more individualized service.
For example, one of the main reasons Beredjiklian would recommend Closets by Design is because of the one-on-one time she had with the company.
It was the individualized design and subsequent revisions with the designer, she says, that made her choose not to use prefabricated cabinets, but instead to work with Closets by Design.
This personal attention is key to solving challenging space issues. Lowe says he had a very unusual space under a set of stairs that required extremely complicated specifications. The designer not only worked with him, but created a roll-out cart with functional drawers and spaces "that could even be used to serve drinks" if he needed additional serving space for a party, Lowe says.
Accessories Make It Stand Out
There's something about making an investment in custom-made closets and cabinetry that belies the box store's familiar use of cheaper accessories in order to cut corners. Instead, customers who use Closets by Design know they are going to get quality accessories and workmanship that will stand the test of time.
When completing a closet in a master bedroom, Closets by Design uses solid brass handles and knobs—not hollow ones. Also, when hanging drawers designed to withstand heavy tools in a garage, the hardware they use, such as ball bearings, can withstand up to 150 lbs. of weight versus what Waterman describes as "a cheaper ball bearing only able to handle 25 lbs."
"It's this behind-the-scenes type of quality that sets us apart from our competition," says Waterman.
In fact, no matter what you are purchasing from Closets by Design, you will receive a quality product, stellar service and amazing results. Customers throughout the Delaware Valley attest to the excellent customer service, extremely polite and clean installers and overall a finished product that enhances daily living and improves the quality of their homes.
Visit ClosetsByDesign.com to schedule your free in-home design consultation or call 610-644-4143.
Jeannine Fielding is a freelance writer in Bucks County.