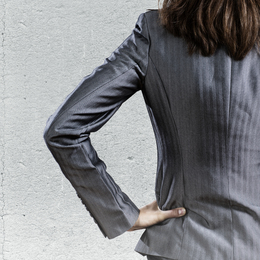 The Superwomen
Local female business owners and philanthropists march fearlessly—yet effectively—into new territory
Tear down walls, break down barriers and, in one instance, take out the trash—it's what Suburban Life's "Superwomen" Class of 2011 do best. In the following pages, meet some of the suburbs' most inspiring women who are making waves and moving mountains in the areas of business, philanthropy and, yes, even professional sports.
All the women interviewed for this story have discovered their success by following their heart and committing to the task at hand. For some, the task might consist of trekking halfway around the world in search of personal enrichment, yet for others it could mean winning at "a man's game," such as running a high-volume cheesesteak eatery or determining the effectiveness of a pugilist's upper cut. And, impressively, each of these women did so regardless of fear or the risk of failure.
Suburban Life presents … the 2011 Superwomen.
Jump to:
Nicole DiZio, the reigning champ in an epic cheesesteak battle, serves up steaks with a smile
Nicole DiZio may be the "queen of steaks," but she does not work in stilettos—most days. Although she was asked to dress the part for a recent media appearance, DiZio's burgeoning cheesesteak concept, Wit or Witout (WoW) is fairly dressed down. Her goal is equally straightforward: to make the best cheesesteak possible and serve it in a clean, friendly atmosphere. WoW has already made an impact, having been voted "Best of Philly" in its first year in business and winning Guy Fieri's Cheesesteak Battle this summer at the Food Network's Atlantic City Food and Wine Festival.
"I didn't think I had a chance," says DiZio, who lives in Bucks County. "There were eight competitors; I was up against all types." She was, unsurprisingly, the only woman featured alongside some well-known participants and yet, with more than 1,000 people in attendance, tasting and voting, she took home the trophy.
While having a female entrepreneur in charge may set WoW apart, it is the quality and service that DiZio credits for its success. She had been helping her husband, Dan, operate his business, Philly Pretzel Factory, when she decided to specialize in another Philadelphia food icon, and felt that by cleaning up the shop—serving a high-quality product and offering great customer service—there was "no reason" she couldn't make a go of it. DiZio sampled steaks from across the region, selecting what she felt were the best methods and ingredients. She beams over the fact that results from a testing lab recently showed that one of her cheesesteaks is less than 500 calories.
DiZio feels that being a woman in her business makes her more attentive to the details—and not just the food. The WoW kitchen is so clean one could eat off the floor. A construction worker once emerged from the shop's restroom bathroom and said it was the cleanest he had ever seen.
"When you hear that, you know you are doing the job right," she says. "Pat and Gino probably don't get e-mails about their customer-service experience—but I do." The downside, she says, is being taken seriously. "You have to prove yourself to the big boys." DiZio has certainly accomplished that.
John Tumolo, co-founder of Rita's Italian Ice, was so impressed he approached her about franchising WoW. There are currently three locations—two in Philly, one in Brookhaven—with more to follow. Her advice to other women is also simple: "Take the risk; put your all into it. You don't know until you try." —SAS
Gina Rubel has created a world in which she is an executive and a mother, without sacrificing her attention to either role
The list of accolades is almost embarrassing. In 2008: Pennsylvania's Best 50 Women in Business, Philadelphia Business Journal's Woman of Distinction, Top 300 Woman Business Enterprises in the United States. In 2009: Philadelphia Business Journal's Top PR Firm and Corporate Philanthropy Award. In 2010: Central Bucks Chamber of Commerce's Outstanding Woman in Business and The Legal Intelligencer's 2010 Women of Distinction. In 2011: Top 15 Public Relations Agencies and a Top Philanthropic Company for the fourth year by the Philadelphia Business Journal.
They all belong to Gina F. Rubel, but her definition of success is simpler and nobler than honors and awards. "A happy family—my blood family and my communications team—which also equates to happy clients," she says. "Success is being able to sustain it, so clients come back year after year."
Since founding Furia Rubel Communications in 2002, Rubel has enjoyed developing the firm into a full-service, women-owned certified public relations and marketing agency.
"I love this company," she says. "I love what we do. I love the flexibility that if I need to be at school (she has two children in elementary school), I can go 90 percent of the time. Do I love working 60, 70 hours a week to maintain things? No, but there are always prices you pay."
Integral to its success is finding time to give back to the community. Rubel has served as chancellor of The Justinian Society (Italian-American lawyers) of Philadelphia, as past president of the Women's Business Forum and served on the Drexel University Alumni Association Board of Directors.
Next year, Furia Rubel is celebrating its 10th Anniversary with a 10 for 10 Community Giving Campaign. Her team of seven chose the beneficiaries, including the Bucks County Women's Initiative, the Bucks County Housing Group, the James A. Michener Art Museum, Deep Run Mennonite Church's Strides for Mission 5K and the Ronald McDonald House. "Rather than have a big party," she says, "we wanted to put our time and energy back into the community."
Kiddingly referring to herself as a "recovering lawyer," Rubel credits her success to the support of her family and friends, who gave her "the confidence to be self-sufficient and independent." A student project at Drexel whetted her appetite for public relations. And Drexel, she says, taught her to think like an entrepreneur.
"Practicing law was the way to put puzzle pieces together," says Rubel. Originally from South Philly, Rubel followed her husband, Scott, to the suburbs. "The experience of a more organic farm lifestyle grew on me very quickly—I love the [Bucks County] school district, the culture, the spirit of the community, the quiet. I crave coming home."
She credits a book, "The Four Agreements," with changing her approaches life and to business. "I'm a vastly different person than I used to be," she says. —MME
Carol B. Polis, the world's first female boxing judge, pulls no punches
"With courage," Carol B. Polis is fond of saying, "anything is possible." This sentiment fueled Polis to become the world's first female professional boxing judge, though her high-profile career could easily have never been. An open mind and a strong will—not to mention an informal 10-second scorecard lesson—helped her discover a keen eye for the sport's mix of artistry and savagery.
"I was the first to break into a male-dominated sport," says Polis, an Abington High School graduate who now lives in North Wales with her two Scotties. "Most of the men I've worked with over the past 40 years have all fought in some capacity, and I think they were all partial to their own style. I'm 5'1", and obviously I never fought, and I think that made me more objective, even though judging itself is very subjective.
"In scoring a fight," she continues, "it takes courage because you're working in front of 2,000 people, and everyone in the audience thinks they're a judge. As a judge, your scoring determines a fighter's paycheck and his standing in the ring, and you can't listen to what the audience thinks."
She documented her experiences—judging countless professional fights, including dozens of title fights, around the world—in a forthcoming book, "The Lady is a Champ," co-authored by Easton-based writer Rich Herschlag. The book reveals the experiences of a diminutive woman who came to excel in a man's game—not that her will went untested.
"I always had a fear that a heavyweight fighter would come barreling through the ropes, because if they landed on me they'd probably break my back," she says. "And it happened more than once. But when you're judging, you can't show fear. You just have to be very focused on what you're doing. … With courage, anything is possible."
Such determination helped her overcome a childhood trauma, in which she learned—very painfully—that she had a deformed bone in her arm, which ultimately required an hours-long surgery to correct, though she still lives with pain daily. Then, more recently, a mammogram discovered a malignancy in her breast. She fought through the resulting less-than-pleasant treatments by recalling lessons learned at ringside. At times she envisioned a fighter lying on the canvas and realized, "He's got to get up, too," she says.
While awaiting the 2012 publication of her book, Polis fills her days with speaking engagements—to synagogue congregations, church groups, university gatherings, etc.—about her own struggles and successes. (E-mail her at maine523@yahoo.com.) She hasn't ruled out judging more boxing matches in the near future, though the evolving world of contact sports suggests fewer opportunities to do so.
"The last time I [judged a fight] was two years ago," she says. "MMA and Ultimate Fighting have really taken over, so there are hardly any boxing shows anymore. I've done thousands of fights, and I'm very content with what I've done. If I do more, I'm fine. If not, that's also fine." —BD
Kelley Noftsger and Jennifer Partelow, owners of AB-8 Waste Solutions, demonstrate the "softer side of trash"
Many women will admit to talking trash during a sporting event. A few even will even do it when angry. But for Kelley Noftsger and Jennifer Partelow, talking trash is a profession.
Noftsger and Partelow own AB-8 Waste Solutions, a solid-waste hauling brokerage firm operating in six states. AB-8 does not own trucks or Dumpsters; instead the women rely on their connections and volume discounts to help match each customer to the hauler that is best suited to the job. According to Partelow, most people don't know there are options for disposal besides their regular trash service. "The big companies don't care about one Dumpster," she says, "but one is just as important to us." They also provide site amenities and recycling services for contractors and small businesses. "It's a lot like being an insurance broker," Noftsger says—except that it's not.
She and Partelow know that they have to have a sense of humor in their line of work. At one business function the emcee introduced them as the "trash girls," and the moniker has stuck. Currently on their website, WeGotCans.com, the pair carries T-shirts featuring their logo along with phrases such as "Trash Mouth." They realize they are an anomaly in the male-dominated industry. "It was a challenge in the beginning," Partelow says. "We had to prove ourselves ten-fold." But once they demonstrated they knew the business, they found most customers would rather deal with a woman. The duo is pleasant, competent and service driven, accepting calls 24/7. "Even if it is 10 p.m. and nothing can be done, it makes the customer feel good to know [the concern] is no longer on them," Noftsger says. She believes that as women, they are more attentive to follow-up. They also believe they are more sympathetic to customers who are in need because of a natural disaster.
AB-8 Waste gives back to the community in many ways. Partelow and Noftsger are members of the local chamber of commerce and Rotary, and they frequently donate the use of amenities to local events and coordinate collection drives. "The community gives to us," Noftsger says, and so they give back. After six years in business, Partelow and Noftsger remain friends and still feel they make perfect business partners. "We are both here every day," Partelow says. "You have to have respect for one another. We are both really driven; we both carry the weight." Though you can bet they still talk trash. —SAS
For gutsy globetrotter Betsy Dougert, wanderlust leads to enrichment and self-discovery
Betsy Dougert has traveled farther and wider in her 25 years than most people will in a lifetime. Dougert, communications coordinator for Country Day School of the Sacred Heart in Bryn Mawr, took the better part of a year to absorb new cultures and wander among the native peoples of five continents. Despite her young age, she did it all on her own dime—or, better put, a mountain of dimes totaling approximately $12,000 to cover expenses such as airfare, food, lodging, visas, vaccines, etc.

"I think one of the best things about travel is that it highlights how many areas of life are choices," she says. "If you live in one area your whole life, you see it as 'the way it is.' By seeing life in other countries, you see how other people are doing perfectly well by doing things totally different than the way you would. You see that you have a choice, and that gives you a lot of freedom to design a life the way you want it. It enriches you as a person."
With no clue as to what to expect as she prepared for her globetrotting tour, which would take her from the Americas to Europe to Asia to Australia, she recalls leaving the relative comfort of U.S. soil with "pure terror." But she experienced more than she ever thought possible, including fishing with the inhabitants of Easter Island, and training endangered horses in Greece. She often backpacked solo or with friends, but she didn't simply keep moving; instead, she purposefully spent "more than a few days"—a month or more, in some cases—at chosen destinations so she could rest and "actually learn something," she says. Above all, she discovered new "talents" she didn't know she had.
"I learned how to stand up for myself," she says. "You were in parts of the world where chaos prevailed, places where from a western perspective things seemed unpredictable. I remember being stranded on the side of a road in the middle of the desert, with no idea when the next bus was coming. … Those experiences definitely made me gutsier and less afraid of what people think of me. When I was abroad, it was an uncomfortable position for me to be in, but I learned to be in the moment despite the uncertainty. It's a matter of enjoy today and we'll figure it out tomorrow.
"With proper planning, this kind of trip is easier than you think," she continues. "My biggest fear was being lonely on the road, so it's important for people to know if you are a friendly, outgoing person, you can make it work. That might hold people back more than the logistical concerns. … My only regret is that I couldn't stay longer."
It should come as no surprise that she hasn't, as the saying goes, "gotten it out of her system." Next: In the coming months she hopes to catch up with friends in the United Kingdom and then, in the not-too-distant future, spend more time exploring Asia. —BD
"Creative alpha" Chanin Milnazik proves that one person can change the lives of many
Ten years ago, when Chanin Milnazik (nee Walsh) was ready to move from Ohio, she chose her next home by closing her eyes and putting her finger on a map of Pennsylvania. It landed in Chalfont. Since then, Milnazik made an indelible mark on Bucks County.
She founded The Women's Business Forum of Bucks County, co-founded First Friday Doylestown, helped launch the Doylestown Blue Ball to benefit local charities and now serves on the board of directors at Planned Parenthood Association of Bucks County.
"Twenty percent of my clients are nonprofits," she says. Owner and so-called "creative alpha" of Brown Dog Design, she has been helping businesses through strategic branding and graphic design for more than 20 years.
The Women's Business Forum (WomensBusinessForum.org) is the 14th-largest networking group in the Philadelphia area. It is a nonprofit organization that educates, mentors and inspires women to build and sustain viable businesses. And it is free. That's because Milnazik modeled it after the Women's Network of Akron, Ohio, which empowered her to start her first business.
"In the early 1990s," she recalls, "I heard that women in corporate America had a tendency to be cutthroat, cunning, and downright catlike. It was at that time that I decided to part with my beloved Mustang convertible, gather up my savings and launch my own graphic-design business. … I lived in a small town in Ohio, and somewhere, somehow, I needed to find new clients."
Life eventually led her to Doylestown, where everything changed. After developing a number of successful business, networking and philanthropic efforts, Milnazik found 20 people interested in starting a nonprofit similar to the one in Akron and willing to kick in a little start-up cash to rent a larger space. Ten years later, 50 to 70 women (and some men) still meet every first Wednesday morning of the month at the James Lorah House to hear dynamic speakers at the Women's Business Forum.
It was natural in 2005 for two local women to approach Milnazik to see how Doylestown might be able to create a First Friday like the one in Old City Philadelphia. More than 100 merchants still stay open late every first Friday of the month and display a flag if they are hosting local artists or musicians in their establishment so visitors know to come in. Its goals—like Milnazik's—generate excitement, build a greater sense of community and foster appreciation for local businesses.
"There's so much benefit to bringing people together," she says." I get jazzed when I see people have made that connection and their lives change. "
What does Milnazik, forward thinker and positive force, know now that she wishes she knew earlier on her journey?
"I would have trusted my own instincts more," she says. "I would have focused more on doing what I needed to do in order to nurture my own soul." —MME
A bond between Nancy Blair and Pat Roberts has helped "open doorways" for children who learn differently
Nancy Blair and Pat Roberts, both of whom have daughters who were diagnosed with dyslexia at an early age, met each other when their daughters were in first grade. Both women were able to get their daughters the support they needed to keep up with other kids, but they also realized not all children who learn differently are as fortunate.
Blair and Roberts used their common bond to co-found AIM~Academy In Manayunk, a school for bright students who have language-based learning disabilities such as dyslexia and dysgraphia. The school (grades 1 through 12) was modeled after an academic program created by the late Sally Smith of The Lab School of Washington, D.C., with more than 90 percent of its graduates going on to attend college.
"The traditional way of teaching doesn't always work for all children, and teachers need more tools in the toolbox to equip all children with literacy skills, for college or beyond," says Blair. "Literacy is a key that opens so many doorways for students over the course of their lives, and for them not to have those skills is tragic."
AIM has grown from its inaugural class of 24 students to more than 160 students this year—its sixth—with its first graduating class set to commence in June 2012. What's more, AIM will officially move into a new facility in Conshohocken early next month, thereby enabling the school to accommodate as many as 300 students, with room for expanded arts programming and other hands-on experiential learning opportunities. The new facility will also be "wired up" for global exchange and international teacher training—offering a sneak peek into AIM's not-too-distant future.
Both Blair and Roberts are heavily involved in education beyond the walls of AIM—locally and farther afield—as the women belong to the advisory boards of various universities and learning-specific associations. For them, according to Roberts, education is an all-consuming passion.
"We are both mothers of two wonderful children we raised, and we're very proud of making sure that education was important in their lives," she says. "Because of our girls, our passion became clear. … We never envisioned ourselves starting a school, but then we met Sally Smith. She believed in us and saw it as something we should do. Had we never met Sally, I don't think it would have occurred to us. But we fell in love with the model, because we've seen what it can help children accomplish." —BD
Jamie Broderick's knack for "trunk shows" has evolved into a networking juggernaut for local women
In her younger years, Jamie Broderick wanted to become a teacher. This might explain why she loves the coaching aspect of Network Now Connections LLC (NetworkNowConnections.com), which she started four years ago to create connections, training opportunities and publicity for member businesses.
"I am a true networker," she says. "I listen to people's needs and help them solve their problems."
Raised in Parsippany, N.J., where she was known for her parties, Broderick studied accounting at Rutgers University. When her husband's job necessitated a move to Louisville, Ky., she got involved with the Junior League, an organization committed to developing the potential of women and improving communities through action and leadership. Here, Broderick says, she "did taxes three months a year and decorated my house the other nine months"—a big change from her ladder-climbing corporate career in New Jersey.
Eventually she returned to the East Coast and settled in Doylestown, where a friend who knitted "amazing scarves" wanted her to host a party. She invited other craftswomen, and her first "trunk show" was born. The next day, over coffee, her friends suggested this model might thrive as a business. "The purpose of the trunk shows was to help women with their businesses, enjoy a party and raise money for charity," Broderick says.
Soon after, she went to Kansas for three weeks to adopt her daughter, who is now seven (she also has a 14-year-old son), and sketched out a business plan. For three years after, she held trunk shows every two months. After compiling a database of 1,100 women, she launched her networking organization. Later, she spent two days brainstorming with her mentor, the small business expert—and fellow Bucks County resident—Michael Port. In less than a year, her fledgling organization had 100 members.
This fall, she launched a new website with a new business model, with one central networking event and one education session per month, and additional perquisites for top-level members; in November, for example, members took a tour of NBC10 studios and watched a live filming of the news with anchor Tracy Davidson.
"I create opportunities. It is up to the business owners to take advantage of them," says Broderick. "Even a simple event like a head-shot party involves several members: a winery to host, a photographer to take pictures and a salon to style the hair. Our culture is positive, supportive, fun [and] results oriented." —MME
Drive and intuition reap rewards for award-winning advertising pro Susan Sandor
Too many times women do not trust their own instincts when it comes to starting a business. Susan Sandor, founder and creative director of the New Hope-based Strenk Sandor Advertising, discovered success by simply following her heart.
"I always knew I wanted to be in advertising," she says, and to this day she can recite jingles she heard as a child. In 1983, after attending Charles Morris Price School of Advertising and Journalism in Philadelphia, Sandor began her business—specializing in big ideas for small businesses. She now provides marketing, advertising, branding, copywriting, photography and media planning services to numerous local businesses. Sandor encourages other women in business to "attend to your dreams, trust your gut, and listen with both ears to your intuition."
Strenk Sandor Advertising was recently honored with two international awards for marketing on behalf of local companies. Sandor is also proud of the yearlong campaign she ran for Paxson Hill Farm in which several feature articles she wrote were picked up in magazines, newspapers and on the Web. "Gardening is my passion," she admits. For nine years now Sandor has been involved with the New Hope Historical Society, serving as a board member, vice president and garden tour marketing and event director. She believes it is important to give back to the community where one lives and does business. What gives her the most satisfaction, though, "is when my client says, 'It's working,'" she says. "That's the thrill." —SAS
Scores of local people in need, including kids, receive free pajamas every year, all stemming from Karen Thompson's desire to help
Pajamas are a comfort "near and dear" to Karen Thompson's heart. Several years ago she and her husband, Dave, had several friends who had lost their home and belongings to a fire. They wanted to do something for these friends so they packaged up some of the overstock, samples and new items they had at Lace Silhouettes, her lingerie store at Peddler's Village in Lahaska, and labeled a separate package for each recipient. Their friends were overwhelmed by the act of generosity, and Karen was taken aback by how this simple gesture affected them.
"They told me they will never forget the feeling of losing everything and [then] having something just for them," she says. She thought about her connections in the industry, her local customers and wondered what she could do to connect them with those in need. Her goal was to collect 100,000 pairs of pajamas, underwear and bras—though she did not know how she was going to store or distribute them. As fate would have it Thompson soon found herself seated beside representatives of the Salvation Army at a business luncheon and presented an idea to them. Together they formed the Harry G. Thompson Pajama and Underwear Pantry, named in honor of her late father-in-law who never forgot the Salvation Army's kindness to his family as a child.
"I firmly believe in looking for opportunities to help others," Thompson says. The organization places collection bins at area churches and stores, and also holds pajama drives at 26 local schools. This year they have collected 14,000 pairs, which are packaged as part of a Martin Luther King Jr. Day of Service project and delivered to shelters around the area for distribution. Pajamas for children are packaged with a book.
"She is a dynamo," Susan Levin, director of the Salvation Army's Pajama Project, says of Thompson. "She has been fabulous for the Salvation Army. Thanks to her we have distributed, literally, thousands of pajamas to kids at homeless shelters and children in need who have visited Salvation Army Community Centers." —SAS