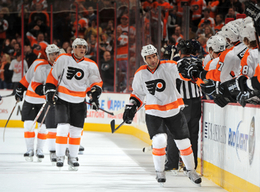 Fire on Ice
Mix of skill and grit earns tenacious Flyers center Maxime Talbot a welcome home in Philadelphia
Retired Flyers defenseman Mark Howe, who was recently voted into the Hockey Hall of Fame, embodies the tragically paradoxical nature of the National Hockey League: Some of the world's most gifted hockey players—including Howe—never get their mitts on the sport's hard-earned championship trophy, an oversized silver chalice known as the Stanley Cup.
Maxime Talbot, on the other hand, not only won professional sports' most sought-after prize—as a member of the Pittsburgh Penguins—but he also owns the distinction of having actually won the Cup. He scored both goals in the deciding nailbiter of a seventh game in the 2009 Stanley Cup Final matchup against the Detroit Red Wings.
Talbot is a Penguin no longer, and Pittsburgh's loss has been Philadelphia's gain. On July 1, 2011, Talbot became part of the NHL's biggest offseason shakeup, as Flyers general manager Paul Holmgren traded away several core players—star forwards Mike Richards and Jeff Carter, among others—and then infused the organization with fresh blood that, so far, has paid handsome dividends.
Along with newly acquired starters such as future Hall of Fame forward Jaromir Jagr and No. 1 goaltender Ilya Bryzgalov, Talbot has quickly proved himself as a cornerstone acquisition. The feisty center's offensive skill, grittiness and ability to handcuff the top goal scorers from rival NHL squads have made him a perfect fit on a team known for its blend of talent and toughness.
"When I knew I was leaving Pittsburgh, which is one of the best organizations in the league, I wanted to go to an organization that's known for being good to its players, and I saw potential here," says Talbot, now 27 and in the first year of a five-year contract. "That's one reason why I signed here: I wanted to have a chance to win. I saw potential in the lineup, and they saw a fit for me as a Flyer. … I had six great years in western PA, and hopefully I'll make five good ones here."
'A Tough Decision'
It's a Friday morning in early December, just hours after the Flyers edged the cross-state rival Penguins on home ice by a score of 3-2. The win put the Flyers solely atop the standings in the National Hockey League's Eastern Conference—one point ahead of Pittsburgh and the Florida Panthers, and two ahead of the Boston Bruins, the team that won last year's Stanley Cup and, incidentally, the same team that closed the door on the Flyers' 2011 championship hopes.
Talbot, sitting by his equipment in an otherwise empty locker room at the team's practice facility in Voorhees, N.J., likes what he sees in his Flyers teammates … and he knows talent when he sees it. After all, he was part of the Penguins' backbone—along with forwards Sidney Crosby (Wayne Gretzky's heir apparent as the most talented player in the league), Evgeni Malkin and Jordan Staal, goaltender Marc-Andre Fleury, and defensemen Kris Letang and Brooks Orpik, etc.—that defied the odds by appearing in the Stanley Cup Final in back-to-back years and, of course, ultimately winning it all.
"It was a tough decision, obviously, for me to leave [Pittsburgh]," he says. "I spent six years there, and we built something special. We won a Cup in '09. I grew up with the core group—Sid, Malkin, Staal, Fleury—and I was part of what we built, so it was a tough decision to go. But at the same time, it didn't work out and that's the reality of professional hockey. After I realized it wasn't going to work out [in Pittsburgh], I wanted to find the best fit for me."
Al Morganti, a radio personality for Sportsradio 94 WIP as well as a seasoned hockey analyst, considers the Talbot signing a brilliant move by the Flyers brass. Morganti has been impressed by the gutsiness of the Flyers—and, specifically, of Talbot—this season, young as it may be.
"On the ice, I like the energy they've shown since the beginning of season," he says. "The [younger players] were integrated quickly, so on the ice it's a whole different feel—a whole new recipe, I guess. With the offseason addition of Talbot, a lot of people dismissed him as an added-value player, but I think he's gone a long way to make the kids on the team comfortable. You really see it clearly on the bench, with his arm around someone like [Sean] Couturier, teaching him the ropes and the process.
"Talbot is an honest player," he continues, "and he's respected by everybody inside the locker room and around the league. He's a huge 'glue guy.' Richards, for all of the heat he got at the end of last year, did play a lot of tough minutes in the corners and on special teams, and Talbot has taken on those critical elements."
The presence of Talbot, Morganti believes, will help the Flyers immensely should they get deep into the playoffs. Not only can Talbot contribute key goals and play important minutes in a variety of situations—shorthanded, for example, or simply in his usual role as a shutdown forward against opposing teams' top snipers—but he also provides leadership and championship experience. These intangibles will become even more vital in light of the significant injuries sustained by star players such as Chris Pronger and, briefly, Claude Giroux.
"The Stanley Cup is the toughest championship to win," Morganti says. "Wherever you look, you're not going to find an easy matchup. Pittsburgh is going to be tough anyway, regardless of if [Crosby] does get past his concussion problems; Boston has proven to be a resilient team after their brief Stanley Cup hangover; and the [New York] Rangers, with their goalie, will always be a threat. I think the Flyers are going to be pretty much cemented into the playoff picture, which is not a small deal anymore.
"They got a lot of things right this year," he continues. "But if you consider what's happened to Pronger and Giroux, you can make up for [their absences] for a little while, but those are huge losses."
Roster changes aside, Talbot picked an interesting year to begin his tenure as a Flyer. The NHL Winter Classic—held this year on Jan. 2, at South Philadelphia's Citizens Bank Park, where the Fightin' Phils call home—has become one of the NHL's best tools for marketing the sport and its most talented players.
The event, now in its fifth year, is typically held on New Year's Day in a cold-weather city, mainly because the game is played in a premier outdoor arena—a ballpark, for example—and ice hockey is best suited for below-freezing temperatures. This year's Winter Classic benefited from a well-oiled publicity machine, including an HBO documentary series known as "24/7 Flyers/Rangers: Road to the NHL Winter Classic," which humanized the personal triumphs and struggles of players on both sides of the puck.
Interestingly, the 2012 edition of the NHL Winter Classic (a 3-2 loss for the Flyers) marked Talbot's third interaction with the event—a record of sorts, given that the league has held only five Winter Classics so far—though an ankle sprain kept him from playing in the inaugural game in 2008, when the Buffalo Sabres hosted the Penguins at Ralph Wilson Stadium in Orchard Park, N.Y. Last year Talbot's Penguins battled the Washington Capitals in a game at Heinz Field, where Major League Baseball's Pittsburgh Pirates play their home games.
"Playing back to back [in the NHL Winter Classic] is a great privilege," says Talbot. "It's not only the game itself but everything that surrounds the game—the week of festivities before the game for the families, for yourself, for the fans. It's an amazing experience and definitely fun playing in that kind of environment."
Talbot, for his part, has had to acclimate not only to a remade team but also to a new ZIP code in an unfamiliar yet welcoming city. Although most Flyers players and staff members live in South Jersey, Talbot has made his home in the Rittenhouse Square section of Philadelphia. So far it's been a good fit. Originally from the metropolitan French-Canadian city of Montreal, he appreciates the variety of restaurants and other amenities found in Center City, compared with those found in and around his last home in western Pennsylvania's Steel City.
Apart from the city, its suburbs and all southeastern Pennsylvania has to offer, Talbot is most enthused about the chance to win another championship … this time, with any luck, bringing the Cup back to the corner of Broad and Pattison.
"We have a lot of different players in the dressing room; I'm just one of them," he says. "It's been a season that since [training] camp, guys just got along real well, and that's one of the reasons for our success. We're No. 1 in the East now for a reason, because everyone gets along, everybody works real hard and has fun with each other.
"It's been great here. You hear of the organization before you go there, how they treat the players. … That's one of the reasons I came here. This team wants to win."
Proof that Penguins Can Fly
Maxime Talbot is not alone in the ranks of former Pittsburgh Penguins who now don the Flyers' infamous Orange and Black.
Veteran forward Jaromir Jagr, who after the 2008 season departed the NHL to play in the Kontinental Hockey League in Russia, joined the 2011-12 Flyers squad on the same day as Talbot, and has since earned a spot on the team's top line with emerging (and, thanks to a concussion, recently sidelined) superstar Claude Giroux and pesky left winger Scott Hartnell.
Although Jagr's pre-Flyers NHL career ended as a forward for the rival New York Rangers (and the Washington Capitals before that), most hockey fans will remember him—and his famously mulleted hair—as a Penguin. For 10 seasons, beginning in 1990, Jagr dazzled fans and opponents alike, accumulating hundreds of goals in a Penguins sweater. He also earned two Stanley Cup rings alongside fellow greats such as Mario Lemieux and Ron Francis.
"I'm not surprised at his performance, but the risk [in signing Jagr] was that he'd fallen off the edge [when he left the NHL to play in Russia]," says Al Morganti of Sportsradio 94 WIP. "I knew his training would always be good, and I knew there would be some defensive issues … but the plus in adding Jagr was that you also added Hartnell, who has played really well. Together, they've been a huge factor."
The trio—Giroux, Jagr and Hartnell—has showed remarkable chemistry. Even with the injury that temporarily took him out of the lineup, Giroux had led the league in scoring, while Hartnell is still on pace to have the highest point-producing season of his career. Both players owe at least part of their success to Jagr, whose offensive skills have evolved to include cagey playmaking in addition to a knack for scoring jaw-dropping goals. This season, at age 39, he's racking up more points than most analysts expected—one per game, according to the NHL stats column—thereby proving to be well worth the investment.
"[Jagr] has been a nice addition, with no negative issues," Morganti says. "It still has to be played out later in the season, to see how the players wear down, but what you're seeing now going into the New Year has been a pretty good sample."