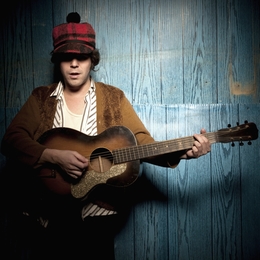 Slim Pickings
Bucks County singer-songwriter Langhorne Slim makes the world his stage
His melodious, deeply affecting songs have provided the soundtrack for major motion pictures and nationally aired TV commercials. He has toured the United States and Europe, sharing stages with the likes of Cake, The Avett Brothers and The Violent Femmes. If that weren't enough, he has crooned the "Star Spangled Banner" during the seventh-inning stretch of a Phillies game at Citizens Bank Park, performed at prestigious music events such as Lollapalooza and the Philadelphia Folk Festival, and starred on the night owl's necessity, "Late Show with David Letterman."
But for Langhorne Slim, otherwise known as Sean Scolnick, nothing compares to picking up a guitar and establishing an intimate connection with an audience—whether it's at a club in the Philadelphia suburbs, on a stage near his new home in Portland, Ore., or somewhere in between. Suburban Life caught up with Langhorne Slim, a Bucks County native and graduate of Solebury School in New Hope, while on tour with his band, en route to a show in Norman, Okla.
Suburban Life: Why did you choose Langhorne Slim as your nom de plume?
Langhorne Slim: Obviously the Langhorne part makes sense, because I grew up in Langhorne. When I was a senior in high school I hadn't found a band yet and started playing open mikes in Philadelphia and New Hope. … I was inspired by the name of the town I was from and slapped "Slim" on the end of it, in the tradition of the old bluesmen but in more modern terms, like a rapper. People get it back home, but in places like Oklahoma, they take it for what it's worth.
SL: At what age did you realize you were musically inclined?
LS: I had always known, and I always deeply craved creating. When I was a little kid it came out in the wrong ways in school, and I would get in trouble in school for being a pain in the [backside]. I was lucky to have had people in my family who were very deep music lovers and talented singers and musicians, so I was very emotionally connected with music my whole life. My mom fixed up an old, broken guitar for me, and when I was 14, 15 or even younger an older cousin of mine taught me a few Nirvana songs, and I started writing my own songs from there. Even at a young age I felt like I was searching for something—a release or some kind of creative outlet—for longer than I had been alive.
SL: It must be quite an experience playing with the likes of Cake and Josh Ritter. Who would you consider your heroes, so to speak?
LS: I've got a lot of them, but my favorite entertainer is Muhammad Ali, who was a great lyricist but not a singer. When I was 18 I got around punk and was into bands like Minor Threat, and I'll always love [David] Bowie, Neil Young and [Bob] Dylan. If I were to pick a favorite singer it would be Otis Redding. … There's a huge list on my iPod.
SL: At what point did you realize, you "made it"?
LS: I still don't feel that way. My main aspiration was to be able to make a living and have an audience, and maybe buy my girlfriend something nice every now and then. If I knew then I would be playing a packed room in Norman, Okla., and be able to feed myself and pay my rent, I would have thought that was pretty great. Wherever you reach, there's always more out there to achieve, not just financially but in many other ways. Creatively I'm always changing, and there's this constant, almost unquenchable thirst to get better and make great music. When I'm reminded by maybe a writer or my grandmother or my mother, "Look how far you've come," it is pretty cool. I'm very fortunate for the things I have achieved, that my name is out there.
SL: How do you pass the time on tour, when you're not on stage?
LS: We have much more downtime than we have jumping around and singing on stage, so mostly it's us in the van and lugging the trailer—a lot of days spent driving, even if it's a short drive of three and a half hours from A to B. We started [the most recent tour] in Portland, Ore., and made a 25-hour trek to a festival in Taos, N.M. When you get to wherever you're going, you go to the venue, load in, do a sound check, have dinner, perform and then repeat it all the next day. After doing it for a while, you find little meditations on the road to find your own peace of mind, which you need when you're with five other dudes pretty much 24 hours a day seven days a week.
SL: What's your favorite city in which to play, and why?
LS: I do have a few, and Philly would be one of them. It's my hometown, and when I did start developing a following in Philadelphia and a crowd that was excited to see us, it was amazing. … It does seem like it's sort of a homecoming show anytime I come back. New York is up there, too.
SL: What's next for Langhorne Slim?
LS: We're working on even more touring, and we're recording a new record, which will hopefully be out in the spring. It will be our fourth full-length album, and we're aiming to make it our best.