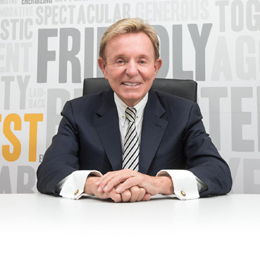 Making Business Better
Why Meridian Bank is the obvious choice for small-business owners in the Delaware Valley
Professional athletes rely on their coaches to help them gain confidence, acquire the right tools and make good decisions that will ultimately put them in a position to succeed. For similar guidance, small-business owners rely on Meridian Bank.
The Devon-based bank, whose origins date back to 2004, has a unique business model that enables it to act as a comprehensive resource—a "sixth man" in basketball terms—for small-business owners and small to midsized real-estate developers. Meridian is an anomaly, of sorts; the bank is powered by the advanced technological tools of a much larger entity yet provides a level of personal service usually found only in a small community bank.
"We see it as our responsibility to help business owners make good decisions that will positively affect their business," says Christopher J. Annas, chairman and CEO of Meridian Bank. "In some ways we consider ourselves a quasi-CFO or finance director for our customers, because most small businesses can't afford those kinds of people on staff. If, for example, someone is considering buying a building compared to leasing it, we can tell them, 'We know two or three people we did this for and here's how it turned out.'"
Meridian's model, which includes a purposely limited number of physical branch locations, makes it a welcome exception in the greater Philadelphia area. Some other banks—and, more so, their customers—have been paying the price for ill-advised loans tendered in the lead up to the current recession. In addition, local merger activity has caused many of the smaller banks long relied upon by retail and small-business customers to go by the wayside. As a result, the ever-growing "mega-banks" have burdened their acquired customers with exorbitant fees, while the familiar faces and services customers once treasured have since disappeared.
Here, again, Meridian stands apart from the crowd.
"With the 2008 to 2011 debacle, we held up in a good way; our business model survived," Annas says. "We didn't have the big loan problems that some other banks had. One of the comments I made to the board when we first came out was, 'We have to lend to the right people, but it's more important not to lend to the wrong people.' One of our lending officers might handle $35 million to $40 million in loans in 20 different industries, so we have to be smart about learning the industry and the particular business.
"We might loan [a particular business owner] $2 million to $3 million to grow his business," he continues, "and in the process we have to gather a tremendous amount of financial information, research on the industry, and research on the individual and his management capabilities. You have to have a good understanding of who you're lending to, so in a way we've had to learn to become very skilled generalists."
On the real estate side, Meridian might find itself providing loans to qualified borrowers to convert, say, a small home on property in Bryn Mawr or West Chester to finance the razing of the small home and ensuing construction of much larger one. The company is actively scouting these kinds of "investor properties," as well as various types of commercial construction, as a way to help business owners and developers grow in a slowly resurging economy.
Annas, a Penn State graduate, got his start in the Philadelphia banking industry in 1979 and has been a staple in the area ever since. As part of Meridian's commitment to the region, he and his team continue to make significant contributions of time, resources and money to local nonprofit organizations designed to improve the quality of life in the communities in which Meridian does business.
Service Minded
Above all, Meridian prides itself on providing exceptional service and a diversity of high-quality offerings to small-business customers. In addition to a broad commercial lending portfolio and a range of FDIC-insured deposit accounts, credit products and services, the bank's specialties include commercial and consumer real-estate financing, investment and wealth-management services and electronic payments processing. For Annas, these differentiators begin with strong communication between the bank and its customers—whether current or prospective. It could be something as simple as returning calls promptly, keeping in touch with customers via smartphones or responding quickly to loan requests.
"Somebody might come to us for a loan and say, 'Here's all my information, so when can I know if I qualify?'" Annas says. "A quick no is better than a six-week maybe, because the borrower needs to know if he can do it at our bank and, if not, he can move on. If we can't find a way to work together, we always try to give him additional information that will be of some use. Maybe we can say, 'Here's an alternative' or 'Here's someone else who can help you.'"
An early adopter of check-scanning technology, Meridian provides USB-enabled check scanners to customers so they can use nothing more than an image of the check to clear deposits, further simplifying life for the business owner. Although some banks appear to be threatened by such technology—because they know it might take away opportunities to sell business owners on additional services—Meridian considers such service enhancements an opportunity.
"We love technology," Annas says. "We give customers the ability to transfer money 24-7 through any device they prefer, and with products like Positive Pay, we enable a small-business owner to see a listing of checks he cut, compared to checks that are clearing to make sure there's no fraud or theft, so the treasurer or bookkeeper can help them stay current on their daily banking."
Of course, the advent of the Internet and the ubiquity of smartphones and other mobile devices have made visits to bank branches a rarity for most businesspeople. When such visits are necessary, however, Meridian has them covered, with bank branches in Lionville, Paoli and West Chester. Also, Meridian plans to expand into Montgomery County, perhaps adding banking services and a few commercial lenders in a shared office, as well as Delaware County as the company expands into contiguous markets.
"Customers are welcome to visit, of course," Annas says. "But, basically, once we sign somebody up we say, 'Welcome aboard, and now you don't need to come back [to a branch].' … At the end of the day, the adoption of technology gives the business owner more time he or she can spend out marketing their business and less time with us. And if it's better for their business, it's better for our business."
Meridian Bank
Corporate Headquarters
92 Lancaster Ave., Devon
Phone: 484-568-5000
Web: www.MeridianBanker.com
Rob Hall is a photographer based in Plumsteadville.