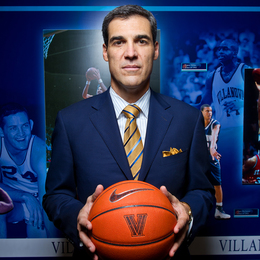 Always Wright
Longtime Villanova coach Jay Wright dishes on his signature style, his jump shot and, of course, the evolution of Wildcat basketball
Although he's most famously known as head coach of the men's basketball team at Villanova University, Jay Wright is many things: a Churchville native and Council Rock High School grad who grew up playing hoops and other sports on the blacktop of schoolyards and youth centers in Lower Bucks County; a style icon who routinely finds his name on various best-dressed lists (a designation for which he can't—and won't—take full credit); and, interestingly, something of a prodigal son who came "this close" to never returning to the Philadelphia area after his coaching career took him and his family to other colleges in towns throughout the United States.
To many, "Coach Wright" is Villanova, and vice versa. He learned the ropes—and the Villanova culture—under former coach Rollie Massimino before leaving to earn his stripes elsewhere, first as assistant coach at the University of Nevada Las Vegas (UNLV) and then as head coach of Hofstra University in Long Island, N.Y. Rather unexpectedly, he returned to 'Nova in 2001, and has since led the Wildcats to a Big East regular season championship (2006) and an NCAA Final Four appearance (2009), among many other team accomplishments. Well known for his affability, passion and aptitude for turning good players into elite players who earn their degrees on time, Wright has won numerous "Coach of the Year" awards on the way to racking up well over 300 wins in his 17-plus years as a head coach.
Suburban Life caught up with Coach Wright at the Davis Center across from the Pavilion, where the Wildcats play their home games, as the team prepared to leave for a game against the always-tough Mountaineers in Morgantown, W.V. We talked about his optimism in coming "full circle" with the men's basketball program at Villanova, the weight of expectations—and, having recently turned 50, the weight of the years on his jump shot—and how his career at the storied Main Line university almost never was.
Suburban Life: Looking at your record dating back to when you first started coaching, every team has evolved from not the best team to a real powerhouse—a real winner. Obviously, it's the talent, but it's also systems, recruiting, etc. What's the formula?
Jay Wright: I do think the formula is putting together good people who are very passionate and very committed, and that's your staff, that's players, that's the alumni and the administrators you have around you. You either have to bring them in from the outside—players, coaches, administrators, staff—or you have to educate. … It's the part of just educating people around you as to what you believe the culture is, and then making sure the culture of your program fits the university. That's where I've been really lucky, especially here.
I learned everything here under Rollie Massimino as an assistant, so when I went to Hofstra it was kind of transforming their basketball culture into the Villanova culture. So when I came back to Villanova, it was easy. It was bringing our little tweak to the culture, but the culture's so strong here. … It's everything I believe in, in college athletics. It's probably because I learned it here under Coach Massimino and under Villanova, but it's also because it just fits me. Now we're at an interesting time because I've never been anywhere for 11 years, so we're kind of now at a point of reinventing ourselves. You've come full cycle. You're here long enough so everything changes, so you have to reevaluate how you do things in a good way.
My wife [Patty] and I are really enjoying this. When we came in here, we had to prove ourselves, and there was a lot of doubt. We've got to prove ourselves all over again here, but there's less doubt. There's still doubt, but there's less doubt.
SL: What do you like most about this year's team, young as it may be?
JW: I like their potential a lot. Over the last five or six years we've always started every season with tremendous expectations. It's about dealing with expectations, dealing with overconfidence, dealing with all the media attention. … It's kind of interesting this year because we're below the radar. I don't think there's a lot of expectations, and probably rightfully so. We've been humbled, which I think is a good thing, and I like the way they're handling it, the way they're approaching it, like we—this group—have got to earn our own stripes, and it's been enjoyable.
SL: With your career taking you to UNLV, to Hofstra, was the plan always to come back here—to Villanova or simply to Pennsylvania?
JW: The plan was never to come back here. If you look at Villanova's history, Villanova's had only five coaches or something like that in 100 years. You don't leave here, and they don't change coaches; they're very loyal. When I was at Hofstra, we were very close to taking another position. The day that [former Villanova coach] Steve Lappas left here, we were two days away from taking the Rutgers job. … The Rutgers athletic director at the time was a Villanova alum who I knew from Villanova, so I had already met him a couple of times. It was a Friday afternoon and I was scheduled to meet with his president on Sunday to finalize it. It was unbelievable. … Then I get a call from Joe Jones, who was my assistant and who was assistant here at the time Steve Lappas coached here, and he said, "Steve's taking the UMass job." Then I called Steve, and he said, "You should take this job; it's a good job." I said, "You don't have to tell me, if they offer it." And they called me the next day and offered the job. It was that simple.
We loved Hofstra; we loved New York, and that kind of surprised us, Patty and me. Not that we didn't think we would like it, but we didn't know anything about Long Island, and we just loved it. We never thought about being able to come home here, but we loved New York so much. … One of the things we loved so much about the Rutgers job was that we could stay close to New York. And then [when the Villanova opportunity arose] it was bang—literally one phone call, no interview—just done.
SL: I imagine the toughest part about coming back here, there's a lot to live up to—a lot of expectations, a lot of legacy, big shoes to fill.
JW: There's two things about this job: No. 1, there's high expectations; and No. 2, it's just built for success. Every coach has been successful here, and that's really because of the culture of this university. Basketball is a big, big part of the culture, and it's important to everybody: the alumni, the janitors, the professors—everybody. You're kind of expected to succeed, but everything's in place here for you to succeed.
SL: As the basketball coach, it's really about the game, but there are a lot of things in addition to the fundamentals you're imparting to them. How do you see your job in that regard?
JW: My favorite part of the job, believe it or not, is the relationship you have with [the student athletes] and helping them grow into men and go out into the world. I love that, and again that's what makes the Villanova job so special. Our president and our board of trustees, they make it clear that that's an important part of the job, not just winning and losing. They make it very clear that the development of these young men—as students, as members of their community, the way they represent Villanova University, the way they represent the student body—is very, very important. It's equal to winning and losing. A lot of people say that, but they really live it here.
You see Mike Nardi down there. Mike Nardi played [guard] for us on our '06 Big East championship team. He's playing professionally in Italy, and he hurt his ankle so he comes back to see our trainer, our team doctor, and he's staying at my house. I love that. [All-American guard and Villanova alum] Scottie Reynolds comes back here to work out, and he stays at my house or he'll stay with other former players, but they all come back. Every one of them graduated on time—every single one, 100 percent—and even a couple of guys who transferred still stay in touch with us, still come back. This place, this community here at Villanova, is really special whether you're an athlete or not, and you stay connected to it.
SL: Going through what you guys went through in 2009, when the team went to the Final Four, that's got to forge a lifelong bond.
JW: It does. That group here is very, very close, and there are other groups—the '06 group that went to the final eight but won the regular-season Big East championship—they're really close. Most of these guys stay well connected to each other and well connected to the university, but you're right. Those special teams have an even more unique bond, and they maintain a really unique spot in our basketball legacy—not just the individuals that went on to the NBA, but the guys who were part of special teams, because it usually means a number of guys really sacrificed. We make sure those guys are held in high esteem because of that.
SL: Has your approach to recruiting changed in terms of what you look for over the years?
JW: It's kind of changing now. The one thing that's consistent is that this is a very unique environment here. We don't recruit by saying, "We want our point guard to be like this, we want our two-guard to be like this." We can't define guys' position, because if they don't fit the culture here at Villanova, they're not going to be comfortable. We find people that fit the culture here, and then we adjust our playing style. For instance, we used to play with a lot of small guards, and we got a lot of credit for that. It wasn't a plan; it was just that our bigger guards got injured. We kind of got named "Guard U." Now we have a pretty big team and we're playing differently, but people still say we play with a lot of guards. It's more finding someone that's going to want to get their degree. We take great pride in the fact that everybody graduates on time. Our professors do a lot of work with our guys, but you've got to have the guys that want to do that. We've missed out on some of the one-and-done guys, not because we don't want them. They look at the culture here; there are no easy classes, and you've got to go to class. … We have to find a unique kind of guy.
SL: What's it like being in your shoes—an institution here and something of a celebrity in the Philadelphia area? Did you ever think you'd be in this position?
JW: Nah, never. Honestly, I guess someone could have said this to me before I got in this position and I probably wouldn't have understood it, but you never really think you are [a celebrity]. When you remind me of that, OK, people might think of me like that, but you never really think you're that way. Another good thing about this place … is that they treat you like a regular person here, though, you're right: Being the basketball coach at Villanova is very important, but because it's a Catholic community, everyone is down to earth and treated equally. No one has a parking space here.
SL: You've been recognized many times over for being a sharp dresser. How do you feel about that distinction?
JW: I have a tailor, and his name is Gabriele D'Annunzio of D&B Tailors in Newtown Square. He makes my suits, and I love 'em, but I probably spend less time on them than most people would believe. But I like it, though; I can appreciate nice clothes and nice shoes. … [D'Annunzio] does a real nice job. He makes them for me, I let him pick them and make them. He deserves the credit.
SL: How's your jump shot these days?
JW: Terrible. I'm at the point where I don't play much basketball anymore. It's more golf and working out, up until about a year or so ago. I played my son one on one—my son's a freshman in college—last summer in Ocean City and beat him, like, 21 to 19, and I said, "I will never play you again." I almost killed myself to win that game and I was so exhausted, and I know I could never do it again so I was going to retire on a victory. I don't think I've played since. … I literally could have died after that game, and he was like, "Come on, let's play again." I told him, "I will never play you again—ever."
SL: You just turned 50. You've already left an indelible mark here. What happens next?
JW: I just love where I am. I feel like we're starting over here; I really do. We've got a young staff, a young team, a new era in the Big East. I feel like we've got a fresh start. … We're kind of reinventing ourselves here, and I'm having a great time with it. The other thing that's really interesting right now, a lot of our older players are getting older and getting married and moving on to the next phase of their lives, and I'm really enjoying being part of all that.
Photograph by Jeff Fusco.