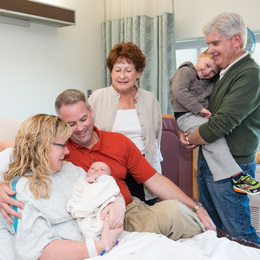 Keeping Culture
Its location, scenery and cultural riches have long made Doylestown a favorite destination
Named for William Doyle, who obtained a license to build a tavern on what is now the northwest corner of Main and State Streets in 1745, Doylestown owes its existence to his choice of locations, at the intersection of the road linking Norristown and New Hope (now Route 202) to Philadelphia and Easton (now Route 611). Doylestown became the county seat in 1813, leading to the development of lawyer's row, a collection of architecturally striking Federal-style offices.
Three of Doylestown's best known landmarks, though, were built by its celebrated native son, Henry Mercer Chapman. Mercer was an archeologist who, in his world travels, amassed a collection of artifacts and hand tools. He housed his collection—one of the most important of its kind—in a seven-story poured concrete structure known as the Mercer Museum. His home, Fonthill, was similarly constructed on the property he also founded Moravian Pottery and Tile Works in 1898. This still-operational facility produces decorative tiles depicting scenes familiar before the Industrial Revolution. All three buildings are now museums open to the public for tours and events.
Early on, Doylestown's convenient proximity, beautiful architecture and vistas of bucolic countryside inspired many of the gentry of Philadelphia and New York to maintain country estates in the area—including figures of the Manhattan theater and literary scenes—who often summered there. Author James A. Michener, lyricist and playwright Oscar Hammerstein and Nobel-prize winning author Pearl S. Buck all called Doylestown home at some point.
When a county urban-renewal plan, designed to reinvigorate the business district, called for the demolition of 27 historic buildings in the 1960s, the local business community objected and responded with its own plan. This private initiative was successful in saving Doylestown's old buildings and historic character, while improving business at the same time.
In 1974, construction of the 3.7-mile-long, four-lane Route 611 bypass allowed Doylestown to maintain this historic character while accommodating the increase in traffic created by population growth. According to the Delaware Valley Regional Planning Commission, the Doylestown Bypass carries approximately 30,000 vehicles per day. In spring it is lined with thousands of blooming daffodil bulbs, planted through the Bucks Beautiful program, which seeks to beautify the area with public gardens. In summer the organization plants and maintains hanging flower baskets on the main streets of the borough.
Preserving its unique character while encouraging the development of new ideas and development are at the heart of what makes Doylestown such a desirable place to live and visit. The James A. Michener Museum is just one example of this spirit. The stone ruins of a local prison were converted to pristine walls showcasing the work of artists painting in the Bucks County tradition.
Doylestown celebrates its historic heritage of culture alongside the recent accomplishments of area artists, writers and musicians. In mid-September the Doylestown Arts Festival welcomes more than 150 exhibitors and juried artisans offering the best of the area's culture. The Central Bucks Chamber of Commerce also helps to promote the arts by hosting a film festival, art shows and performances. The restored art deco County Theater now shows classics as well as contemporary independent, art and foreign films.
Business is thriving in Doylestown, which today boasts a number of notable restaurants including Paganini's, Honey and Lilly's Gourmet. Those looking to top their evening off with a live music performance will be equally pleased with venues including Puck, Limelight, Chambers 19 and most local bars. During the summer Doylestown celebrates its businesses with a First Friday event each month.
Among the public services enjoyed by Doylestown's residents are its hospital and school system. Central Bucks West's academic performance is consistently ranked above 90 percent of schools in the state, while its football team has often been ranked as one of the top 10 high school football teams since the mid-1980s.
Doylestown maintains seven municipal parks including Central Park—home to the eight-story wooden playground structure known as Kids Castle and Chapman Park—featuring a fishing pond and swimming complex. The township is also working to create a bike and hike trail, currently 16 miles long, connecting many of its most popular attractions. Though unconnected, Peace Valley Park to the north offers a seven-mile paved trail of its own surrounding a man-made lake, while the dog park to the south provides several acres for man's best friend to run free.
Agriculture continues to remain a prominent aspect of life in Doylestown. The campus of Delaware Valley College, which is still primarily known as an agricultural and science school, is located on the outskirts of town, across the street from Fordhook Farm, which grows trial gardens for the seed company Burpee. Each Saturday from April to November locals flock to the Doylestown Farmer's Market, which has been offering vendors a place to sell their local, organic and handmade goods for 39 years.
With so much to offer residents and visitors alike, Doylestown certainly has reason to celebrate.