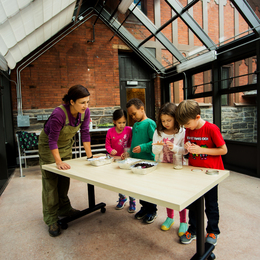 Always Connected
At Friends' Central School, students discover a lifelong passion for learning in an environment that promotes integrity, compassion and a greater connection to the world
Thirty-six years is a long time to spend in one place, but not if you're Jack Briggs.
Briggs has taught the third grade at Friends' Central School in Wynnewood for more than three decades—closer to four, really—yet each year has been fresh and engaging. He credits this "sense of newness and reinvention" to the school's unique approach to teaching students through a discipline known as thematic learning. Essentially, he and his fellow teachers collaborate on a central theme for the entire Lower School, designed to help students gain a depth of interest and understanding that is often absent in traditional approaches to curriculum.
"The collaboration we have here makes Friends' Central a very special place that is well suited for the teachers and the students as well," Briggs says. "It's a very powerful environment here, and it produces an incredibly strong community that promotes learning on a very deep level.
"As teachers, we do our best when we're teaching something we have a deep interest in," he continues, "and the kids do much better because of that; they pick up on that passion and it makes them want to learn."
A co-educational, college-preparatory day school for students from nursery school to grade 12, Friends' Central has created an education model shaped in part by Quaker values such as integrity, equality and compassion. Members of the Friends' Central faculty—the student-teacher ratio is 8:1—set increasingly high standards to prepare students for college life and beyond while encouraging participation in a process that continually fosters creative, critical and flexible thinking.
"The curriculum, and the way in which the pedagogy supports the curriculum, demonstrates a connectedness to learning that creates a powerful foundation for the rest of our students' lives," says Joanne Hoffman, head of school. "From the very earliest age they are taught that all learning is connected. Through that sense of interconnectedness there's a power that [can last one's whole life]."
Friends' Central graduates are intelligent and compassionate problem solvers, actively involved citizens and visionary leaders. Unsurprisingly, 100 percent of Friends' Central graduates attend post-secondary schools, including some of the nation's most prestigious colleges and universities. Also, as many as 20 percent of graduates over the past five years were named National Merit Scholar finalists, semifinalists or commended students.
"There's a qualitative difference here," Hoffman says. "Students are not satisfied with the surface answer or even just the right answer; there is always the seeking of a deeper truth, and that demands a different kind of approach to scholarship. … The thematic piece in the Lower School is extraordinary. It's the way in which these children learn to connect different disciplines of science, math and literature. It begins in Lower School and extends throughout their education.
"Friends' Central is a place that has depth, texture and richness in its teaching and learning environment, which is very unusual," she continues. "Through thematic education, there is an intellectual rigor here undergirded by a very clear set of values that every part of our constituency lives, talks about and makes part of their lives. Graduates often talk to me about the values they learned here, and how it helped them define themselves into adulthood."
A Passion for Learning
Thematic learning begins at the start of every school year, when teachers and students begin the exploration of the so-called "Fall Project" unified around a common theme. This allows students to explore a subject at a developmentally appropriate level, understand the connectedness of information, and interact with other students across grade levels who are studying the same topic. The theme is reflected across the curriculum in reading and writing, mathematics and science, social studies, art and music, and teachers have the flexibility to develop their own materials.
"As teachers, we're all able to take our deep passionate interests and use them to create these studies," says Briggs, who earned a Ph.D. in education from the University of Pennsylvania, and is dual certified to teach elementary and high school. "We don't use textbooks; we use regular nonfiction books that relate to a specific topic, such as American Indian culture and history."
For this year's Lower School Fall Project, "The World of Water," some classes chose to explore specific places or bodies of water by way of Robert Louis Stevenson's "Treasure Island," or Dave Barry and Ridley Pearson's "Peter and the Starcatchers." As classes investigate their topics, students discover opportunities to learn about other cultures and life in other lands. Because all educational activities are done in the context of the theme, students develop a rich framework around which to build the information.
For Briggs' students, the Fall Project included hands-on experience—building large structures, for example, such as a tipi. For a previous Fall Project, he and his students built a scaled-down replica of the Wright Brothers flyer made of wood, fabric and wire, with working controls to underscore the theme of flight.
Briggs and his colleagues teach Friends' Central students that the highest expression of creativity is the belief that "anything is possible." The visual and performing arts are essential to every student's education, to express themselves but also to foster self-confidence, as an integral part of the core curriculum. For example, music classes are required for students from nursery through 10th grade, while dramatic productions are a required piece of the Lower School curriculum and an optional opportunity for Middle and Upper School students.
There's also an incredibly strong sense of community in every classroom at Friends' Central. This enables students to solve problems together and reach consensus so everyone feels a part of the decision-making process. It also gets them thinking about how they can help their own communities, their country and the world around them.
The Quaker values of simplicity, peace, integrity, community, equality and stewardship are continually reinforced. All students—from the youngest children to the graduating seniors—know these values, according to Hoffman. Students benefit from a focus on diversity and inclusion, and this depth of respect extends far beyond the boundaries of the classroom. Students also participate in major service initiatives to improve the surrounding community, such as raising funds for worthy causes or gathering food items to help others who are less fortunate.
"If you talk to somebody from the class of 1975, to a very recent graduate, they all say their time here had a very strong effect on their working lives," says Hoffman. "They say this is where they learned the values that sustained them."
Since 1845, Friends' Central has been preparing its students for the most challenging colleges and careers, while also cultivating the spirit through the enduring Quaker principles of truth and integrity. The school holds regular gatherings of the community in "The Meeting Room," whereby members of the constituency are welcome to share their thoughts openly.
"When kids graduate from here, they almost feel like they've been taught how to think for themselves, not just accept what they're told," says Briggs, who has 16 students in his class this year. "They usually find they can learn anything, so they're not daunted by heading off to college. With the class sizes as small as they are, there's a lot of dialogue between teachers and students, and among the students. … The children here realize that their ideas are important, and their questions are important.
"We try to be the best independent school we can," Briggs continues. "As teachers, every year we have a new curriculum to develop and it keeps you on your toes. That's important to me as a teacher, but you have to work hard at it. … You continually reinvent how and what you teach, which makes it an exciting place to teach. And that, in turn, also makes it an exciting place for children to learn."
In other words, as the Friends' Central motto goes, "Quaker Works."
Friends' Central School
www.friendscentral.org
Lower School
228 Old Gulph Road
Wynnewood, PA 19096
610-642-7575
Middle/Upper School
1101 City Avenue
Wynnewood, PA 19096
610-649-7440