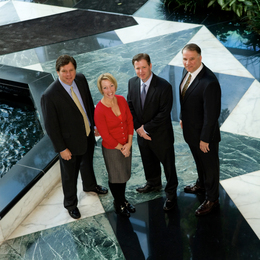 Sterling Performance
Business owners gain a unique ally in Sterling Investment Advisors LLC
Having been blessed with the mind of an entrepreneur, Tim Flatley has a firm grasp of the issues his fellow business owners face. This intimate understanding makes him and his Berwyn-based investment firm uniquely qualified to handle an entrepreneur's wealth-management needs and … well, pretty much anything else they might need that relates to the growth of their business.
"Our clients tend to be highly motivated and highly successful people," says Flatley, president and CEO of Sterling Investment Advisors LLC. "Some of our new clients come to us with their financial planning having been done on an ad hoc basis. We unify those pieces and give meaning to them. Our clients delegate the oversight to us so they can focus on what they do best, which is run their business."
Often, Flatley finds, a client might not have a good idea to what he or she needs. Flatley sees it as his job to help entrepreneurs understand how their businesses—and their lives—can be that much better off.
"It is easy to assume that just because someone might be a very successful person, that there life is totally organized financially," Flatley says. "People become successful by being able to have laser focus on their business. This can result with the other elements of their financial life being disorganized. Our processes will add order and cohesion within a short period of time."
"So many business owners are thinking, How do I transition the business to my children, or how do I protect my wealth?" according to Sean Flatley, Tim's business partner and brother. "Of the 180 families we work with, their fear of stock-market volatility can equal their fear of what their children will do with their inherited wealth. We can look at the situation and sit with a client and their attorneys and craft solutions to help them. They get the benefit of us having already done this many times before with others who are like them."
Simply, entrepreneurs turn to Sterling for services such as financial planning, estate planning and wealth management—essentially, peace of mind and leadership in managing their many assets, investments and strategic planning initiatives.
"Our clients are joining a unique community of people who are much like themselves," says Tim, who has been working in the world of finance for 30 years. "We hold a number of events to get them together throughout the year, where we have them meet other interesting people. If they do that it makes for a much more fulfilling event. … Everything we do is about what we can do to make their lives better in some way."
In May, Flatley's firm hosted a unique event at Paoli's Waynesborough Country Club, in which clients and invited guests had the opportunity to drive a new Ferrari California, with the added benefit of having a professional driver in the passenger's seat to explain precisely how the car works. Afterward, clients enjoyed a champagne tasting with Dom Perignon.
A Conductor at Work
By the time clients get to Sterling, most of them have already worked with a number of financial advisors throughout their lifetime, and most have an asset base of at least $1 million. The clients have found that they have either outgrown their previous advisor or are looking for firm that is a better fit for their needs. Although financial planning is at the heart of Sterling's business, the firm acts as a holistic advisor, pulling in the expertise of a CPA or a trust attorney when necessary.
Flatley describes this as "a conductor's approach to a symphony." At the same time, the planning process is based on structure, accountability and removing unnecessary cost—something all entrepreneurs can appreciate. Sterling has "very precise accounting systems," according to Flatley, that enable the firm to update clients' financial positions every night and integrates with their personal financial plans.
"Our business requires close attention to detail and the willingness to give a great experience," Flatley says. "One client told me, 'When I work with you guys, it's like staying at a Ritz-Carlton and paying a Marriott price.'"
Sterling has nine employees, including five advisors, to help entrepreneurs ease the burden of business issues without taking their eye off the business—anything from maximizing investment income to issues associated with business succession. Their formula has paid off with much recognition, such as making the "Philadelphia 100," three out of the past six years. The "Philadelphia 100" is the 100 fastest-growing private firms in the Philadelphia area.
"A firm like ours could handle 500 clients per advisor, yet we have only 40 per advisor," Flatley says. "It's a much more sophisticated approach to service. The clients are demanding, and rightfully so. Our point of view is that if you continually work with bright people who have created businesses and are hard driving, every one of them makes us better for the next client. Our retention rate is phenomenal."
For Flatley, helping entrepreneurs succeed is much more than a job; it's a passion. He works with a local production company, Executive Leaders Radio, to produce a radio program for and about local entrepreneurs. Each session is recorded at the Chamber of Commerce in Philadelphia, with exposure throughout the greater Philadelphia area. The program also doubles as an invaluable marketing tool for each of the business persons featured.
"We try to stay close to our clients through our service but also through community events," he says. "Last year we held an event at the Barnes museum, prior to its change of location. It was so popular that we had to add two additional dates. Whether we're helping clients evaluate their business deals or meet other entrepreneurs who can help grow their business, we try to do things that go beyond the normal advisor experience."
Clearly, those "things" appear to be working.
Sterling Investment Advisors Ltd.
1055 Westlakes Drive, Suite 150
Berwyn, PA 19312
Phone: 610-560-0400
Web: www.sterling-advisors.com
Rob Hall is a photographer based in Plumsteadville.