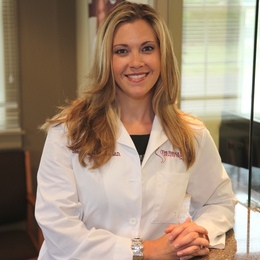 With Confidence
Dr. Stephanie Molden and her staff at the Female Pelvic Health Center help local women return to freedom by regaining control of their bodies
Since man—or, more accurately, woman—first emerged from the primordial ooze, she has been fighting a silent battle. The opponent: largely uncontrollable feminine-health issues that can be not only embarrassing and painful but also capable of robbing a woman of her freedom and mobility.
Now, thanks to efforts undertaken by Dr. Stephanie Molden and her staff, women living throughout the Delaware Valley now have an ally in this fight.
Dr. Molden, founder of the Female Pelvic Health Center in Newtown, treats conditions such as incontinence, pelvic organ prolapse (the so-called "dropping" of the uterus, vagina, rectum, urethra or bladder), recurring urinary-tract infections and painful bladder syndromes. In doing so, women of all ages regain their confidence and regain control of their bodies.
"So many women do have these problems, and there is a tendency to think some of this is normal," she says. "Unfortunately, there's also a definite embarrassment side that sometimes prevents them from talking to anyone about it. Even with someone like me, who sees these things every day, I'll have patients start a sentence with, 'Well this is embarrassing, but my husband doesn't even know I have this problem.'
"There's a real lack of education out there about these issues, but these issues are not going away," she continues. "In fact, with the aging population there only will be a greater and greater need."
Dr. Molden earned her Doctor of Medicine degree from the University of Virginia, and completed her residency in obstetrics and gynecology at Abington Memorial Hospital, where she was chief resident. She is also one of the few doctors in the region to complete a three-year fellowship in urogynecology after her OB/GYN training. A common condition she treats at the Female Pelvic Health Center relates to incontinence, including outpatient sling treatments to address stress incontinence, which commonly occurs during actions such as coughing and laughing.
"The biggest difference women experience when coming here is purely in quality of life," she says. "Women tell me they've had to stop going to exercise class or stop playing with their kids. A lot of older women who want to get out of the house and do things—live their lives—are limited by having to frequently find a bathroom, or having to schedule activities around where the local restrooms are. One patient of mine wanted to visit her family but didn't want to stay overnight for fear of wetting the bed."
Back to Normal
Dr. Molden prescribes the best possible treatment for each patient, whether surgical or nonsurgical. On the nonsurgical side, for example, the practice performs posterior tibial nerve stimulation, which is a noninvasive weekly treatment for patients suffering from an overactive bladder. Additional treatments such as pelvic floor strengthening and biofeedback, which Dr. Molden describes as "almost like physical therapy" to help with bladder control and fecal incontinence, are also available. Nurse practitioner Megan Blatz recently joined the practice to assist patients through these options. Each weekly session lasts 45 minutes, and patients tend to see significant improvement by halfway through the eight-week therapy.
"Some of my patients have been able to avoid surgery or medication," she says. "One patient had tried five different bladder medications when she came to see us. Through biofeedback treatments, dietary counseling and behavioral and lifestyle changes, she's almost completely back to normal without meds. She's approximately 70 years old, but we work with a wide range of patients; some are in their 30s and have just had kids, while some of our oldest patients receiving pelvic therapy are closer to 90. They all do very well in responding to treatment."
On the surgical side, Dr. Molden performs only minimally invasive procedures designed to minimize trauma to the body and get women back toward "normal" life much more quickly. Some surgeries involve the use of robotic-assisted technology, which is a core part of the center's approach to treating patients in a way that minimizes anxiety and hastens recovery time.
Dr. Molden has performed more than 1,000 surgeries to solve conditions such as prolapse and urinary incontinence. In fact, she is credited with completing the first-ever robotic-assisted procedures—a hysterectomy and sacrocolpopexy, as well as a sling procedure to cure a patient's pelvic organ prolapse and urinary incontinence—at St. Mary Medical Center using the da Vinci Si HD Surgical System. She was also the first urogynecologist to perform robotic-assisted surgery at St. Luke's Hospital in Bethlehem.
"I had the best experience after my robotic surgery," says Marlene Cooper, a patient of Dr. Molden's. "I had no pain and recovered much quicker than I expected. I was nervous having never had major surgery before, but The Female Pelvic Health Center and Dr. Molden were the best."
Another procedure offered by the practice is known as sacral neuromodulation, which involves a subcutaneous stimulator—"almost like a pacemaker," Dr. Molden says—implanted in the lower back that delivers low-amplitude electrical stimulation to the sacral nerves as a way to treat an overactive bladder.
"Where nothing else is working, the device is another option we can offer," she says. "The procedure, like everything else we do here, is minimally invasive and it's designed to get women back to living their lives more comfortably. The first step is actually done as a trial after a minor office procedure to see if the device works well for the patient prior to committing to implantation."
The Female Pelvic Health Center is uniquely positioned to help patients with these conditions.
"We deal with these types of conditions every day," she says. "As a Urogynecology specialty practice, the center is specifically focused and trained to treat these types of issues. We have a unique office setting, and patients often comment on how comfortable they feel here. We have an all-female staff, and everyone is very friendly and empathetic to patients' issues. I think you can really feel that here. "Everything we do is designed to give every woman who walks through the door a high level of comfort, excellent care and the ability to get back to living her life the way she wants."
The Female Pelvic Health Center
760 Newtown-Yardley Road, Suite 115
Newtown, PA 18940
Website: www.fphcenter.com
E-mail: info@fphcenter.com
Phone: 215-504-8900
Office hours: Monday, 8 a.m. to 9 p.m.; Tuesday through Friday, 8 a.m. to 4 p.m.
Jennifer Updike is a freelance writer from New Hope.
Kim Billingsley is a freelance photographer from Doylestown.