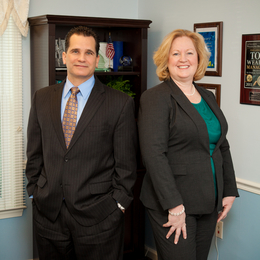 Bountiful Harvest
Why retirees and pre-retirees place their financial futures in the trusted hands of Rosemary G. Caligiuri and Harvest Group Financial Services
To understand Rosemary G. Caligiuri's approach to retirement planning, one might first consider her unique background. She started her professional career as a registered nurse but has since reinvented herself as a skilled and watchful steward of her many clients' nest eggs.
"I loved being an advocate and liaison for my patients," says Caligiuri, now founder and president of Langhorne-based Harvest Group Financial Services Corp. "I would get to know my patients very well, and some of my older patients would ask me questions about how to protect their money. I wanted to learn more for my patients, and that's how I came to be on this path."
What she discovered in her quest to learn more was a lack of coordination among information sources, with one financial magazine contradicting another and so-called experts advising disparate strategies for preserving one's personal wealth. Market volatility has only worsened this confusion in recent years, thereby adding to an investor's uncertainty and underscoring the need for a trusted partner such as the team at Harvest Group.
"Our specialty lies in making proper allocation of a client's money for a lifetime or even two lifetimes, meaning we can create a lifetime income stream for our clients and leave tax-free money to their heirs through legacy planning," she says. "I see our role as financial planners as people who can act as coach and as an educator, demystifying everything that's confusing out there and creating a plan for the client that suits them. What we're able to do is answer questions for clients that they don't even know to ask."
In fact, Caligiuri has been featured on the covers of Smart Money and Barron's because of her expertise on the topic. "We've even been hired to teach other financial planners how to create cash flow for life [for their clients]," she says.
Caligiuri and her team are devoted to providing independent, prudent and ethical financial guidance to clients, most of whom are in pre-retirement or retirement, including "forced" retirement. These people are at a crucial time in their financial lives, meaning the decisions they make now need to be made carefully and based solely on their specific circumstances, resources and dreams for the future.
"My practice is client centric and based on integrity, with a plan suited to each client's individual needs," she says. "With an emphasis on cash-flow income, I often talk about the four P's: plan, preserve, provide and then pass it on. … The biggest challenge I see for the consumer is this information overload that tends to muddy the waters. The laws are constantly changing, and the client's life is also changing, so how do you put it all together? That's where we come in."
An initial interview between Caligiuri and a client generally takes two hours, covering topics such as lifestyle status, investable asset base and risk tolerance. Beyond the basics, Caligiuri also delves into more personal aspects of clients' lives, such as one's dreams and desires, legacy plans and everything else that could be affected by a client's future wealth.
Planning Ahead
Now, more than ever, investors stand to benefit from the services of a trusted, qualified financial planner. With company-funded pensions increasingly becoming a thing of the past, the paradigm has shifted from one of rampant accumulation to one of preservation, protection and steady growth—essentially making sure that one's money endures. Caligiuri's first rule: Never mess with a nest egg.
"I've been focusing on this since the mid-1990s, and I've seen bull markets and bear markets," she says. "A consumer left to his own devices with a pure accumulation plan might have lost 40 to 50 percent of their assets two different times in the last 12 years. Hence, you don't mess with a nest egg. … You capture gains in bull markets and lock in those gains, and structure your plan so that in bear markets you have downturn protection.
"You never put all your eggs in one basket," she continues. "I don't care how great chocolate cake is, you can't eat it three times a day and expect to be well nourished. The same truth applies to any type of investment tool. … By utilizing all these different tools, if a downturn happens, the client will not be harmed or be at risk of running out of money. Our job is to position them to not be at risk."
As one of only a handful of advisors in Bucks County to receive a professional designation of Chartered Advisor for Senior Living from the American College, Caligiuri started focusing on retirement planning in the late 1990s, well before the concept was in vogue.
"I'm 52 years of age, and I like having that experience," says Caligiuri, who hosts a weekly call-in radio show on WBCB 1490 AM called "Financial Issues and Answers" during which she addresses issues faced by retirees and pre-retirees. "We, as human beings, learn one of two ways: by the school of hard knocks, which can sometimes be very devastating to one's finances; or by the experiences of others. When you have people's nest eggs in your hands, more experience is a good thing."
The other members of Caligiuri's team are equally seasoned in their respective disciplines. Loretta Hutchinson is an advisor and Certified Divorce Financial Analyst. She acts as a financial advocate for clients—mostly women—who are going through a divorce, making sure the decisions made in the divorce process are equitable and will protect a client's future financial life.
Additionally, Brian Levy is a Chartered Financial Consultant and Certified Financial Planner who bring tremendous knowledge to the conference table. Lastly, Bea Tiberge brings 15 years of experience in the senior marketplace between being the former executive director of Attleboro Retirement Village in Langhorne, as well as a manager of retirees' assets at the Harvest Group.
Cumulatively, the team represents decades of experience in financial planning; both Caligiuri and her associate John Lindsey, for example, have been working in wealth management for 20 years.
Furthermore, all of the firm's planners are independent because Caligiuri "wanted the freedom to find the best possible financial solution for our clients," she says. "We don't work for a large bank or institution; we work for our clients."
Experience and independence alone, however, are not what sets the firm apart from others. Each of the Harvest Group's advisors maintains the same philosophy and emphasis on integrity in representing a client's financial welfare first put in place by the firm's founder. And although the financial landscape has changed significantly since Caligiuri made the jump from nursing to wealth management, one thing has not changed at all: her personality and commitment to those she serves.
"Integrity and a client-centric approach to my day have always been important to me," she says. "At the end of the day, at Harvest Group we create a customized plan and work side by side with each of our clients. They have a successful outcome, they have inflation protection, and they are able to leave tax-free money to their heirs. As a result, I go home smiling every day."
Harvest Group Financial Services Corp.
1707 Langhorne-Newtown Road
Langhorne, PA 19047
Phone: 215-860-6056
Web: www.harvestgroupfinancialservices.com
Registered representative offering securities and advisory services through Centaurus Financial Inc., a registered investment advisor. Member FINRA and SIPC, Supervisory Branch: 3902 State Street, Suite 101, Santa Barbara, CA 93105, 1-888-569-1982. Harvest Group Financial Services and Centaurus Financial are not affiliated.