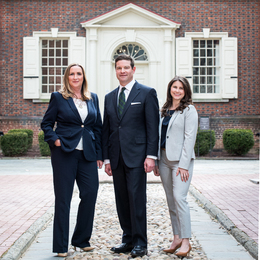 Gaining Independence
With The 1776 Capital Management Group, well-positioned investors find a trusted partner in managing their wealth
Dan Levin and Michael Blatz were kindred spirits. They were about the same age and had shared interests in physical fitness, live music and financial planning, and they also began their careers at the same brokerage firm in 1992.
A life rich with family, finance, fun and fundraising was central to their lives. They viewed themselves as caretakers not only of clients' savings, but also their souls; they were money guys and people guys. They were men who their clients could count on not only to build a stronger portfolio but also a level of trust.
After working together for 10 years, Levin and Blatz decided to combine forces and form a wealth management group in 2002. A few years later in 2009, they transitioned their practice to regional broker-dealer Janney Montgomery Scott LLC and formed the team now known as The 1776 Capital Management Group.
For the next two years in the Philadelphia suburbs, Levin and Blatz worked in lockstep, standing behind clients to assist them in the creation, execution and monitoring of financial plans, including retirement goals, creation of investment plans for educating children and/or grandchildren, plans for transitioning wealth most effectively to family members and other heirs, and establishing benevolent legacies.
Until last July when Blatz, age 45, a married father of three, just like Levin, died of a heart attack.
"What his death did for me and those people who worked with him was reinforce how important it is to deal with people on a personal level, both in and out of the business world," says Levin, 1776 Capital Management Group's first vice president, wealth management. "Mike was a special person who truly cared about our clients as people as well as someone he worked for in a business relationship."
Blatz's memory, his attention to his clients' financial needs and simply how their own families were doing will live on forever. At 1776 Capital Management Group, the goal then and now is to assist clients in managing their wealth through the sometimes confusing and frightening dialogue native to the financial world.
"There is such a divergence of opinion in the financial world; some are optimistic and others believe the market volatility will continue to get worse," Levin says. "What we do is explain to our clients on a personal level what's happening in the market; we meet with them, spell out our goals and objectives, and then work to achieve those objectives with the least amount of volatility as possible."
The 1776 Capital Management Group has locations in Yardley and Blue Bell, and deals primarily with clientele throughout Bucks and Montgomery counties, but the team also does business with clients as distant as Great Britain and Singapore. In addition to Levin, another vital part of the team is Kathy Dougherty, who has been handling the group's administrative and operations duties for 12 years.
Assisting clients in retirement and investment planning, wealth preservation, investment consulting, retirement plan services, cash management, corporate and executive services and fixed-income strategies, the group manages wealth for approximately 100 households, and the typical relationship is with a client who has at least $1 million in assets.
"The biggest reason why someone seeking financial services should come to us is we keep it real," Levin says. "We're point-blank honest with our financial planning. We also have an incredible team behind us. We're fortunate to be supported by an investment strategy group, and have access to high-level certified financial planners. We can assist every need."
An Earned Reputation
Levin has 20 years of experience in financial planning, and specializes in a number of areas, including comprehensive wealth management and retirement plan services. He is a graduate of the University of Richmond and the prestigious Wharton School of Business at the University of Pennsylvania, where he earned the professional designation of Certified Investment Management Analyst.
In November, Levin was honored as a 2011 Five Star Professional Wealth Manager, emblematic of his being among the top wealth managers in the Philadelphia area who rated highest in quality service and client satisfaction. Also, 1776 Capital Management Group was recognized as 2011 Premier Advisors by The National Association of Board Certified Advisory Practices.
Levin is also continuing his and Blatz's involvement in worthy causes in the community. 'Levin is president of the Bucks County Chapter Board of Associates for the Fox Chase Cancer Center, a post he has held since 2010. The group consists of 30 members who are Bucks County professionals and prominent families in the area. Last year the chapter donated $250,000 from the year's fundraising efforts directly to cancer research at Fox Chase.
"We have two major fundraising events," Levin says. "One is the George Bramhall Memorial Art Exhibition and Sale that's held at the Eagle Fire Co. in New Hope each November that we've held for 22 years. Forty percent of the proceeds of all sales go to Fox Chase. The other fundraiser is an evening gala called April in Florence that's held at Keenan Motors in Doylestown on Saturday, April 14, 2012, with a sit-down dinner, live music, dancing and a silent and live auction. We've been doing this major gala for more than 20 years as well."
Clearly, Levin sees his financial group as a member of the community, one that continually strives to be a good partner.
"Several years ago when I was looking to give back to the community, one of my mentors—attorney Bill Eastburn—suggested Fox Chase Cancer Center," he says. "My grandfather died of cancer, and there isn't anyone who hasn't been touched by cancer in some way, whether a family member, friend or co-worker. I can't think of a better group in which to become involved. We're very proud of what we do."
His old partner would agree.
1776 Capital Management Group of Janney Montgomery Scott
Website: www.1776cmg.com
E-mail: 1776cmg@janney.com
Locations:
1020 Stony Hill Road, Suite 150
Yardley, PA 19067
Phone: 267-685-4211
Fax: 215-665-5816
1767 Sentry Parkway West, Suite 110
Blue Bell, PA 19422
Phone: 215-619-3923
Fax: 215-665-5816
Phil Gianficaro is an award-winning writer based in Doylestown.
Rob Hall is a photographer based in Plumsteadville.