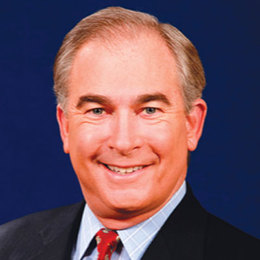 Spotlight: Michael Barkann
Comcast SportsNet's award-winning sportscaster fields questions about work, life and his love of Philly sports
If you're going to talk about Philly's sports teams, you will probably want to hear what Michael Barkann has to say first—not that you could avoid it. In addition to hosting his wildly successful Daily News Live show, Barkann also sounds off in pre- and post-game coverage for the Eagles, Flyers, Phillies and Sixers for Comcast SportsNet. His career covering national events includes the NCAA Final Four, the U.S. Open Tennis Championships for 18 years and the 1992 Winter Olympics.

Here, the Newtown Square resident shares what he loves most about covering Philly's sports teams.

Your career with Comcast SportsNet has got you all over the place with Philly's sports. Does it keep you pretty busy?

If you're at the movies with your family on Easter Sunday watching Diary of A Wimpy Kid, and Donovan McNabb gets traded— there goes your Sunday night. My BlackBerry started to explode in the movie. You have to be on call at moments like that, which makes Philadelphia sports so great.

You've been called the "face of Philadelphia sports." What do you think about that?

I love it. I just think of myself as one of the fans and as one of the conduits to the fans. … No one wants the Philly teams to do any better than I want them to do—this is my hometown, and I want them to do well, but if they're underperforming then you have to call it like you see it. I think that's what people who watch depend on, that you do it with an even hand but with some sense of humor.

Do you have a favorite sport to cover and watch?

I love watching football. I love the once a once-a-week nature of it and how everyone always comes together. I love the anticipation of the game every week, whether its college or pro, the fans, the colors, the helmets, and just the battle of the game. It's great.

What would say have been some of the highlights in your career in covering Philly sports as well as the most difficult?

I think both the highlight and the low have to do with the Phillies. The highlight being the World Series Championship in 2008. That was amazing, and for those who think that sports doesn't do anything for their town … you only have to look at what the Phillies World Series Championship did for the sense of community, mental well-being and happiness in this city.

I think the low would have to be Harry Kalas passing away. Harry was so ingrained in our consciousness because he was the voice of the Phillies. As David Montgomery, the team -president said the day Harry passed away, "We lost our voice."

If you could have the ultimate round table for Daily News Live, who would your three guests be?

Great question! I would have to say Tiger Woods, for all of the controversy. Charles Barkley as well—he and Tiger are friends. And Jimmy Rollins. That would make for some good conversation.

Are you into golf?
I do like golf, and my son, Matthew, who's 9, is starting to play. Someone once told me that if you can get your kids into golf, then around the age when they start to pull away, you can still spend time with them on the golf course.

Your wife, Ellen, was a figure skater and now your sons are getting into golf. Is everyone in your family interested in sports?

My daughter Emily, who is 13, is a good little tennis player. She practices a lot and loves it. … She's been playing forthree or four years. Tennis is like golf— it's a game for life, and it's something we can do together.

You are involved with several charities. Tell me about that and why it's important to you.

I think it is really important to give back, and if what I do for a living can help anybody in the community then that makes it worth it. I'm on the board at the ALS Association, and I'm involved with a charity called Bringing the Outside World Inside. We provide computers and computer software to children's hospitals around the country including CHOP in Philadelphia. I'm also involved in the American Cancer Society, and I'm the honorary chairperson for their bike-athon, which is every July.

You always seem dressed to the nines. Do you consider yourself to be pretty fashion savvy?

[Laughs] I love it! I covered 18 U.S. Open Tennis championships for the USA Network, and there would be a clothier that would outfit us. For many years it was Hugo Boss, and one year it was Armani, and the last several years it was Brooks Brothers. They let you keep the clothes—you've been sweating in them all day!

What I love about Brooks Brothers is that it can be conservative and old school, but at the same time you can dress it up. They have classic lines but you can get a little funky with the colors; it all depends on what you put together.